Port of Thunder Bay Optimistic For Another Great Season
by Scott A. Sumner
Last year was a turn around year and very encouraging for the Port of Thunder Bay. Grain was the most in 16 years and over 9.4 million tons in total were moved through the port. " We are very, very optimistic that this will continue this year as well. There were many factors that all went in our favour last year including the record harvest of grain, as well as a record winter that delayed the opening of the seaway by 1 month. At that point you had grain stored on the ground in Manitoba and the railways couldn't move it as the seaway wasn't open yet. There was the fear of flooding which could ruin the grain. All these things lead to the railways being ordered to move the grain and Thunder Bay was really the only place you could move it." said Tim Heney, CEO- Port of Thunder Bay.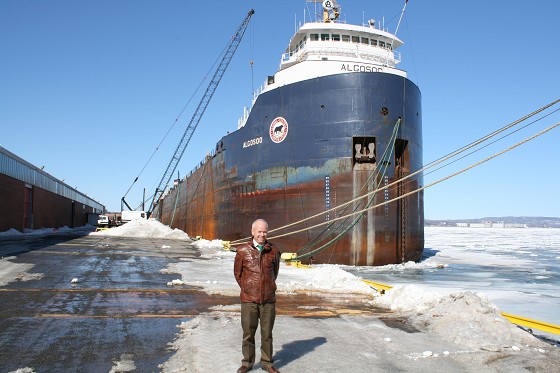 " We started to see a lot of rail action to Thunder Bay and continued throughout the season. It changed the outlook of the seaway as being a very capable and efficient way of moving large amounts of grain which it always has been. There was also the big steel imports into the US, more steel than anytime in history last year. That brought a lot of ocean ships in and they came here for grain for the trip back, which helps as well." said Heney. " We used to say the Thunder Bay economy is effected by $45 per ton of grain shipped as an economic impact. At 8.2 million tons of grain shipped it means $400 million annually to our economy." There has also been recent investment in the elevators in Thunder Bay. Richardson opened another elevator last year which doubled their capacity. That meant an additional 50 people working there. Inspection and services added more people and there was quite a bit of overtime. Some of the elevators have also been doing some capital work this winter according to Heney.
Thunder Bay is one of the largest harbours in Canada, mostly because of the natural bay and the two previous cities of Port Arthur and Fort William. There is a lot of distribution and trucking companies on the port property as well as some other businesses. The Port of Thunder Bay has the largest warehouse complex between Toronto and Winnipeg, some 550,000 square feet. This space is used for forest products, for Bombardier and supporting regional industries. There are also a couple of manufacturing business and some private warehousing operations. Very visible on the Port of Thunder Bay site is a large crane. "Our large crane was used on many different cargoes last year including wood pallets and wind turbines. This year we have a liner service starting from Europe once a month which may need the use of the crane. There are some interesting development on diversification." said Heney. " We are complimentary to rail with our product mostly being to and from Western Canada. The railways favour Thunder Bay to allow them to get the cars back in service quickly. We are mandated to be financially self sufficient and operate like a private sector business."
The winter was cold in Thunder Bay this season but the conditions are good to have an earlier start to the shipping season this year. " The ice breaker will be here March 18th. The seaway opening has been delayed a week but we will see ships about April 7th at the Port of Thunder Bay with lakers coming up for grain. The ice isn't as bad as last year and we have had quite a warm up in the last week or so. This will be a quicker start to the shipping season by 3 weeks than last year."said Tim Heney. This 2014 season was the second largest grain shipment in history and the year before the largest according to Heney. " In 2015 we see a lot of grain coming again and expect to get close to last years numbers. It is hard to predict another record but it could happen. We are going to see some wind turbines and some wood pallets. In addition there will be some steel shipments to Western Canada which we haven't done recently. We have 6 ships lined up at Keefer before June so will be pretty busy. There are two ships in port this winter positioned for repairs which is traditional."
On the Canadian side of the Great Lakes the Port of Thunder Bay is a close second to Hamilton but could regain number 1 position again according to Heney. In Canadian ranking the Port of Thunder Bay is about 12th. There is a direct employment of about 700 people at the Port of Thunder Bay. ' The port is coming back into it's own and rebounding. It is very encouraging to see after the change in the Wheat Board organization which nobody really knew would happen. Hindsite is showing it was a positive thing." said Tim Heney.
PORT OF THUNDER BAY HANDLED 9.3 MILLION MT IN 2014 The 2014 shipping season will come to a close next week when the final threeLakers depart Thunder Bay with loads of grain. The Port handled 9 .3 million metric tonnes (MT) of cargo in 2014, an increase of 43% over 2013 and 29% over the 5-year average. Despite record-breaking spring ice conditions that set back the port's opening date by an unprecedented four weeks, the port had its best year since 1998.The season featured a remarkable rebound for grain shipments in the Port of Thunder Bay. Strong December volumes were led by 1.1 million MT of grain, bringing the final annual grain volume to 8.3 million MT- more than any shipping season since 1997. There were 438 vessel calls to the port in 2014, compared to 331 in 2013 and the 5-year average of 374. This included 127 ocean vessel (Salty) calls - the most in a decade. Thunder Bay port facilities loaded more than 2.2 million MT of cargo onto Salties for direct export to international ports. This is more than twice the 5-year average of 950,000 MT.