Paro Centre for Women's Enterprise Celebrate 20 Years!
Since 1995, PARO has provided assistance to thousands of entrepreneurial women through innovative business services, peer support and community events. This year, PARO is thrilled to be celebrating 20 years contributing to the empowerment of women and promotion of economic development in Northern Ontario.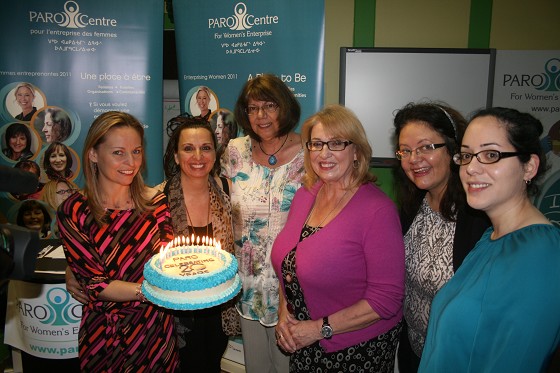 In honour of PARO's 20th Anniversary, our organization will be hosting exciting opportunities and events throughout the year to celebrate Northern Women in business.
One of the most exciting events to be held in recognition of our 20th Anniversary will be the transformation of our annual Enterprising Women Awards.
With a wealth of entrepreneurial talent in the region, the 2014 awards gala will transform into the PARO Top 20 in 20 Awards. The awards will commemorate the Top 20 PARO women from the last 20 years who have seen much success, and who have devoted their time and efforts to the empowerment of women in Northern Ontario through our organization.
Do you know an exceptional woman who exhibits PARO's values of cooperation, ownership, integrity, responsibility, simplification, and peer support?
We want to hear about her!
We look forward to recognizing those who have worked hard to enhance their communities within the last 20 years.
Stay connected with PARO throughout the year for information about upcoming events in celebration of our 20th Anniversary
" It has been 20 years for PARO and has gone very quickly, a great journey," said Rosalind Lockyer, PARO Founder and Executive Director. " I had the idea for PARO and then gathered together some women over at the Northern Women's Centre and said how are we going to do this and make this happen. We started with what we wanted PARO to do for you and how to make it happen."
" I was doing some research to find an innovative way to help women move ahead. Women weren't getting the services they need in the mainstream programs back then and I found out in different parts of the world they were doing peer lending and it looked like a great concept for Northern Ontario. A small group of women can make a lot of change in their community and also grow their businesses," said Rosalind. "We probably help about 1500 women a year and start up about 130 to 150 businesses yearly that create about 290 jobs. Our outreach is more now."
" PARO proves to the world the way to be successful is by collaborating and helping each other. It comes naturally to women to work together, celebrate success and help each other through the hard times."
" We generally do about 10 to 15 awards each year and wanted to do something special this year to the top 20 women over 20 years. These awards are for women who have helped other women as well as their own businesses and their community. They believe in the values and concept of PARO. People will nominate on our web site and on November 13th at the Valhalla Inn we will announce the awards." www.paro.ca
Erika Maki, Spa For You and Community In Coffee at 112 East Frederica Street
" We bought a 5000 square foot building about 6 years ago and have housed other businesses as well."
Community in Coffee is a specialty tea and coffee business. Our philosophy is about the community where we have monthly-featured artists and bakers. We will feature other businesses as well as local artisans from reading groups to astrology to weight loss groups. It is about the community. We will have our grand opening in August during Westfort Street Fair."
" Spa or You have grown tremendously. We are a full service spa that provides manicures, pedicures, facials, body wraps, massage, nail extensions and more. It is a growing business because men, women and the media have given themselves permission to augment their look."
" I find men and women come to us more so for personal and physical contact. It is not only about pretty nails but contact and social relationships."
PARO was a dream and I became a circle member. I also worked for PARO for a while and then they guided to me through a business plan, promotional materials, where to register your company and with continued support and training sessions. They have helped expand my business. PARO has been very instrumental in my growth."