PARO Announces Northern Ontarios Business
Women of 2018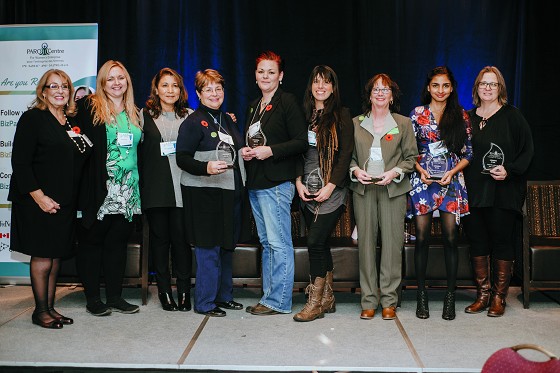 PARO Centre for Womens Enterprise is celebrating business women across the North. The 2018 PAROBiz Awards recognized the achievements of six women who have turned their entrepreneurial ideas into successful businesses.
PARO Executive Director, Rosalind Lockyer says; There are hundreds of PARO women achieving their business dreams in their communities and moving the region forward. This years winners are role models who represent diverse ages, cultures and sectors. Most importantly, they are visionaries and innovators who have taken considerable risks to become entrepreneurs. It gives me great pride to join with PARO women, mentors, business partners and future entrepreneurs to celebrate the achievements of Northern Ontario business women.
The 2018 PAROBiz winners are:
New Business of the Year Holly Watson, The Haven Hostel
Change Maker Entrepreneur of the Year Hafsa Siddiqui, Do or Diabetes

Established Business of the Year Christina Reder, Christinas Home & Garden

PARO Building Bridges of the Year Kelly Sebulski, BAY360PHOTO.com

PARO Fundraising Circle of the Year Sharla Brown, Protogenia PARO Circle

Alumni of the Year Jennifer Biron, Redhead +The Chef
The 2018 PAROBiz event kicked off this morning with an inspiring address from keynote speaker Jennifer Sloat, Founder and CEO of MineIQ. Jennifer shared her story of working in digital innovation for the past 20 years. She spoke about the challenges and achievements of working on industry firsts in the early dot-com boom/bust adventures, to developing advanced technical solutions for Fortune 500 companies.
Her company, MineIQ has become the fastest and most sustainable way to digitally transform the mining industry.
Since 1995, The PARO Centre for Women's Enterprise has helped thousands of women across Northern Ontario to start, grow or build new business opportunities.

PARO Centre Celebrates Women who Achieve their Business Dreams.Thunder Bay, November 1, 2018 - Today, PARO Centre for Women's Enterprise, the strongest women-peer lender in North America, announced its annualconference and business awards; 2018 PAROBiz: From Dreaming to
Achieving; afull-day professional development Conference and Awards Luncheon to be
heldat the Valhalla Inn on November 8th 2018.
To officially launch the event, PARO Centre for Women's Enterprise presented the 2018 Alumni Award to Jennifer Biron; an exceptional business woman and owner of Redhead + the Chef. Five other female entrepreneur winners will be announced during the upcoming Awards Luncheon in categories such as New Business of the Year, Change-Maker Entrepreneur and Established Business of
the Year.
Redhead + The Chef is a creative catering company that is best known for their innovative breakfast spot at the Thunder Bay Country Market. The business prides itself on providing the highest quality ingredients and as much locally sourced products as possible.
Says Jennifer Biron; "For me as a woman entrepreneur, the last 6 years have been filled with challenges, obstacles but also many rewards! We love our community and want to support local as much as we can through our business.
This Alumni Award recognizes what I have created for myself and my team; I am truly honoured and have a deep sense of pride"!
In addition to an Awards Luncheon, 2018 PAROBiz: From Dreaming to Achieving
offers participants the chance to be inspired through professional workshops, mentoring sessions and networking. An impressive slate of 8 speed mentors join this year's line-up, offering round-table business
tips and
expertise to women entrepreneurs.
Says Rosalind Lockyer, Executive Director of PARO Centre for Women's Enterprise; "The focus of this year's PAROBiz is to celebrate the achievements of Northern Ontario women in business but also to inspire others. The event will be filled with successful women who walk the talk everyday of their lives by contributing to the business fabric of our region. If one woman leaves PAROBiz with a new sense of
empowerment, motivation and ideas about how to turn their business dreams into reality, then we have achieved our goal."