PARO Centre for Women's Enterprise Receives National Recognition
PARO Centre for Women's Enterprise (PARO) representatives and clients gathered during the non-profit's Grow and Glow financial workshop to announce PARO's latest achievement: a coveted Donner Canadian Foundation Award. In recognition of PARO's innovative approach to entrepreneurial education, the non-profit was awarded the 2014 Donner Award for Excellence in the Delivery of Educational Services.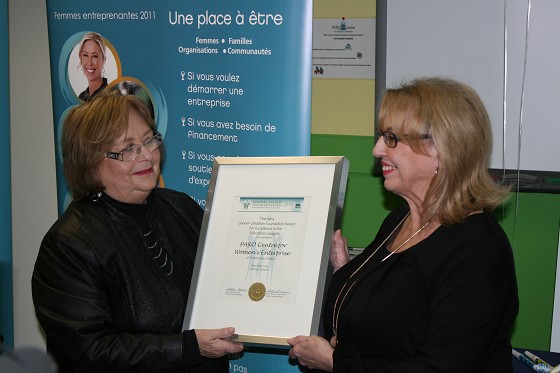 The Donner Awards is Canada's largest recognition program for non-profit services agencies. With forty-eight national applicants in the 2014 Education Category, PARO's unique business education initiatives, such as its weekly Grow and Glow workshop, separated PARO from the crowd.
"PARO is not a formal educational institution like a college or university," says Levina Collins, PARO President. "So we are honoured to be nationally recognized for adapting the business education model to accommodate women who may not have the time, money, or desire to pursue a more traditional route.''
As the needs of entrepreneurial women and their communities evolve in the North, so does PARO's approach to business education. Rosalind Lockyer, PARO Founder and Executive Director says, "PARO provides weekly skills workshops, as well as one-on-one counselling, networking events, and financial services among other opportunities tailored to client needs. We also bring in guest speakers from various industries, and offer hands-on retail and customer service training at our PARO Presents store. Through this dynamic approach, our clients receive on-going business education that reflects the latest in both industry standards and regional capacity."
The non-profit further accommodates its clients by offering learning opportunities onsite, online, and on the road. "Being accessible to entrepreneurial women is very important to PARO because we understand the unique realities of operating a business in Northern Ontario, including geographic and cultural challenges," Lockyer continues. "We aim to break down those barriers by offering business education in-person at the PARO office in Thunder Bay, as well as online through Contact North, and regionally via our mobile initiative "PARO on Wheels", which brings our services to rural communities from Kenora to Bracebridge."
As part of the non-profit's 2014 Donner Award, PARO has received a $5,000 cash prize to be invested in the PARO on Wheels program. The money will subsidize various costs associated with the program, from outreach and marketing, to fuel and maintenance.
During the announcement, PARO staff and workshop attendees presented a vision board they created as part of their weekly Glow and Grow workshop. "This vision board contains positive words and images that represent the future for PARO in the eyes of our staff and clients," says Lockyer. "PARO is a forward-thinking organization, and receiving a Donner Award is a vital step toward strengthening and expanding all of our business education services throughout the region. We envision a very bright future for enterprising women."
Last year, PARO touched the lives of 33,260 people through the organization's many programs, services, and events, and facilitated 271 regional workshops for enterprising women. Since 2009, PARO has helped women access $4,115,471 in grants to start their businesses.
Rosalind Lockyer PARO Founder and Executive Director
" We are so excited about receiving this award because it is a national award, the 2014 Donner Canadian Foundation Award for excellence in education programing for not for profit organizations. We were compared to 48 other organizations across Canada." " We have been working here at Paro for 20 years to provide cutting edge training and are flexible in asking the women what they needed and where they needed it. Today we completed a vision board as to where they see Paro going in the future so we will take that and plan with those messages." " The $ 5000.00 cash portion of the award will go to our Paro on wheels program. If the women want us to come to their community we will find a way to get there.: