Ontario Investing $7 Million for Cutting-Edge Facility at Confederation
College

Ontario is investing $7 million in a new state of the art training facility at Confederation College to support good technology and trades jobs in Northern Ontario.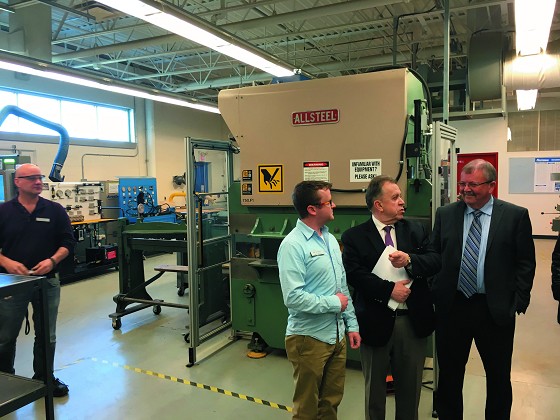 As announced in the 2016 Budget, the Technology Education and Collaboration Hub in Thunder Bay will offer students preparatory, apprenticeship, trades and technology programs in a single location.

The innovative workshop and laboratory space will expand training opportunities in Thunder Bay and help develop an employment-ready technology and trades workforce for Northern Ontario.

Exposure to multiple fields of study within the same facility will allow students to develop the diverse skills they need to compete for jobs in Ontario's manufacturing, technology, and resource sectors.The Technology Education and Collaboration Hub is part of the largest
investment in public infrastructure in the province's history -- about $160 billion over 12 years, which is supporting 110,000 jobs every year across the province, with projects such as roads, bridges, transit systems, schools and hospitals. In 2015, the province announced support
for more than 325 projects that will keep people and goods moving, connect communities and improve quality of life.

Supporting technology and trades jobs in the North is part of the government's economic plan to build Ontario up and deliver on its number-one priority to grow the economy and create jobs. The four-part plan includes investing in talent and skills, including helping more people get and create the jobs of the future by expanding access to high-quality college and university education. The plan is making the largest investment in public infrastructure in Ontario's history and investing in a low-carbon economy driven by innovative, high-growth, export-oriented businesses. The plan is also helping working Ontarians achieve a more secure retirement.


Quick Facts
• The Technology Education and Collaboration Hub will be located at Confederation College's main campus in Thunder Bay.
• This project is part of Ontario's plan to provide $3 billion in capital grants to postsecondary institutions over 10 years.
• Since 2003, Ontario has provided over $1.2 billion in capital grants to colleges.
• In 2014-15, over 35,700 students were enrolled at northern universities and colleges, an increase of 21 per cent since 2002-03.
• Research shows that every $100 million of public infrastructure investment in Ontario boosts GDP by $114 million, particularly in construction and manufacturing sectors.
• The new Premier's Highly Skilled Workforce Strategy Expert Panel is developing a strategy to help the province's workforce adapt to the demands of a technology-driven economy.

Additional Resources
• Work in the trades
• Employment OntarioQuotes
"Our government is proud to support new capital projects that will give students access to the cutting-edge facilities they need to get good jobs and grow our province's economy. I know that this new hub will help ensure Northern Ontario businesses in a diverse array of sectors
will benefit from a skilled workforce that meets their labour market needs and helps them grow their businesses."
Reza Moridi

Minister of Training, Colleges and Universities

"I am so proud that our government is helping build the highly skilled workforce that our global economy demands. This major budget investment into Confederation College's new Technology Education and Collaboration Hub will help position Thunder Bay as a premier destination for
training and innovation in the manufacturing sector and will better prepare students to earn jobs for today and tomorrow."
Michael Gravelle
MPP Thunder Bay-Superior North

"The Province's investment in Confederation College's Technology Education and Collaboration Hub will result in the consolidation of a variety of trades and technology programs into a single location. The new hub will expose students to a variety of different fields of study, and result in a graduate with a diverse skill set and the flexibility to work in a variety of key roles. The multi-skilled graduates produced by the college will continue to provide our northwestern Ontario
businesses with the skilled workforce they need to thrive in our ever changing economy. Confederation College has played a key role, for approximately 50 years, in supporting the economies, and quality of life, of Thunder Bay and the region. I am proud of our government's
ongoing support for Confederation College as well as the innovation and leadership continually shown by Confederation College."
Bill Mauro
MPP Thunder Bay-Atikokan