O, Canada! Applebee's® Celebrates Twenty Years
Twenty years ago, Applebee's Neighbourhood Grill and Bar® became an international brand and a proud member of the Canadian community when it opened its first restaurant outside of the United States on Pembina Highway in Manitoba, Canada.
In the two decades since then, Applebee's has been proudly serving guests its famous burgers, steaks, chicken wings, ribs, salads and cocktails across Canada, including Calgary, Winnipeg, Ontario, and Regina.
To celebrate the 20th anniversary and express the pride and gratitude we have in being part of these neighbourhoods, Applebee's has introduced exclusive new items to the Canadian menu that celebrate the tastes and heritage of the country.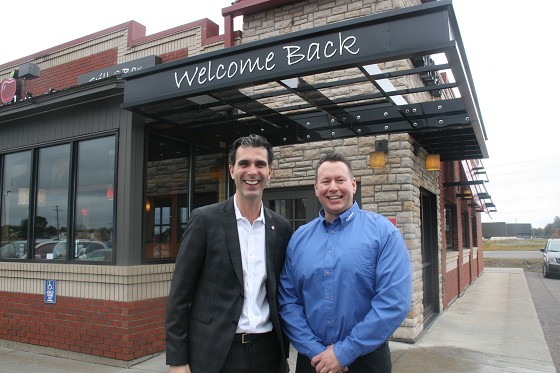 "The opening of the first international Applebee's in 1994 was the beginning of a 20 year love affair between our restaurants and our Canadian guests, and it's been growing stronger ever since as our presence and our commitment to Canada and the local community has grown," said Daniel del Olmo, President of International, DineEquity, Inc. "Our newest menu items clearly demonstrate our goal of combining Applebee's quality with the desires of our guests. We are extremely thankful that we have been able to provide delicious food to our Canadian guests for over two decades and we're looking forward to many more years—and new locations—in this great country."
As part of this celebration Applebee's franchisee Dynapple Inc. invited chefs and team members throughout their restaurants in Ontario to submit ideas and recipes for dishes they thought would delight their fellow Canadian guests—everything from generational family recipes to new favourite appetizer to cocktail creations.
Over 52 recipes were submitted. These were then narrowed down to 10 finalists and ultimately, working with Applebee's International Chef Mike Futris, the winner and two runners-up are now on the menu and available only in Canada. • WINNER - California Chicken Melt: A unique twist on a west coast sandwich. A grilled seasoned chicken breast topped with sautéed red onions, melted Swiss cheese, fresh avocado and arugula. Served with sliced tomato and zesty lemon basil mayo on toasted Marble Rye bread. Created by: Chef Dennis Herbert of Ajax, Ontario The Applebee's Brand
Applebee's is the world's largest casual dining chain, with approximately 2,000 locations in 49 states, 16 countries and one U.S. territory. Based in Kansas City, Missouri, Applebee's takes pride in providing a welcoming, neighborhood environment where everyone can enjoy the dining experience. Applebee's Neighborhood Grill & Bar® restaurants are franchised or operated by DineEquity's wholly-owned subsidiary, Applebee's International, Inc. and its affiliates. Daniel del Olmo President of Dine Equity which operate Applebees
" Thunder Bay has the latest renovation package we have put in place for Applebees. You also have to keep it clean and staff it with the right staff that will deliver the "See you tomorrow" culture we have in place. It is really about the softer side and the talent that we have that deliver such a great promise every day. ryan and his team in Thunder Bay do this exceptionally well" " We undertook a culinary competition to ask our own ambassadors of the brand what new dish would be appealing to our Canadian guests. We had 50 entries and are sharing several with you today including the Poutine Burger." " My favourite thing to do is being out in the field with our partners and this is where the brand comes to life."
Ryan Syroid General Manager of Applebees Thunder Bay
" This is our 17th year plus in operation in Thunder Bay beginning June 1997. We have seen a great increase in business since our renovation. There was a great job done especially in our bar area which looks very sharp." " I am a third generation restaurateur. My grandfather came over form the Ukraine and opened up two restaurants in Thunder Bay. My dad had a successful Mr. Steak franchise and then we were with Pizza Hut for almost 30 years and now with Applebees. We employee hovering around 100 employees." " I enjoy the business every day, it is in my blood and doesn't feel like work to me. My favourite part is interacting with the guests and seeing all the faces that I know in the community and making those connections."