Northwestern Ontario Industrial Medical and Rehabilitative Medical Service
by Scott A. Sumner
Long time Thunder Bay based Orthopaedic Surgeon, Dr. Jack Remus has formed a new company to serve the medical needs of NW Ontario based companies. North Western Ontario Industrial Medical and Rehabilitation Services will help you and your staff accesses the best medical care they need to perform their work to the best of their ability.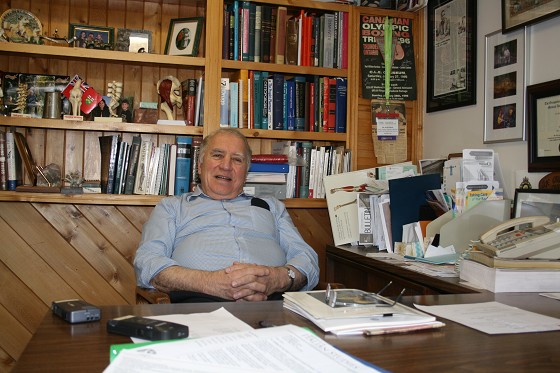 " We are looking after Northern Ontario, not just Thunder Bay, because 25 years ago I started travelling to all the regional communities. In those days we provided services to mines and forestry and you needed to be there to understand their job.," said Dr. Remus.
Remus started practicing in Thunder Bay in 1970 when there were three hospitals. He graduated from Queens in 1961 and went to work at the Toronto General Hospital because Queens wanted him to be a cardiologist, but Jack became enthralled with neurosurgery.
" I deviated for the next 4 years into a neurosurgery but stopped just before the end because seeing the various tragedies that befell patients at that time I felt do I want to that. I switched to Orthopaedic Surgery but my training in neurosurgery made a big difference. At that time McMaster was just opening a medical school and wanted some specialists so U of Toronto loaned me to McMaster." said Remus.
When Dr. Remus first started there were fewer physicians in the field and many patients came in from the region. " I worked for 40 years as a surgeon here but when the new hospital opened we had all these new young orthopaedic and neuro surgeons here who were very good. When I did my training you operated on upper and lower extremities, the spine, you did everything. Since that time the specialists are upper extremity or lower or even you could be a right knee or left knee specialist," laughed Dr Remus. " The young doctors had to pay off their student loans and they needed more opportunity in the OR so I started giving away my time. They wanted me to assist in the operating room as I was a guy with experience, but that is not my style. I like to get out, plan things, meet with industrial leaders in the region and want to be part of how to handle their health care needs."
Dr. Remus decided to form a company to help businesses with pre employment medicals and offer a pick up the phone service for their staff as compared to trying to go to a nearby hospital. " We can try to resolve their problems, including emotional problems, stress, alcoholism and drug addiction which can be more difficult to fix than, say a torn cartilage in the knee. The emotional problems might adversely affect their work. We have to be able to treat these problems and fast track their treatments with the specialists,"said Dr. Remus. " We can handle 85 to 90% of any type of problems in Thunder Bay because of the specialists with the new hospital and the medical school. There may be some problems, say in the vascular area, where we have relationships with specialists at the Toronto General Hospital or Sunnybrook. I can phone or fax them, send them Cat scans etc and get people seen there fairly quickly."
The Remus company has specific testing they do for executives. They also have an excellent relationship with the Mayo Clinic, which is 8 to 10 hours away, from Thunder Bay. " I can work people up and do most of the investigations with OHIP billing here. If there are specific conditions present the Mayo Clinic may be best for that. You can be assessed there and perhaps the procedures can be done in London or Ottawa."
" We have done very well here in Thunder Bay and Northwestern Ontario. The new medical school has been excellent. In my travelling clinics in say Hearst there are medical students that spend a day or two with me. The students are from NW Ontario and are aware of the fact their communities are short of doctors so they may stay here. I also want them to look seriously at the various industries in their communities and work with them to help their employees."said Dr. Remus.
Dr Remus is now 75 years old and still working a full schedule. " I now can control my life in that at the end of the day I can go home. In the previous days I might have to do a hip surgery in the evening. I do bring some of my insurance or employment exam paper work home ," said Dr. Remus. " I enjoy doing the work because I am healthy and fit but most important it is using my mind. If you don't use your mind largely you will probably lose it. I think my mind is better now that 10 or 20 years. If I do start to lose it though let me know and I'll know when to quit!"