North Star Air Provides Valuable Service To The North
by Scott A. Sumner
There is a very successful new airline in Northwestern Ontario- North Star Air. The three year old company has grown rapidly to now fly 10 aircraft from three bases with a staff of around 60 people!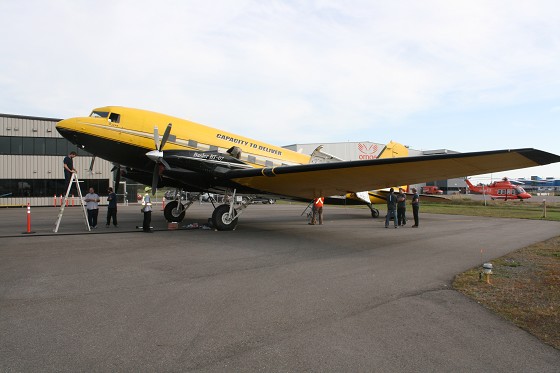 North Star Air is owned by Frank Kelner and began in 2012. The company is currently merging Cargo North, a freight service into North Star Air.
" Many northern communities were asking Frank Kelner to get back into the market because there was a need there for the level of service we can provide. We have three lines of business- charters, passengers and cargo. There may be a few other areas of work in the future," said
Mary Ellen Thomas, Commercial Services and Public Relations North Star Air. " Currently North Star air operate 5 Pilatus PC 12's, 3 Baslers ( DC3 T) and 2 Cessena Caravans. For their charter business the focus is on the Pilatus PC 12 but if they have large groups bring in the Basler. The PC 12 and Caravans can hold 9 passengers and the Basler 18 passengers plus cargo.
The PC 12 is best for longer distanceand the Caravan shorter trips. North Star Air can service Northern Ontario and beyond.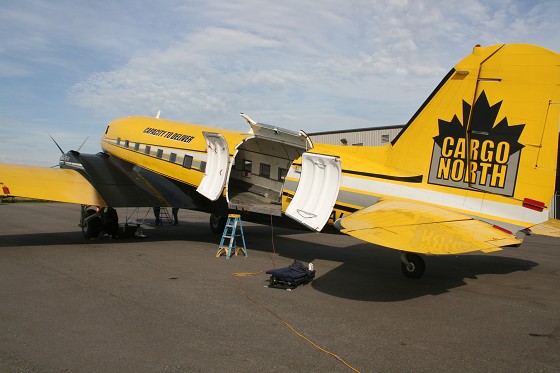 The main plane North Star Air uses for it's work is the Basler DC T for turbine.The Basler conversion is done in Oskosk, Wisconsin where they can complete 2 to 3 aircraft per year.
" It is a big job. They take the old DC 3 hull, stretch it 40 inches, take off the radial engines and put on turbine engines. Then they completely redo the cockpit with all new avionics. It is 45,000 man hours of work for one airplane." said Clarence Heyer, line pilot on the DC 3 T who also does some pilot testing for Transport Canada.
" It is a great machine for the north. It has the big cargo door and we can even haul generators if needed. We have a winch to move the cargo around in the aircraft. Our maintenance and offices are here in Thunder Bay but the aircraft is usually not here but based in Pickle Lake and Red lake. Most of our travel is in NW Ontario."
Both Pickle Lake and Red Lake are the end of the road system so the freight goes there and then has to be flown north to the northern communities. The freight can include fuel for generators, groceries and building supplies. There are some ice roads available but it
depends on the year. Groceries must be flown in. It is a very vital service for the north according to Clarence.
" Frank Kelner has a great reputation with 35 years working with these communities. There is a element of trust. We have two days a week flying in perishable supplies and the rest of the time fuel and freight. The company has grown a lot in the last two years. It was a learning curve flying this plane but I enjoy it and it is a good challenge. I like the north."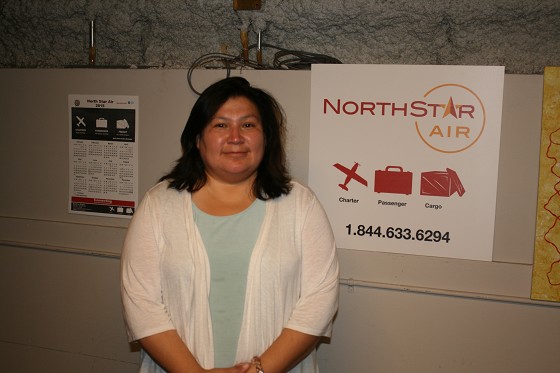 "Unique to North Star Air with the Basler is what we call our service Flex Flight. We want to have that flexibility for our customers and to find ways to bring their costs down, at the same time working with each other." said Mary Ellen. " The Basler is unique as we can move people and freight at the same time. The construction or mining worker, for example, can travel with their equipment at the same time and not wait for it to arrive later. We don't have scheduled routes
but with the Flex Flight we can route the plane to where the passengers are. The north is different so needs the flexibility and makes our airline different than others."
At North Star Air they can lift 11,000 pounds of freight on one flight with the Basler. They offer what they call a combi service meaning you can take passengers and freight on the same flight. When people travel they want to bring their stuff back with them so we listen to our customers." said Mary Ellen.
" At North Star Air we want interaction with our customers and have open houses in the communities we serve and conduct surveys. The way I see North Star Air is to stay in touch with the customers and see what they want. We are not perfect but we try to make it right for the
customers."
Today at North Star Air they have 10 aircraft and base locations in Thunder Bay, Red Lake and Pickle Lake. The freight can be shipped by truck to them and then flown up. There are several routes North Star Air fly to. The Basler requires low maintenance which helps bring
down costs for everybody.
" We are focusing on the north now but we can expand if the market allows it," said Mary Ellen. " I have been in the industry for quite a while and been able to forward my vision for the north and this industry. Frank Kelner has the same vision for the north."
North Star Air have three bases and two airport counters. The bases are in Thunder Bay, Red Lake and Pickle Lake and counters in the airport at Thunder Bay and Sioux Lookout.
" Based on our growth we decided to move to one corporate location at Walsh Street in the old Mercedes Benz location.At North Star Air we are starting to see the results we want for the
north and our 10 community partners. We have a good relationship and always have to maintain and build those relationships. It is important for us and integral to our success. The communities get revenue sharing of our success as well," said Mary Ellen. " The demands of the North
are changing and you always need to be competitive and listening to the customer."