New President & CEO of Tbaytel Dan Topatigh
by Scott A. Sumner
Dan Topatigh, age 47, is the new President & CEO of Tbaytel. He born and raised in Thunder Bay and a Hammarskjold Viking grad who went to Lakehead University for his Honours Bachelor of Commerce degree, graduating in 1989. His first job was with a local chartered accounting firm that merged many times at the national level. He was a senior manager in auditing and accounting. Dan decided to try something different and went into pulp and paper with the Abitibi Mission mill and was there for 8 years as a controller. He then became controller at the then Bowater Mill, now Resolute, for three years before joining Tbaytel.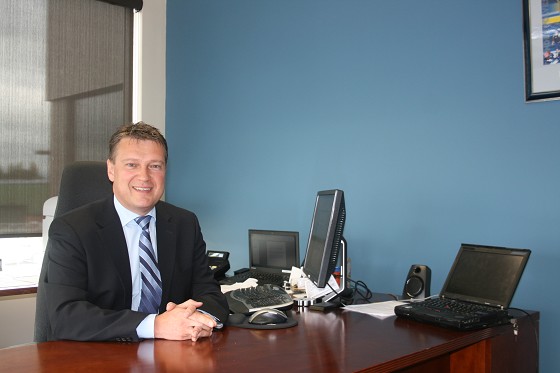 You began your career at Tbaytel after some public accounting and pulp and paper experience?
" I was lucky to find an opportunity at Tbaytel in a dynamic growing industry with younger employees. It was nice to have such an impact locally with Tbaytel. My work experience at Tbaytel began in 2007 as controller originally and then into the CFO position shortly thereafter. At the start of 2013 I was appointed the interim CEO and CFO and then in 2013 the board asked me to me to take on the position of CEO full time."
Tbaytel is now 110 years old providing services to Thunder Bay including wireless service from Manitoba to Sault Ste Marie.
" We are committed to advance the technology of Northwestern Ontario, not just Thunder Bay. We were the first wireless networks that was built here. In 2006 we acquired Superior Wireless to create a robust network for Northwestern Ontario. At the beginning we were phones and then dial up and in 2000 high speed Internet. CDMA was technology started in the 80's and in 2010 we introduced HSPA, which is a different technology on the wireless side. Our 430 employees focused on this new technology and created what I consider to be a world-class network here in Thunder Bay. We are looking at LT to be deployed this year, which is an extension of the HSPA network designed to ensure your data experience is as much as 4 times as fast as we have today. It is a more robust product."
The technology in your industry has changed rapidly?
" The technology moves quickly and requires a great deal of capital investment. We commit 15 to 17 % of our annual revenues to get reinvested in the company and that amounts to about $30 million every year. Coming from the pulp and paper industry I knew it could be expensive investments in that environment but when I came to Tbaytel I found it can be equally as expensive here. For example we had 20 cell towers 2 years ago and we now have over 55 in the urban area of Thunder Bay. We are really just trying to bring the capacity of the network to more citizens of Thunder Bay in this large geographic footprint. Thunder Bay is a spread out community that is unique because we are urban but you don't have to drive out more than 5 minutes to get to a rural area. We have to do our best to provide the best service everywhere." "An individual tower can be quite expensive. The tower we are currently building at Whitewater Golf Club is going to be very unique with a high tech look that might seem more like a sign. You will experience higher bars on your phone with it. These towers are very expensive based on their proximity to electric power and a fiber optic network that we often have to bring into those locations. An individual tower can be as much as $250,000. You need to be selective as to where you put the towers to provide the best coverage available to the concentration of people. It is always changing. We don't sit back and say, well we are done now. This is just one example of many towers that are going up presently this year finding pockets in the community that need better coverage. You bring fiber and electrical power to the tower, build an appropriate base and then there is fine tuning of the towers to communicate with the rest of our network."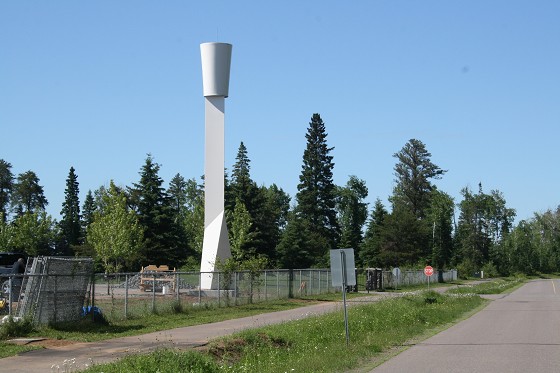 Tbaytel has expanded to new offerings in recent years.
" We are the only provider in this area that has a 5-product bundle with traditional landline, wireless, broadband, security and digital TV."
" Digital TV is something we are very proud of and have been in the space since late 2010. In 2013 we doubled our customers for digital TV. It is a very robust impressive product, an IP based product so you can bring greater technology to your laptop, tablet device, phone and TV. You can integrate each device."
" We had to bring in more fiber for digital TV and are now at over 95% coverage in urban Thunder Bay. It allows for broadband and the digital TV. We are encouraging people to use our digital TV services and have a number of customers who have all 5 of our products bundle. We are very proud of that."
The technology of today means you need everything more quickly?
" The expectation for our subscribers is only going to multiply. You kids might be streaming Netflix's or you are hopping on line. It all requires more bandwidth. The semi rural or lower density areas are more challenging. We are continuing to meet the challenge and are moving towards fiber directly connected to the home. The early technology was using fiber to a nod and we are now beginning a project to bring fiber right to the home and replacing that copper. It provides future proofing for our customers and company. It provides what I call unlimited bandwidth into the home. Many people in the past lived on dial up and today it just wouldn't work."
Security for the home is unique for a telecom company to offer?
" We are a technology company and like to connect the entire home. When you looked at all the services we can provide to a home, security in one of them. It isn't unique to the telecom business. We believe we are providing it at one of the best price points in all of Canada. It is one stop shopping to bring all of those services. For example we are the exclusive service provider for the new VUE Condominiums on the waterfront with all of our services. Those are going to be beautiful building on the waterfront."
Tbaytel has a significant economic impact in Thunder Bay.
" We have 430 employees and a payroll reaching about $33 million on an annual basis. Tbaytel also has a very significant spend in Thunder Bay and region in terms of suppliers and contractors. Tbaytel was created to support both the city and region but also bring economic spin off and we are looking to achieve that in everything that we do. The capital investment we make each year is on top of that. Everything is kept local and is future proofing the community. One of the objectives of the city is to be a smart city and I think we fit very well with that strategic objective."
How can we connect the city well?
" We have over 140 Wi-Fi sites now and are targeting more before the end of this year- that is free Wi-Fi no strings attached for anybody even competitors customers. Our ID process is very simple and available to absolutely anybody at the end of the day. That is what the city wants to drive forward along with the fiber directly to the home. It is a way to deliver the best technology available."
Tbaytel has provided significant annual dividends to the city of Thunder Bay.
" On average we provide the city over $20 dividends on an annual basis and our commitment is $17 million annually. In 2000 the amount was $3 million and has grown to a much higher level over a relatively short period of time. Also we have a large sponsorship of events in the city and region helping to drive that kind of economic investment to the City of Thunder Bay. The citizens of Thunder Bay own Tbaytel through the City of Thunder Bay and councilors. We have a dedicated independent board of directors appointed by the city councilors to act independently. They have provided a very insightful level of governance that helps us to focus on the appropriate parts of the business independent of that political pressure that might come. It is very helpful in continuing to move the company and Thunder Bay forward. We are profitable and able to do all this and remain with a positive cash flow. I am not sure if everyone has an appreciation of all the jobs and making sure your dollars stay local. Tbaytel is one of the most valuable investments of the City of Thunder Bay."
What is your impression of the economy in our region in 2014?
" We didn't see any slowdown of the economy in our industry. 5 years back the pulp and paper had a down turn. Those years may have been our most successful years from a wireless perspective, but wireless was growing then. The reality is people want the latest greatest technology."
" The economy of Thunder Bay in recent years has changed. We have had some great success stories with the new Med school, Law school and Research Institute. These types of organizations are changing the demographic of the community and profile of spending in the community. We continue to see our product lines growing with the exception of the plain old telephone that nationally is on the decline. Some households, especially younger ones don't have the same appreciation for landlines of the older customers."
What's on the horizon for Tbaytel?
" On the wireless side in 2014 we have LTE coming by the fourth quarter of 2014 to ensure the data speeds are higher than today in the footprint of Thunder Bay. On the broadband side we are looking to deploy fiber directly to the home and provide higher speed bandwidth. We also want provide higher speed bandwidth to some of the rural areas that haven't had it in the past. That is a multi year project over 3 to 4 years."
How is your enjoying your new role at Tbaytel?
" Iam enjoying this position a great deal. We have a vibrant group of dedicated employees who are committed to making sure that the community and people they live next to are serviced well. That makes my job easy quite honestly."