New Fire Stations For Thunder Bay Look Good!
by Scott A. Sumner
Thunder Bay is now home to two brand new fire stations located at 2065 20th Sideroad and 1710 West Frederica Street, as well as a renovated and expanded station at 501 Churchill Ave. These projects were completed over a period of about 1 1/2 years by a Thunder Bay based contracting firm, PerHol Construction Ltd, at a cost of about $7 million. The construction project included two brand new fire stations, No 6 and 7, as well as the James Street station renovation, EMS addition and truck bay enlargement.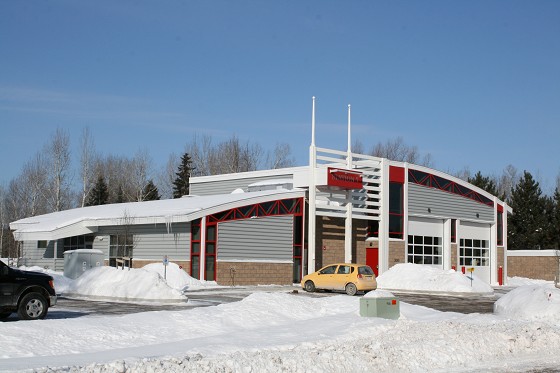 PerHol Construction Ltd. was formed in July 1995, almost 20 years ago, by Ken Perrier and Jim Hollinsworth. Ken began working in construction at the age of 16 with summer jobs. After that he studied at Confederation College in the Construction Engineering & Technician program and moved on to be a journeyman carpenter and then supervisor before starting this business. " These size of projects are a good fit for our company as we have the manpower, they fit in with our game plan of where we are headed with our business and are what we can accomplish in the year. We can do these size projects and smaller." said Ken Perrier, owner of PerHol Construction Ltd.
The project was tendered by the City of Thunder Bay and the contract awarded in July of 2013. The construction work started in the August of 2013.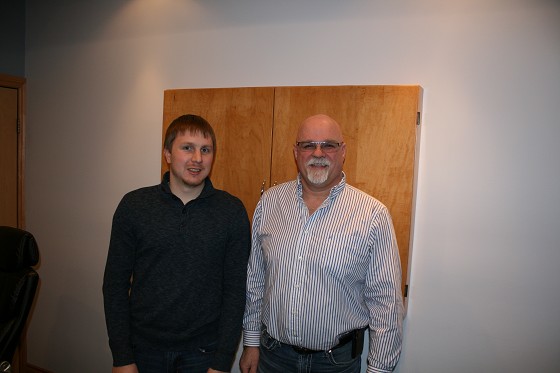 " The first project completed was the EMS addition to fire station 4 at James Street at Churchill, then fire station 7 at 20th Side Road and finally fire station 6 on Neebing. We added on to the existing firehall building at James Street with just under 1500 square feet at a cost of about a $1 million. The existing fire truck bays were extended to get the larger truck inside and the EMS Satallite Station was added to the West side of the building. This renovation also included new overhead doors and operators , revamped electrical, heating and finishing inside." said Sebastian Fuzzen, Estimator/Project Manager at Perhol Construction Ltd. Sebastian has been with PerHol for 5 years this summer and studied construction engineering technology at Northern Alberta Institute of Technology in Edmonton, Alberta in a 2 year program.
Each of the new fire station buildings are just over 5100 square feet in size. The firemen work there for 4 - 12 hour day or night shifts and then they have 4 days off.
" The new fire structures, Stations 6 and 7, were designed by Habib Architecture. There was a lot of detail with the curved roofs. The curved metal roofing panels were rolled onsite by Lakehead Roofing using in house equipment," said Fuzzen. " The heating system is in slab with a variety of ventilation systems. The building is all computer controlled, operators can monitor and control set points in the building, say seeing the temperature in every room or if the overhead doors are open or a boiler or fan isn't working". The buildings are very energy efficient with a 45% energy savings from standard practice. The new fire stations feature a lot of natural light with windows in and above the overhead doors."
" The project had some challenges with the time of year we were doing certain things because of the weather. Last spring there was lots of snow and frost so we lost 1 month of construction time, but were able to pick that month up at the end of the project to turn the second building over January 2015," said Perrier. " The first building took 12 months and the second one 9 months because of seeing efficiencies. The repeat project helped. Also the weather affected the first project."
" The team the city put together was good to work with on these projects. Brian Aho of Profor Engineering was great as the project manager for the City of Thunder Bay. We met every two weeks throughout the project as a team to discuss the issues that came up and to adjust schedules and design. We isolated many of the changes required during the first building construction and could react in advance for the second."
PerHol has a full time staff of 18 people between the office and field. In the summer that number grows to 25. They have their own carpenters, site foremen and steel erection crews that are versatile.
" PerHol can start with the excavation and fill on a smaller project, go on to foundation work doing our own forming, framing steel erection, drywall, wood stud finishing, trusses and windows. We bring in electrical and mechanical sub trades. It makes you a little more competitive if you do more in house," said Ken Perrier. " If the project is larger it can hurt the timeframe so we sub out more of the work which helps the schedule by having more people on site. On a project this size ( Fire Stations) we did some of the work that fit us well and subbed out other. Our major sub trades of electrical, mechanical, controls and masonry were fantastic. We work with them on a regular basis which helps as well. I understand the city is very happy with the new fire station product and feel they have quality buildings that will last for years." According to Perrier the Thunder Bay construction outlook looks quiet for the start of 2015 with not a lot out for bid but hopefully will pick up.
" PerHol does design build work and have a few projects we are dealing with in the spring. We supply and install Butler buildings that are pre engineered and can become offices and other use buildings. It has been fairly busy here in Thunder Bay the last 3 or 4 years. There has been a lot of infrastructure funds put forward by the city. I think we may have a slower year to start but it will pick up."