NEW BUILDING FOR TBAYTEL ENGINEERING DEPARTMENT –'Moving' Into the Future!
By Sherry Aalto
'Moving' into the future! Ongoing developments and engineering in telecommunications and technology, necessitated a new home for the Tbaytel Engineering Department…and that, is exciting news! The new residence for the Tbaytel Engineering Department offers 10,000 square feet of 'design specific to needs' accommodations for its employees and its operations. The new building, located at 751 Tungsten Street, will be ready to receive its new occupants nearing the end of August, 2013.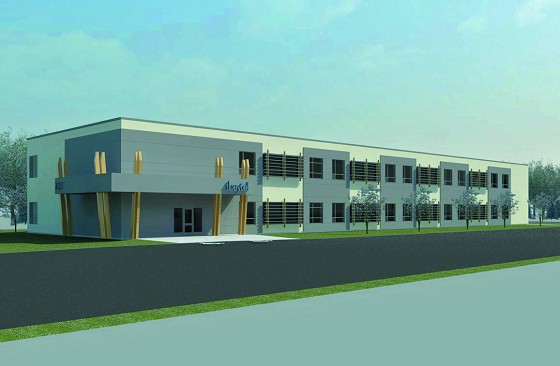 A request for lease space was sent out in 2012 by Tbaytel. Tom Jones Corporation responded to the 'request for proposals', with a 'new building in close proximity to their already existing (Tbaytel) campus. Tom Jones Corporation secured the property next door to Tbaytel and responded with a design build lease proposal. The proposal consisted of an ownership group and financing group, a design team, a construction team and facilities management company; Tom Jones Corporation was able to react quickly as most of these services are provided 'in house'. They had twelve months to complete a 'design, build, lease, program for Tbaytel and not surprisingly, all was achieved within eleven months, slightly ahead of schedule. The three million dollar project, involved Tom Jones Construction, FORM Architecture Engineering, working Directly with Michelle Gibson, who was key for getting the design rolling and getting ground preparation quickly under way.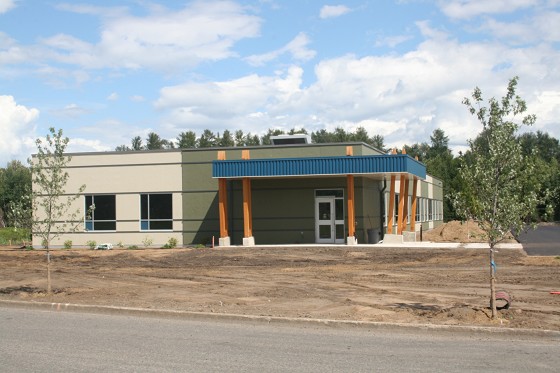 FORM Architecture Engineering designed the building towards LEEDS (Leadership in Energy and Environmental Design) standards, implementing all their 'green' initiatives. Parker Jones, Estimator and Project Manager, explains, "The large windows on three sides of the building, offers a lot of natural day light into the building which helps to create a more positive work environment for employees". Materials used to construct the new building, incorporated 'green construction' or sustainable building materials. It refers to a structure and using process that is environmentally responsible and resource-efficient throughout a building's life-cycle: from siting to design, construction, operation, maintenance, renovation and demolition. This requires close cooperation of the design team, the architects, the engineers and the client at all project stages. The success of the new build, according to Mr. Parker Jones, "is because of the strong Site Superintendent, Project Manager from their office and a great group of sub-trades that were able to pull it all together."
The 'Design – Build Format' is one consideration for new construction projects and is becoming the more popular way to do business. Currently Tom Jones Corporation has several other design build projects across the region. "It works well for everyone involved", says Parker Jones and "it is a growing part of our business and we have had great success with the format in the recent years. Land acquisition, financing, design construction and leasing, can all be done by our group in house with total transparency for the client." The Tbaytel Engineering Department is looking forward to operating out of their new residence and with the latest in 'state of the art' materials and format for 'design-build', one could almost say they are 'moving'… into the future!
FORM Architecture Engineering completed the design of the new building and I asked Michelle Gibson, OAA, MRAIC, LEED AP Partner FORM some questions about the project.
This project has happened with quite a short turn around time. Did this present any challenges for your team?
" Working on a tight schedule for any project requires communication and a clear definition of goals and expectations. As a design/build project, the contractor, owner and architect come to the table to determine the requirements and quickly define any constraints that could affect the schedule downstream. This communication is vital in the success of the project meeting or exceeding client expectations. The finished building is a testament to those shared goals."
The building looks like a very attractive facility. What was your design approach to make it appealing for Tbaytel?
" TBaytel was very clear in their desired vision for the facility, recognizing the need for fiscal responsibility while ensuring the work environment embraced good design practices such as daylighting and natural materials, where possible. Utilizing wood frame construction allowed for a quick construction start and introduced sustainable building products into the aesthetic. From an overall design perspective the intent was to provide a simple and functional working environment that could take advantage of the open spans to allow for flexible staffing arrangements and still maximize the amount of daylighting into the interior spaces. In addition, we introduced glazed screens to any closed office spaces to further improve the light and ambience within the interior space. Complementary colours are used to enhance the natural wood and provide a thoughtful backdrop to the facility."
Photos by FORM Architecture Engineering