Mauro and Gravelle Announce Province Converting Thunder Bay Coal Plant to Advanced Biomass Ontario will achieve its goal to eliminate coal-fired generation before the end of 2014.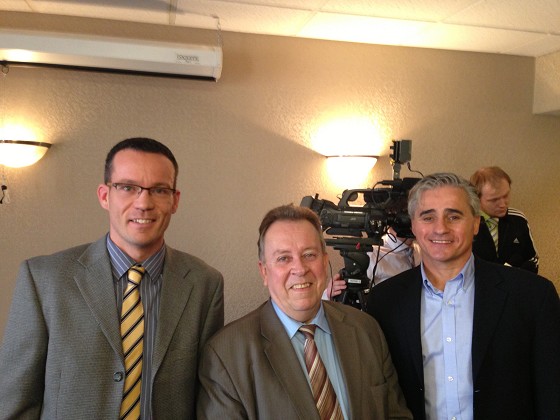 Over the next year, the Thunder Bay Generating Station (TBGS) will stop burning coal and be converted to use advanced biomass as fuel for electricity generation.
TBGS, which is operated by Ontario Power Generation (OPG), will be the first advanced biomass station in the world that was formerly a coal plant and will have a five-year contract to generate electricity. The modifications to the plant will begin in 2014, and it is expected to be operational in 2015. Eliminating coal-fired generation and protecting the environment while providing clean, reliable and affordable power is part of the government's plan to invest in people, build modern infrastructure and support a dynamic and innovative business climate across Ontario QUOTES
"The conversion of the Thunder Bay Generating Station to burn advanced biomass will ensure Thunder Bay has access to clean, reliable power. This initiative will leave a healthier environment and cleaner air for our children and grandchildren." — Bob Chiarelli, Minister of Energy
"Northwestern Ontario is on the leading edge of some very exciting new mining and forestry developments and I am pleased, both as MPP for Thunder Bay-Superior North and as Minister of Northern Development and Mines, that our government is taking action to support healthy communities while ensuring important energy needs are met. By moving off coal and converting the Thunder Bay Generating Station to advanced biomass we are cleaning our air and supporting local jobs. Certainly I am pleased that our government found a solution that will continue to serve the needs of the region." — Michael Gravelle, MPP, Thunder Bay-Superior North
"In 2003 all three political parties committed to closing all coal fired generation in Ontario. No one, however, was discussing the potential conversion of those plants or the impact a closure decision would have on the host communities. I want to thank Minister Chiarelli for his support as today marks the end of a long effort to maintain the two plants in my riding of Thunder Bay-Atikokan to our benefit here in Northwestern Ontario." — Bill Mauro, MPP, Thunder Bay-Atikokan
QUICK FACTS
- By 2014, TBGS will be the last coal-fired generating station operating in the province.
- Ontario closed Lambton Generating Station in October 2013 and will close Nanticoke Generating Station by the end of 2013.
- Advanced biomass is a renewable fuel derived from forest or agricultural sources that has similar characteristics to coal. It has better transportation, storage, and combustion characteristics than traditional biomass.
- Advanced biomass emissions contain about 75 per cent less nitrogen oxide than coal emissions and virtually no sulphur dioxide.
- In September 2013, Ontario Power Generation conducted a successful test burn using 100 per cent advanced biomass, which was the first of its kind in the world.
- Replacing coal with cleaner generation, renewables and conservation is one of the largest climate change initiatives in North America.
Bill Mauro MPP,Thunder Bay Atikokan " The capital cost conversion for this plant is about $5 million and we can produce 150 Megawatts of electricity. It is a very practical cautious approach with tax payers money. In 5 years we may see more fully if we need a full plant conversion. In 5 years we will know more clearly what the energy needs will be in Northwestern Ontario." " A gas conversion would be far, far more expensive from $200 to $400 million." " In Atikokan there is a company investing millions of dollars to produce bio mass. We may see a different approach here. The supplier of advance biomass has been identified to meet the needs of the plant but not yet chosen." " There will be a significant tax base of the plant for the City of Thunder Bay as well as direct and indirect jobs.We anticipate a growth in demand for electricity with mining developments."
Michael Gravelle, MPP Minister of Northern Development & Mines " I am very excited about the announcement today. The bottom line has always been we need to make sure that the energy needs for Thunder Bay and Northwestern Ontario are going to be met." " Bill and I have been working very, very hard to make sure the conversion is made. The conversion to bio mass will help us be global leaders. It will allow us to ascertain what the energy needs will be in the next few years. The asset remains open and therefore jobs for the City of Thunder Bay. It will give us the ability to meet the needs of the Ring of Fire to guarantee the power will be there."
Chris Fralick Plant Manager for Northwest Thermal OPG " We don't have a gas pipeline to install, the installation of new equipment is much less intrusive and we can use more of our existing equipment. The modifications are more peripheral to be able to handle the product safely." " The pellets are a lot like coal as we put it outside, store it there and then put it in the system. We have to make some modifications but the the advanced biomass is a thermally treated biomass. It still starts as wood fibers and ends up as a pellet but it is thermally treated which causes it to be water repellent and much more durable so it creates less dust. The dusting is a major issue from a safety perspective. There are two manufacturors for this product in the world and they have operated demonstration plants. One is in Texas and the other in Norway. It is a proven technology." "It is possible a plant to produce the pellets could happen in Thunder Bay. We have some work to do and 1 year to do it. The technology to make this pellet is comparable to a white wood pellet plant. We have these plants in the process of being constructed in Ontario."