Making Houses Homes
by Scott A. Sumner
The First Nations Northern Housing Conference is one of the initiatives of the working group of 10 tribal councils from the North of Superior area east to the Manitoba border and south the US border as well as north to the James and Hudson's Bay.
" We are always pushing for better housing, better building practices and sustainability in housing and healthier housing. If you have a safe and healthy home to go to it improves your health all around," said Chuck Hebert, Technologist from Shibogama First Nations Council. " I've been working in Northern housing for 18 years and have seen a vast improvement. In every community I work in there is a huge backlog. It is only possible to build so many houses and the need is much greater."
" Our conference theme is making houses homes. The biggest issue for housing in the remote communities is access. You are limited to a short time frame window to get in the supplies to build the homes. The huge backlog of housing also means a shortage of skilled people to build these houses. It means you may not be able to build enough homes."
One of the award winners at this event was the Batchewana First Nation, which won the 2014 Innovation Housing Award.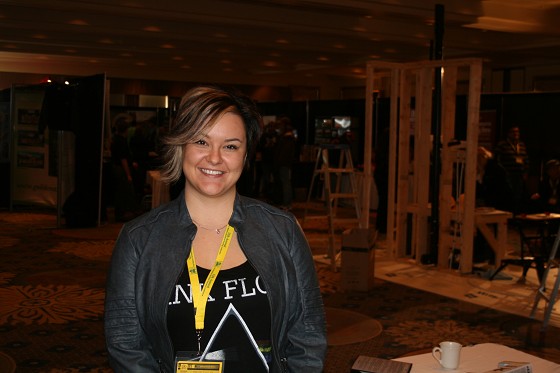 " We got the innovation award for our new tenant orientation process which is very unique in First Nations. We let the tenant participate in the selection process in their home, which will give them more pride in their home. It is to make our community more effective," said Lisa McCormick Tenant Liaison for Batchewana First Nation. " We have a long waiting list and overcrowding issues. The input from residents is helping the tenant and we have a workshop with the tenants after they move in. One issue we are having right now is mould in our older homes."
Currently the Batchewana First Nation has 230 houses they manage and there are 100 private homes including rentals, CMHC, turnkey and bank financed homes.