Lyn McLeod named
Lakehead University's Ninth Chancellor


The announcement was made at a special event in Lakehead's Senate Chambers by President & Vice-Chancellor Dr. Brian Stevenson, who also served as Chair of the University's Chancellor Electoral Board.McLeod will be formally installed as Lakehead's ninth Chancellor at the first of the University's several convocation ceremonies, in June 2017.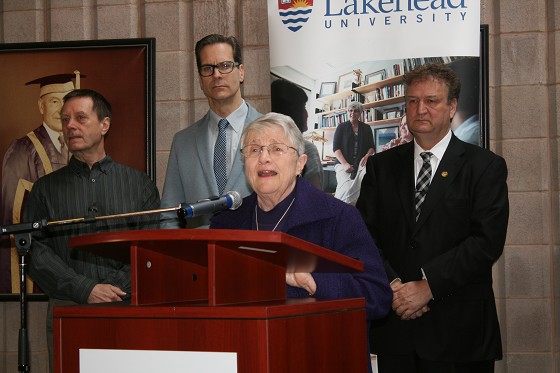 Lakehead University's new Chancellor brings many years of political experience to this important role. McLeod was the Member of Provincial Parliament for the Fort William riding (which became Thunder Bay – Atikokan) from 1987 until 2003.
"I am delighted to continue my relationship with Lakehead University, both in Thunder Bay and in Simcoe County," said McLeod, an alumna of Lakehead University (MA, Psychology).
"I have an appreciation of the role that Lakehead plays in providing access to a high quality university education, and look forward to supporting the achievement of its goals in any way I can," she added. David Tamblyn, Chair of Lakehead's Board of Governors, explained how McLeod is an excellent choice for this position.
"Lyn McLeod has been very active in politics, including her involvement in the post-secondary education portfolio, and that's why we believe her experience makes her the perfect fit for Lakehead University," Tamblyn said.
McLeod served as Minister of Colleges and Universities, Minister of Energy, and Minister of Natural Resources during her political career.In 2014, McLeod was made a Member of the Order of Ontario in recognition of her career in public service and for being actively involved in community work involving education and health care.McLeod has served on Lakehead University's Board of Governors and served as the Chair of Confederation College's Board of Governors. She was also a trustee on the Lakehead Board of Education, where she served as Chair. McLeod is currently a member of the Board of Governors of Georgian College, a Barrie-based post-secondary institution with whom Lakehead enjoys a productive and successful partnership. The selection process for Lakehead University's Chancellor involved inviting the public and University communities for nominations. Candidate nominations were reviewed by the University's Chancellor
Electoral Board, which then recommended the appointment of McLeod.President Stevenson served as Chair of the University's 24-member Chancellor Electoral Board.
"As someone who has spent several years in politics and public service helping people, Lyn McLeod is an exceptional choice for Lakehead's next Chancellor," Dr. Stevenson said. "I look forward to working with her as she represents Lakehead in the years ahead."
As Chancellor, McLeod will have the authority to grant degrees at Lakehead's convocation ceremonies and represent the University at special occasions.

Biography: Lyn McLeod
Lyn McLeod served in elected political office, locally and provincially, for 33 years, prior to her retirement on October 2, 2003.Elected to the Ontario Legislature, McLeod represented the riding of
Fort William/Thunder Bay-Atikokan from 1987 to 2003. Under the Peterson Government, she held the positions of Minister of Colleges and Universities, Minister of Energy and Minister of Natural Resources.Leader of the Ontario Liberal Party from 1992 to 1996, she was the first woman to be elected leader of a political party in Ontario. Since her retirement from elected office, McLeod has served as Chair of the Ontario Health Quality Council, as the Ontario representative on the
Health Council of Canada, and as a member and vice-chair of the Ontario Power authority.
She is a past Chair of the Board of Governors of Confederation College in Thunder Bay and a former member of the Board of the Thunder Bay Regional Research Institute. She was the Founding Chancellor of the University of Ontario Institute of Technology and holds an Honorary
Doctorate from that Institution.She is a Fellow of Lakehead University. McLeod currently serves as
Vice-Chair of New Path, an agency which provides Children's' Mental Health Services in Simcoe County and is a member of the Board of Governors of Georgian College. McLeod was awarded the Order of Ontario in 2014.