Local Company Continues To Grow its Business: Freight Managers Inc.
by Scott A. Sumner
Wayne VanderWees is the co founder and President of Freight Managers Inc., a business that was started 22 years ago with his partner Patrick Fenlon. The two went to university together and even ended up being related as Patrick married Wayne's sister!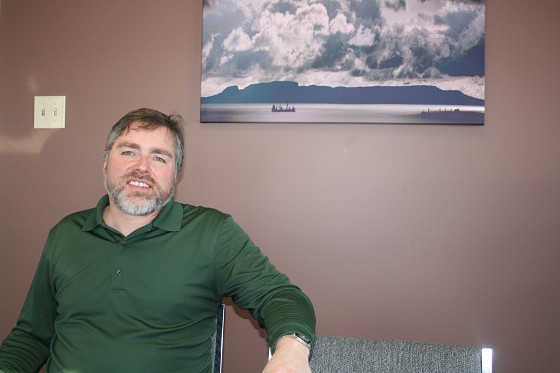 " In the beginning I was general manager of one of the family companies and did quite a bit of work in the transportation area. I noticed if I spent time working on transportation then I could get very good rates, but I didn't always have a lot of time. It made me wonder if there was a company that could help with this and that was the seed for our business."smiles Wayne VanderWees. Patrick and I decided to try the business starting out on a shoestring out of the basement of his families house on Summit Ave."
Wayne previously worked at VanderWees Poultry and Thunder Bay Feeds as well as a wholesale pet food company. On a cold February he was outside trying to fix a piece of equipment with out gloves, and at that point at age 14 years old decided he didn't want to be a farmer anymore. So Wayne went to university, got an Honours Bachelor of Commerce at Lakehead University and also his Certified Management Accountant designation.
" The main idea behind the company is we bring strategic logistics to small enterprises. Large companies have big logistics departments because it is not just a cost centre but can provide profits for the business. Small business treat freight as a cost to them," said VanderWees. " We work with our clients to get their products or supplies to them or their customers when needed. It can be a very complex transportation using barges or winter roads. To us Thunder Bay isn't remote but to the logistics community as a whole, Thunder Bay is considered very remote. We started working with Thunder Bay based businesses but 10 years ago my partner and I looked at the region and became a little worried about being so dependent on forestry. What would happen if the forestry fell apart? We did an effort then to expand across Canada and the US -North America."
Today Freight Managers Inc. has about 1000 trucking companies in their database, about 100 all over North America which are their top ones. According to VanderWees the key is to know who to call and when.
" For example to get something from Thunder Bay to Los Angelos most people think the best way is to get the freight from Thunder Bay to Minneapolis and then Los Angelos. Actually it is better to ship to Toronto and then Los Angelos. The difference in two skids, say a few thousand pounds, is about $300 or $400 hundred dollars. The idea is we have the knowledge to do this. We can concentrate on what we do best. If a client has a load they need to move we can work in our database to get them the best rate and delivery time."
There are four components to any shipment according to Vanderwees- 1. The cost, which most people look at as the most important. 2. The complexity of the shipments say with more than one mode of transportation. 3. The time involved to make the shipment as a priority and 4. The consequences of something happening to that shipment i.e. damages or being late. If you have a product that has a lead time of 6 months to make and you put it on a carrier and it gets damaged it may take another 6 months to get it again.
" Just in time inventory is more important in Southern Ontario than in Thunder Bay. Companies up here realize there is this thing called snow and these trucks or trains may be affected. It is cheaper to store inventory up here and with the cost of interest rates it means they can hold more inventory." said VanderWees.
There are 6 employees at Freight Managers Inc. The company will track each of your shipments everyday and keep you, the client informed as to where the shipment is at along the way. They make a small margin on volume and get a portion of the savings they provide their customers.
" The economy of Thunder Bay and NW Ontario is definitely getting better. I really like it. Interesting thing about Northern Ontario is we live in such an amazing place and have such amazing people here. We have a great work force but are almost afraid to tell people. Slowly there are entrepreneurs coming up here and saying yes we are good enough to compete in the world. There are companies coming to Thunder Bay now and part of the thing is logistics. We are centrally located and have all freight options here expect for rail containers." said Wayne who is currently age 47 and started in the business at age 25. " In the future we are going to expand by taking our business to the next level, giving our clients some help and staying one step ahead of the technology. We offer human service that people still enjoy. I love the business, the whole transportation industry. One of my dreams as a youth was to own my own ship!"