LifeLabs Medical Laboratory Services Celebrate Opening of New Laboratory in Thunder Bay
by Scott A. Sumner
LifeLabs recently celebrated the opening of their new patient service centre and laboratory in the new Health Services Building on Oliver Road in Thunder Bay. The new facility was relocated from their original locations on Algoma Street and Arthur Street and has been open since September 6, 2014.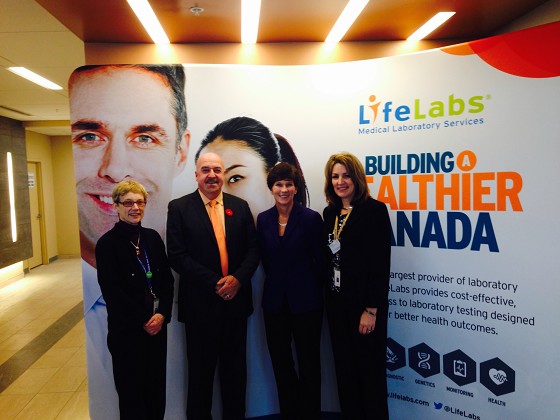 " We are thrilled to be in the Thunder Bay community and at the TBRHSC campus for the grand opening of our new patient service centre and a new processing lab. We have invested in the Thunder Bay community to create a new facility to welcome patients for testing ordered by their physician," said Sue Paish, President & CEO of LifeLabs. " We can process most of those tests in Thunder Bay much faster. It provides faster processing for results and better quality by not having to transport the sample. It improves access to health care, the quality of health care and the patient experience."
LifeLabs employs over 60 people in Thunder Bay and have been here since 1986. LifeLabs have 5400 employees in total at 260 centers in Ontario and 135 in British Columbia. In Ontario they have 12 processing labs. LifeLabs is owned by OMERS Ontario public sector employees with 450,000 members who are retiree's.
" Some of the most difficult populations to serve are those in the most remote areas in the province which are in Northern Ontario. It is a very special population that is very diverse in it's health care needs. Our new facility in Thunder Bay will help to meet those needs." said Paish.
Mario Audet is Manager of Lab operations in Thunder Bay. " We run 80% of the tests required here on site and the non time sensitive tests like DNA are done in Toronto." LifeLabs is the community services provider for Thunder Bay with three Patient Service Centers spread out across the city- on Arthur Street, Court Street, and now on Oliver Road.