Lakehead University opens new International Centre



Lakehead University's increasing number of international students have a new place where they can receive the services and programs they need to succeed.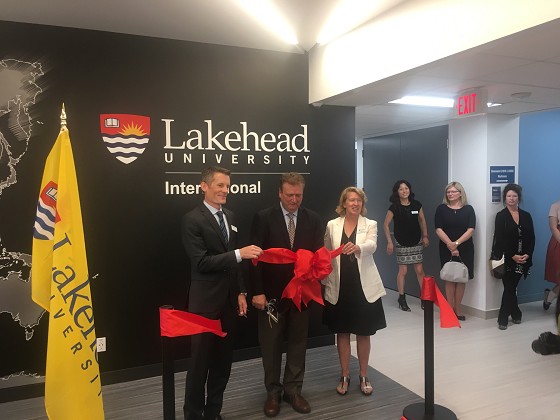 The grand opening of Lakehead's new International Centre was held on Tuesday, September 12, with students, faculty, staff, and community members celebrating the opening with tours, a ribbon cutting ceremony, and prizes.


Dr. Brian Stevenson, Lakehead's President & Vice-Chancellor, explained that work to establish a new International Centre has been underway for years, and it will play an important role in the University experience for all students, not just international ones.


"When we envisaged the Centre, years ago, we saw a meeting place where our domestic and international students would come together, share their distinctive cultures, and learn from each other," said Dr. Stevenson.


"As we watched our international student population grow from 100 to over 1,000 over the past seven years, we also experienced a growing diversity of our campus which has only enriched our University and our communities in numerous ways," he added. "With that increasing diversity came the need for more varied and centralized services and that is the role of this new Centre."


Lakehead's Provost & Vice-President, Academic, Dr. Moira McPherson, said that, "The International Centre's staff and instructors stand ready to welcome and support the needs of our international students as they adjust to university life and life in Canada." She added that with more faculty and students coming from outside of Canada, the University is strongly focused on the internationalization of the University and
the students' academic experience.


The new International Centre brings together various offices and teams that manage several services at Lakehead University, including spaces previously at its 1294 Balmoral and PACI buildings.


James Aldridge, Lakehead's Vice-Provost, International, said, "Being centrally located on our campus means students can easily access supports offered by International Student Services and the
International Student Lounge. This allows us to more effectively support our students' inquiries."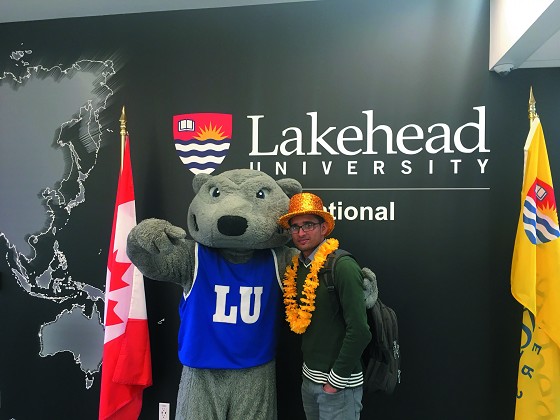 The new space, which is a modern design featuring state-of-the-art technology and a student-focused environment, is now home to Lakehead University International staff, as well as the University's English
Language Centre, International Student Services, and the Study Abroad team.

The Centre's welcoming lobby has become one of the Centre's most popular spots, with its stylized map of the world covering a wall that serves as the backdrop for many photos and selfies.


"Students love the new Centre," Aldridge added. "It's wonderful seeing the halls and new classrooms filled with students studying, building friendships, and enjoying their down time in the lounge while
participating in events."

Lakehead University has about 9,700 full-time equivalent students and 2,000 faculty and staff in 10 faculties at two campuses in Orillia and Thunder Bay, Ontario. Lakehead is a fully comprehensive university: home to Ontario's newest Faculty of Law in 44 years, the Northern Ontario School of Medicine, and faculties of Engineering, Business Administration, Health & Behavioural Sciences, Social Sciences & Humanities, Science & Environmental Studies, Natural Resources Management, Education, and Graduate Studies. In 2016, for the second consecutive year, Re$each Infosource ranked Lakehead first among Canada's undergraduate universities. Visit www.lakeheadu.ca.