Lakehead University
Opens New CASES Building to The WORLD!
The Future Is Here!

By Sherry Hanes
This is truly the Cases of . . . Build it and they will come!
The World is showing up at the doorstep of Thunder Bay Lakehead University, Centre for Advanced Studies in Engineering and Sciences, CASES Centre, developing and promoting inspiration, innovation and ingenuity.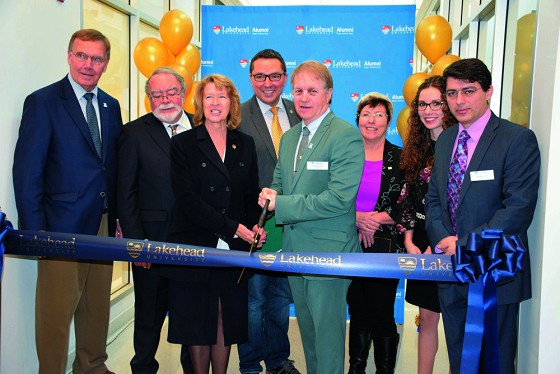 The CASES building, is the amazing, world class, architectural design of i4 Architecture Firm located at 12 St. Paul Street in Thunder Bay, in collaboration with a team of consultants. In a personal interview
with Cory Stechyshyn, founder and president of the architectural firm, Mr. Stechyshyn received the project for the CASES Building, in December of 2015. The actual construction on the site, did not start until February of 2017. Mr. Stechyshyn, modestly claims that there is great architecture all over the world and locally, for Thunder Bay, this is on the list of buildings that make good architecture.
The mandate of the project was to be a LEED Gold Certified building, which is Lakehead Universitys goal for all of their new construction on campus. The architectural firm, acquired the services of LEED
specialty consultants, WSP, of Toronto, Ontario, who guided the owner and consulting team through the steps and the process, in achieving LEED Gold. There is a lot of documentation and paper work thats
required to monitor the materials, recyclable contents and quantities of specific materials that are qualified to meet LEED requirements. The process is quite time consuming, so, typically there would be a
third-party consultant. The LEED consultants specialize in seeing projects go through the LEED process. Mr. Stechyshyn has always had an interest in health care and life sciences projects so, he enjoys the
challenges of learning about other peoples lines of work and as he states, It challenges the architecture and keeps the mind going and developing and understanding of the other sciences and technologies
that exist and seeing how we adapt our designs to facilitate them. The interesting part is, the firm designs buildings for scientists, doctors and businesses and because they do not operate in those buildings, the
firm relies on feedback and conversation with the users of the building to guide them on how they do their work. Mr. Stechyshyn believes that that is what makes good architecture they listen to the needs of the
users and design it for them, (meaningful spaces | thoughtful places). Because this was such a big project, with very elaborate design end drawings, as anyone could well imagine, Mr. Stechyshyn would
like to make mention, the contractor, Finn Way General Contractor Inc., of Thunder Bay and CBRE Project Managers.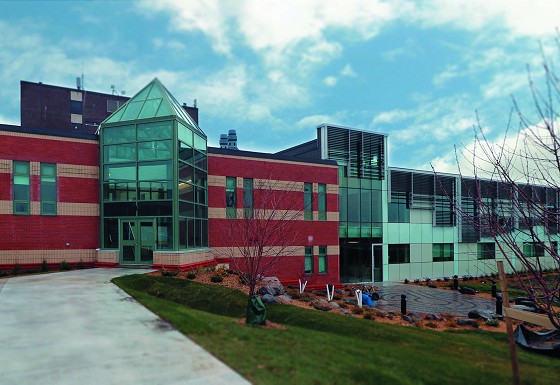 Also, MCW Consultants, for mechanical and electrical, from Winnipeg, Manitoba, who were part of the consulting team and who have a local person here, that does all their field review. Also, he would like to
make mention of Lisa Sandham of Thunder Bay, for interior design, Werner Schwar, landscape architect, Jim Peterson, Structural Engineer, as well as Hatch Engineers of Thunder Bay.The, just over, $26.2 million, 2-story, 42,000-square-foot, State of the Art facility, formally opened its new facility, holding a Grand Opening and Ribbon Cutting Ceremony, on November 30, 2018. It will be a nucleus for research, innovation, and job creation in Thunder Bay and Northwestern Ontario.
Frank Bisignano, Construction Manager of Finn Way General Contractor Inc. who was the general contractor of the project, was impressed with the completion of the impressive building, on time and on budget, despite lots of changes along the way. Mr. Bisignano was very complimentary about how well everyone worked together as a team, everyone from the trades to the LEED specialists and i4architecture, particularly because the project was so huge and also because special attention and examination had to be given daily, weekly and monthly through every step of the process for the building to be deemed LEED Gold Certified. The LEED manager, with Finn Way, worked with the LEED consultants, ensuring LEED specifications were met for certification. Because most of the construction projects in Northern Ontario are LEED projects, Mr. Bisignano saw the need to hire a LEED Manager. LEED certification can be challenging. Recyclable content and deliveries can be the biggest challenge as to meet the percentages of recycling. Most of the materials have to have a certain percentage of recyclable content within them. For example, buying a metal stud, there has to be a certain amount of recyclable content in the stud. And then there is recyclable content for when removing product from an existing site. For example, asphalt. Asphalt, when removed from a site, has to be taken somewhere where they can crush it and reuse it. So, there are really two different types of recycle content. You have to outweigh your waste that goes into the landfill, with percentages of what you can recycle, as in steel and or concrete, that can be used for any kind of fill material and asphalt, that can be recycled, to achieve your LEED points. You have to separate all your woods, all your carboards and all your metals and by doing this, it helps the environment in the end.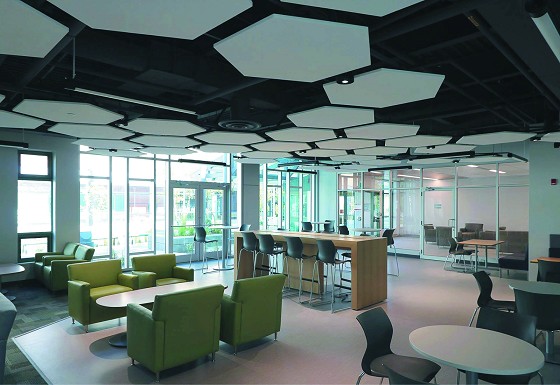 The impressive design incorporates an atrium, bridging the pre-existing Patterson Library and the new structure, the CASES building, which allows access to the tunnel system. The design invites an amazing
amount of natural light in and along with strategically placed lighting, showcasing the indigenous Northern expressions in dcor` makes this new addition aesthetically beautiful. With everything considered, everyone comments on the positive energy that resonates throughout.
CASES plays an extremely important roll, for attracting researchers and top students from all over the world and boasts a list of programs and facilities that have been in the making for a very long time now.
And they are: The Centre of excellence for Sustainable Mining and Exploration, The Aboriginal Mentorship Program, The Biomass Utilization Laboratory, The Prototype Development Facility, The Nano-Material and Advanced Technologies Innovation Centre, The Laboratory for Integrated Freshwater Science, The Community Ecology Energetics Laboratory, The Human Origins Laboratory, the Office of Sustainability, and INGENUITY a business incubator space, which will allow students to develop their
own start-ups in Northern Ontario, possibly the next origin of world, technological advancements in computers or the worlds next on-line retailer?

The project received funding from the Government of Canada, Government of Ontario, Northern Ontario Heritage Fund Corporation, and other partners.
Dignitaries of the University and community, along with members of Parliament, gathered in celebration for the grand event and greatly expressed their gratitude for another dream coming to realization. The
very hard work by everyone involved, on every level, manifested a dream come true, in support of education, innovation and ground-breaking research programs and facilities!
A strong and diverse economy for the region is dependent upon supporting our innovators and industries. Faculty members, government officials and students alike, concur that, investing in postsecondary
infrastructure is essential to attracting and retaining a highly skilled workforce, which encourages entrepreneurship and growing the local economy. Northern Ontario is definitely open for business to the
world!

Thank you! Thank you! Was the sentiment of the day as everyone expressed true gratitude to the unfailing efforts of our current and past governmental leaders that lobbied for this incredible centre and
to the instrumental direction of Lakehead University Board of Governors.
Funding was received from the Government of Canada for $7.96 Million dollars. $1.54 Million was from the Province of Ontario, while $5 Million came from the Northern Ontario Heritage Fund Corporation, $1
Million from FedNor. The new building will be home to two high-priced new pieces of equipment a new transmission electron microscope and an x-ray photoelectron spectroscope. Together, they carry a price tag of about $3 million and are expected to be installed in March. Half of the FedNor contribution is specifically earmarked to help cover that cost. $1 Million from the City of Thunder Bay, $6.56 Million in
capital funding from Lakehead University and $855.783 from equipment funding, also from Lakehead University.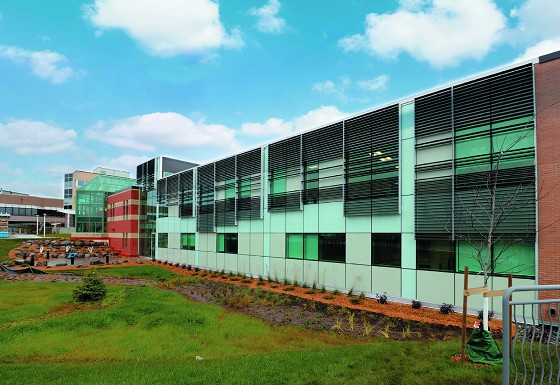 According Mr. Pedramfathei, Canada Researcher in green chemicals and processes, the new centre will now allow for extra capacity research, on an international level, as opposed to a national level, in terms of
science contributions. Now Lakehead will have a huge flag on research and development on the map of Canada. With the advanced, fantastic facilities, from all parts of the world in this building, Lakehead has
the capability to compete with all the largest players of the world and are currently working with and helping companies, all over the globe, like Sweden, China, the U.S., Northwestern, Ontario as well as B.C. and Montreal. This will have a very positive impact on the community and the economy. The forecast is that many more stable jobs will be created through start-ups as well within local companies. Also, collaboration on an international level, in the development of new chemical processes, Lakehead is being sought out and approached by companies in Africa, Brazil and other nations for conducting research on a multitude of processes.

Jocelyn Bel, a student of Medical Biotechnology at Lakehead University, is nearing completion of her PHD and is working at the Northern Ontario School of Medicine with Dr. Neelam Khapers and Dr. Simon Lees, in fetal programming, for combating different deceases later in life. Jocelyn is particularly excited about the Grad Students lounge because it is a hub of interaction and study accommodations, any hour of the day or night and the fact that all the facilities and resources are all in one location, under one roof, makes a huge difference. Jocelyn is focused on becoming a top researcher of the world to save lives and to help up-coming researches with their goals as well. The students as a whole, are very excited to be using state of the art facilities and equipment.

Lakehead University has approximately 9,700 full-time equivalent students and 2,000 faculty and staff in 10 faculties at two campuses in Orillia and Thunder Bay, Ontario. Lakehead is a fully comprehensive
university: home to Ontarios newest Faculty of Law in 44 years, the Northern Ontario School of Medicine, and faculties of Engineering, Business Administration, Health & Behavioural Sciences, Social Sciences
& Humanities, Science & Environmental Studies, Natural Resources Management, Education, and Graduate Studies. Macleans 2019 University Rankings place Lakehead University among Canada's Top 10 primarily undergraduate universities and in 2018 Research Infosource named Lakehead Research University of the Year in its category for the fourth consecutive year.
Congratulations Lakehead University!