Lakehead University Engineering Hold Job Fair
by Scott A. Sumner
The demand for engineering students from Lakehead University has been so strong that the faculty recently hosted their own event in November where potential employers had the opportunity to meet students.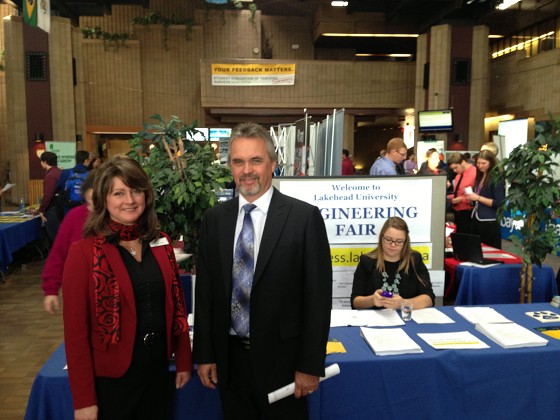 " Today we have a career fair that is focused on our engineering students. There is so much interest in hiring our engineering students we decided to branch out and have our own separate career fair here," said David Barnett, Dean of Faculty of Engineering at Lakehead University. " Each year we graduate somewhere around 250 students and have over 800 undergraduate students and around 50 graduate students. We have 5 engineering disciplines at Lakehead University - chemical, civil, mechanical, electrical and software engineering."
Lakehead University Engineering graduates are highly sought after because of the design of the program where they have a lot of hands on practical experience and follow that up with a lot of the theoretical work according to Barnett. " It makes a really solid outstanding engineer. Our students do quite well in a variety of industries from smaller consulting firms right up to major corporations throughout Canada and abroad."
The outlook for engineering is very good throughout Canada. The growth rate is high with a strong demand. The needs for infrastructure and designing the needs of the community throughout the next decade and beyond are fueling the demand.
" We saw in September a CBC News story on the lifting of the Concordia ship in Italy. One of our graduates walked through the news item. He works for a small engineering firm in Waterloo that were onsite helping with the project." said Barnett.
" Our office works to help prepare resumes, cover letters, to prepare students for job interviews, co-ordinate job placements and organize events such as this job fair to put students and employers together," said Christina Buzzi, Career and Employment Specialist, Lakehead University. " 30% of the engineering program has to be in a placement setting that are all paid. Usually it is 16 months of placement and they have to be approved."
To become a Professional Engineer in Ontario the first step is to graduate from an accredited program such as the Lakehead one. You need 4 years of work experience and then pass a professional ethics exam before you can apply for your P.Eng. The training they get at Lakehead prepares them well for getting their professional engineering license stated Barnett.
" In Canada there are less than 20 % women in engineering classes. We try to recruit more women into the profession," said Barnett. " The starting salary for our graduates is in the low $60,000 range but that depends on the area you work in and the location. Some places can result in much higher salaries."