Lakehead names new Legacy Society in honour of
William G. Tamblyn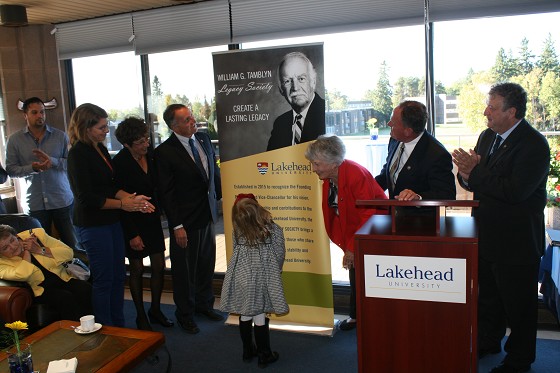 Lakehead University is naming its new Legacy Society in honour of William G. Tamblyn, the University's founding President and Vice-Chancellor.

The William G. Tamblyn Legacy Society allows Lakehead to recognize its donors and stewards, and recruit and sustain donor commitment.

"As Lakehead's first President, William Tamblyn set the University's vision and direction through his leadership," said Dr. Brian Stevenson, Lakehead's President and Vice-Chancellor.

"We value his contribution and dedication to Lakehead University over the years," Dr. Stevenson said.

Dr. Stevenson made the announcement at a reception on Friday, Oct. 2.

Tamblyn was also the Chair of Lakehead's Board of Governors. He received the Queen's Silver Jubilee Medal in 1978; an honorary degree from Lakehead University in 1981; Lakehead named him a Fellow of the University in 1984; and he was awarded the Order of Ontario in 1993.

Lake Tamblyn and the Centennial Building are named in his honor.

"On behalf of the Tamblyn family, I am honoured to have the Legacy Society named in memory of my father. We are all very proud of the long affiliation our family has had with the University and delighted this association will be extended through the establishment of the Legacy
Society," said David G. Tamblyn, William's son.

"Prior to my father being appointed President and Vice-Chancellor in 1965, he was originally appointed to the Advisory Committee of Lakehead Technical Institute in 1953. Among several prominent members of this committee, he actively pursued a vision to create a university to serve
the needs of Northwestern Ontario. From the humble beginnings of the Lakehead Technical Institute, Lakehead University has grown into a full-fledged post-secondary institution offering a range of exceptional programs to draw students not only from across Ontario but from around
the globe.

"We can all take pride in what has been accomplished in the last 50 years and the promise of greater things to come. It is my sincere hope the Legacy Society will become an integral part of that future development," David G. Tamblyn said.

The William G. Tamblyn Legacy Society will honour all alumni, staff, faculty and friends of Lakehead who share Dr. Tamblyn's vision and commitment to the University.