James Street Bridge Remains Closed For
Almost 5 Years Now


by Scott A. Sumner
Peter Collins, Chief of Fort William First Nation, held an information session on September 18th to try and garner support to build the access back into his community and the City of Thunder Bay.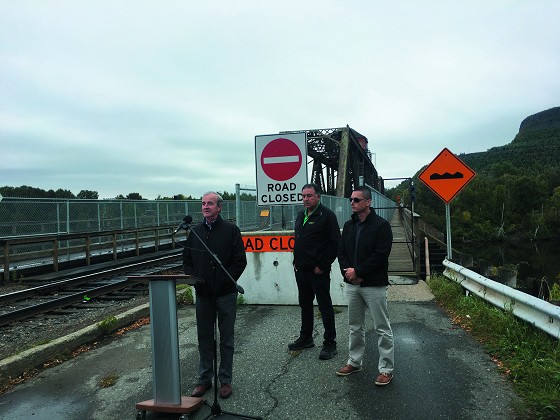 " We are working with a company called Acrow Bridge to build a permanent structure to cover both of the cantilevers. This could be accomplished in a 8 to 12 week time frame range. We want public and
political pressure to CN to get the job done. This dragging it out in the courts doesn't make sense,"said Peter Collins. " The Ontario Court of Appeal already ruled against CN and now you go to the Canada Supreme Court, how long is that going to take- years. This situation has to be rectified and rectified now. October 29th will be 5 years with the bridge closed. CN has hired an engineer to look at our approach and want us to get support from the City of Thunder Bay."

The bridge solution from Acrow would cost in the $ 5 to 8 million range and be a permanent structure with both lanes open for traffic.

" The safety issues we have now with the bridge closed were displayed with the stopped traffic todayon Highway 61. We also need more than one lane or traffic on the bridge will back up." said Collins. " We are
getting communication from CN saying lets look at it next summer but we want it done as quickly as possible. We need financial support from all levels of governments. If we do this we eliminate the court process to get the solution we need now."