Habitat for Humanity Opens New and Improved ReStore Thunder Bay
Habitats for Humanity Thunder Bay volunteers have been working on a project very close to home. The not-for-profit organization recently officially opened its newly renovated Restore to the public, located on 660 Squier Street. For the last 7 months, volunteers have been constructing a 6000 square foot expansion, along with working on a new roof, office space and an entire interior makeover.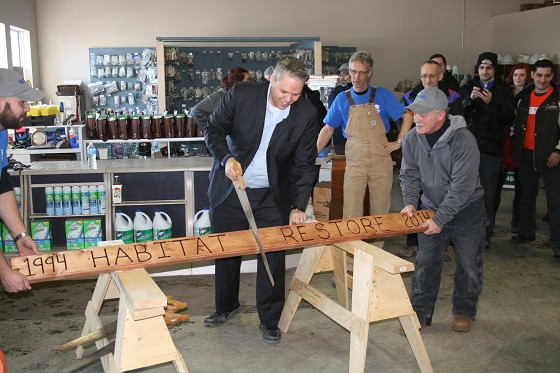 With the new space, the ReStore will not only be able to sell a larger quantity of retail, but will also become a donation hub for slightly used appliances, building accessories, and furniture for re-sale. Habitat for Humanity Thunder Bay ReStore, Manager, Tyson Neil, says; "Thanks to the huge amount of support from the community we have outgrown our previous building and we were in desperate need for more space. Over the last five years the ReStore has really boomed, doubling in sales, to become the 'one-stop-shop' in Thunder Bay for those looking to buy or recycle renovation materials. The ReStore renovations will support future growth and profitability for the operation.
The Habitat for Humanity ReStore has been operating in the community of Thunder Bay since 1994, and is the organization's single source of funding. It has become a popular retail outlet with brand recognition for its traditional product lines such as doors, windows, lighting, kitchen and bathroom fixtures, appliances, flooring, paint, plumbing and electrical accessories. Continues Tyson; "Expanding the ReStore location and capacity will contribute to a greater number of homes built each year in Thunder Bay. By shopping at the ReStore you are supporting families in need and directly helping the community, through recycling products and reducing waste to our local landfills, but most importantly all proceeds support Habitat for Humanity Thunder Bay. The Restore's primary purpose is to provide funding for building Habitat houses."
Rob Voisin, National Director for Restore and Product Services
" We have 83 stores in Canada today and expect another 12 stores to open in the next year making our pace of adding 8 to 10 stores per year. The first store ever was in Winnipeg in 1991 and Thunder Bay opened in 1994. There are over 850 stores in the US as well as Australia. It is a Canadian invention that is now around the world!"
" Everything we sell is donated to us and we don't buy and sell anything. It all comes from local or national business partners like the Home Depot for example, which annually donates about $10 million to Habitat. Our over all sales in Canada in 2013 were $41 million and the Thunder Bay store did about $400,000."
" We expanded this store because the product being provided by the community outgrew the space. By more than doubling the store size we can accept more product and increase sales. The average size store in Canada is 10,500 feet and Thunder Bay is there now."
" Our revenue from this store goes into our organization and contributes to building houses. It is a very unique business. The consumer gets a great deal as the price is 50 to 80% off and you also don't pay any tax here, as we are a charitable organization. We provide a solution and deal with problem inventory for companies by giving them the opportunity to donate to us, receive a tax receipt, use our logo along side their brand and they don't have to pay to put it in landfill."
Tyson Neil, General Manage of the Habitat Restore. " This expansion has been a long time coming and an enormous amount of work to get to where we are now. We finished a lot of the interior work with volunteers." " We have more product and an expanded yard outside to store inventory. We are open to the public to come in and shop or volunteer if you wish to do so. We get a lot of support from the business community that donate to us. It is a great community here with different volunteers some of whom have been here for years. The end game for us is to see the house go up."