FOUNTAIN TIRE ENCOURAGES CANADIANS TO KEEP CALM AND DRIVE ON THIS WINTER


Winter tires proven to be far superior to all-season and all-weather options for winter driving

Fountain Tire, one of Canada's leading tire and automotive service providers wants to ensure that every Canadian is educated about the benefits of winter tires to take on the predicted harsh winter. In an effort to do so, the Fountain Tire team is pleased to share key safety information and findings regarding the use of winter tires from the Thunder Bay Police, The Canadian Association of Road Safety Professionals (CARSP) and The Canadian Traffic Injury Research Foundation (TIRF).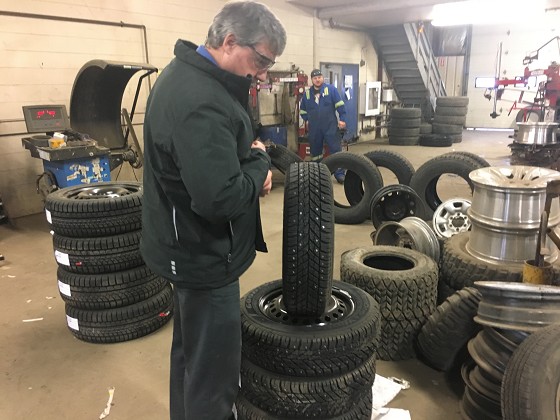 "We understand that it is easy to be confused about the differences between winter tires, all weather tires and all-season tires," says Darcy Hunter, Fountain Tire. "The team at Fountain Tire believes in having the right tire for your location and terrain so that drivers can have peace of mind navigating through blizzards, black ice and whatever conditions stand between them and their destination this winter. With typical winter weather conditions bringing plenty of snow and ice to
roads in and around Thunder Bay, winter tires are a must for personal safety."

According to a report by TIRF, newer generations of winter tires make use of a flexible rubber compound that is less prone to stiffen in cold temperatures and have treads designed to improve traction on any road surface, whether it be wet, slushy, snowy, icy or dry and cold. In fact, winter tires have better overall traction at -40 degrees Celsius than all-season tires do at +4 degrees Celsius – an important function for consumers to note when making decisions about how to equip their vehicles for winter driving.
The same study found that alternating the use of winter and summer tires instead of using all season tires year-round can offer long-term cost-saving benefits for drivers. Winter tires have been proven to both increase the likelihood of avoiding costly collisions and improve fuel
economy, with a resulted reduction of 5 per cent in fuel consumption over the course of a year due to better traction. One element of the study also found that the universal use of winter tires resulted in a 5 per cent decrease in accident victims and 574 fewer road accident injuries per year, proving once again that while winter tires can be cost-savers, they are also key to personal safety as well.
Fountain Tire is committed to providing Canadians with the safest tires for winter driving.


"Thunder Bay Police Service would like to remind motorists that winter is fast approaching and so are the adverse road conditions that are associated with it," says Sgt. John Toneguzzi, Thunder Bay Police. "Please allow more time to get to your destination and keep in mind that you should be giving yourself enough stopping room between you and the vehicle in front of you. During inclement weather conditions you should reduce your speed accordingly and drive defensively."
"The Canadian Association of Road Safety Professionals wants to remind Canadians that tires play a crucial role in the vehicle's overall safety," says Jennifer Kroeker-Hall, President of CARSP. "We strongly recommend the use of winter tires rather than all season tires, and that they be used on all four wheels, since all wheels interact with the ice and snow."
Fountain Tire recently gave consumers the chance to try the three different tire types and created a video of the experience to help educate Canadians. The video can be viewed here:
https://youtu.be/8ve05N3P39c.

About Fountain Tire
Established in 1956, Fountain Tire is one of Canada's premier tire and automotive service retail networks with 161 locations spanning Central and Western Canada from Vaughan, north of Toronto to Victoria, British Columbia. The company is also a leading provider of tires and tire
related services to commercial truck fleets and off-road vehicles used in the agriculture, oil and gas, mining, and construction sectors. The majority of Fountain Tire managers own equity in their store. This partnership-based business model combines community invested store management with corporate intelligence to provide customers with service they can trust. The company's shared ownership business model has enabled it to be named among Canada's "Best Managed Companies" every year since 1994.

Darcy Hunter, Owner and General Manager of Fountain Tire Thunder Bay

Why is a snow tire better than a regular tread tire in winter?
"The one thing you can count on with a snow tire is the rubber compound is designed to stay more supple in cold temperatures. Even if you can get a robust tread design in some regular truck tires for instance, snow tires have a tread compound that is more suitable for cold conditions. It stays soft and pliable where the regular compound will become a little harder. The difference is between almost plastic and rubber on the road. The stopping distance is much better as well. You could get 40 feet better stopping minimum and in city driving 60 to 80 feet."

Are people now using snow tires more often?

" We are finding over the last few years people are moving to snow and ice tires with less all season. Commonly we sell winter tire and rim packages. The new vehicles can have such large tires so it can be expensive for that size of snow tire. You can downsize the winter tire rim package to make it more economical. The wheel and the rim may be a better price than just the snow tire alone in the larger size. The tire doesn't make a difference on the operation of the vehicle. Also people may not want their main rims exposed to the sand and salt on the roads. We have stored over 400 sets of peoples winter tire packages."

Fountain Tire Thunder Bay sell Goodyear, Dunlop, Kelly Springfield or whatever other tire is required for the vehicle. The Fountain Tire Thunder Bay has over 45 employees.

Your operation has grown since your start here?
" We first came to Thunder Bay in 2000 and started on May Street, then bought the mechanical store on Memorial and had a retread plant on Gore Street. Today we are all in one location on Central Ave. We do everything from wheel chair tires to mining. Also we have 8 mechanics both light and heavy duty including large truck repair. From the outside you don't realize how big it is with so many moving parts on a daily basis."