Fountain Hill Condominiums
FABULOUS!
By Sherry Hanes

You'll just have to come and see for yourself!

A big congratulations is in order for Mario Tegola, Broker Owner of the local Re/max office, located at 846 MacDonell Street, and his wife Nancy Tegola, Sales Representative, on their Fountain Hill Condominiums
project, located at 1230 Dawson Road.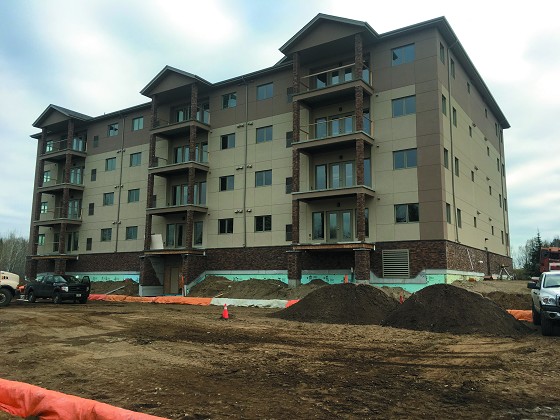 When considering living in a place that is very comfortable, spacious …AND embellishes your visual appetite with a most beautiful view of Lake Superior and the city of Thunder Bay, Fountain Hill Condominiums should be your first choice of residence 'to call home'!
This 24-unit, four floor site, has only six units left to offer and will all the amenities available … Well? You'll just have to come and see for yourself!
Mario and Nancy can't be more excited or pleased, nearing the completion (February/March 2019), of Thunder Bay's newest and ultimately beautiful, condominium site. The brand new, twenty-four-unit, building, upon completion, will be a most prestigious place, that offers some of the best, if not THE BEST, in condominium living!

The new build rendered the general contractor services of Aurora Construction Limited, located at 815 Harold Street and L. A Wood Architect, located at 14 N. Cumberland St., both long time businesses
of Thunder Bay. Both companies worked diligently with Mario and Nancy, to more than satisfy this project and the aspirations of their dream.

In describing the site and the amenities, each (outdoor) parking space has an electric plugin for their vehicle. The building is 'Pet friendly' (size limitation) and also offers units designed for handicapped persons as well.


The units themselves, are spacious, two bed room units, with ensuite bathrooms in all suites. Spectacular views of Lake Superior and the City of Thunder Bay, high efficiency gas furnace with air conditioning for each unit, large exterior balconies c/w barbeque connection, 9 foot ceiling height, sprinkler fire protection for the entire building, elevator access to all floor levels, main entry door security access and (Tarion Warranty Protection.)
In addition, each suite has their own laundry room, complete with Washer and Dryer, which are provided as part of the price of the condo. There a common room in the front entrance, that could be used
as an office or library etc. Upon completion, the grounds will be nicely landscaped with sod, paved parking and sidewalks that lead down to the street level. LED lighting is used for the most part and there
is recessed lighting in living room and kitchen area and colours are of neutral Earthtones and buyers have a choice of Pre- Engineered hardwwood ,ceramic in bathrooms and carpet in bedrooms."

Fountain Hill Condominiums is also conveniently located near, Safeway Grocery Store, No Frills, Walmart, LCBO Store, two pharmacies, numerous restaurants, delis and bakeries, Tim Hortons, gas bars and there are walking trail areas just behind the building.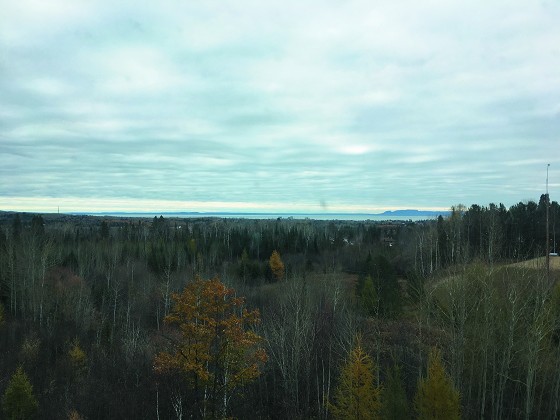 As far as the actual construction of the new build, Gino Sonego of Aurora Construction Ltd., explains briefly, some aspects, for the construction of the new build.
"The foundation is a poured concrete foundation wall with a poured metal deck above. We also have some structural steel to span the openings as required. The foundation excavation was a little
problematic as we in countered bedrock that had to be removed to get our foundation in and site services. The walls and floor system are wood frame with a wood truss roof system and the sloped roof truss has asphalt shingles over top. The exterior walls are 2" x 6" construction with R22 batt insulation and 3" of rigid insulation on the exterior. The exterior cladding has a stucco finish on the majority of the walls with some masonry finish on the lower sections."
Aurora Construction Ltd., Gino Sonego (Partner) and Peter McCart (Partner), have been servicing Thunder Bay and area since 1997. They have a profound reputation for treating customers fairly, supporting experience and expertise, to provide quality construction on time and within budget.
L. A. Wood Architect, (Leonard Alfred Wood Architect), located at 14 N. Cumberland St. was the appointed architectural design firm for this new build. Fred explains, "The design took over a year to complete. This was due to site plan and infrastructure issues."
As everyone in Thunder Bay and area knows, there are many areas of the terrain that can compromise ones' intentions, but the perseverance of the collective team, produced a design that proved more than fitting for the new build.

L. A. Architect was established in 1981 and incorporated since 2011. The firm has been providing a full range of services for their clients, from feasibility studies, to condition survey reports, to design
drawings, to working drawings and specifications, to contract administration, clerks of works, inspections and CAD services, just to mention a few, for commercial, industrial and residential projects
throughout Northern Ontario.

Mario and Nancy would like to first thank, all the buyers of the suites and the General Contractor, Aurora Construction, Peter McCart and Gino Sonego.

Make the place you call home, Fountain Hill Condominiums.

Did we mention that there are only six suites left?

Contact Mario or Nancy Tegola at
RE/MAX FIRST CHOICE REALTY LTD
Mario: 807-473-7206
Nancy: 807-474-1853
Office: 807-684-5700
Toll Free: 800-508-9976
Mario's Email: mtegola@shaw.ca
Nancy's Email: ntegola@shaw.ca or any other agent. Office open Sat and
Sunday 1-4 P.M.