First Nations Housing Conference (FNHC) Grows!
by Scott A. Sumner

The First Nations Housing Conference (FNHC) is the only conference in Canada dedicated to First Nations housing professionals and the advancement of their Communities. The conference allows delegates to gather insights, train and learn from unique workshops, and build capacity.
For generations, First Nations have gathered to learn new stories, new histories. For 16 years, they have gathered at FNHC to work together to help all First Nation Communities succeed in their housing developments – and to shelter themselves from the elements. Together, they are building our new path to successful First Nations housing and in turn, Building on Our Traditions.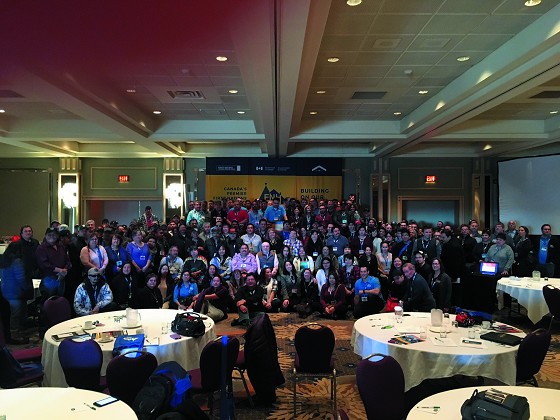 Jonathan Gregg is the Infrastructure Specialist and working member for
First Nation Housing Conference

" Last year we had a great conference and wanted to share our information across Canada, so we reached out across Canada to show what we have accomplished in housing here in Ontario. It is not just about us. It about the First Nations across Canada in their communities. We also wanted to hear what others are doing. We can share from our successes, to have better housing in our communities and learn from our mistakes and successes. There is a significant need for First nation Housing. We need to lower those needs."

"This year we have 126 First Nations represented here. That is a huge thing for us and great to see with people from BC to the Maritime. Over the years our conference has grown with First Nations farther away."

"We have seminars going on project management, tendering and fire safety."

" In the far north the struggle of getting the materials is a factor. It takes about a year to get the materials organized and shipped up north on the winter roads which is a huge step for remote communities.
It is a challenge building homes in the north and adds significant costs. Sometimes you have to fly in the materials which is costly. We have to combine our pools to create economies of scale."