DON'T MISS…The MAVERICKS!!
'BRAND NEW DAY' TOUR!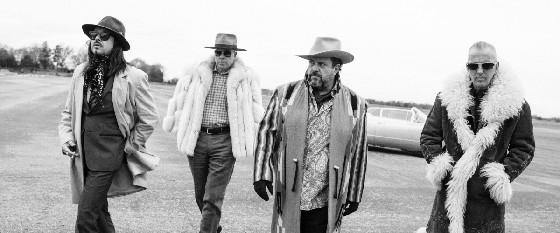 By Sherry Aalto/Hanes

Thunder Bay Community Auditorium, …
Presents…The MAVERICKS
and their 'BRAND NEW DAY' TOUR! October 28th, 2017.

The free spirit music genre style of The Mavericks, is their declaration of independence as they step out on their own with 'Brand New Day' Tour!

'Maverick' definition: independent minded person…in this case…it will be group!

In 2015, they won the Americana music award for duo/group of the year.

So! Grab your coats and grab your hats, leave your worries on the doorstep and just direct your feet to the Thunder Bay Community Auditorium, October 28th, 2017, where you will be entertained like
never before, by one of the most, amazing and internationally acclaimed entertainment groups of our time! The absolutely, upbeat musical genres of Americana Neotraditional Country, Tejano, Western Swing, Country pop music, The MAVERICKS, will have you wanting to 'Dance the Night Away'!

Here, after 30 years into their career, The MAVERICKS parted with their old record label and have released, 'Brand New Day', earlier this year (2017), which is their first studio album under their own record label, Mono Mundo Recordings, founded in 2016. The group is touring extensively in North America in support of it. Raul Malo, band leader and lead vocals, along with drummer, Paul Deakin, Eddie Perez on guitar and Jerry Dale McFadden on piano, express their creative genius with
full freedom, without constraints of a major label, for the first time on this new 10 track album, including, 'Rolling Along', 'I Will Be Yours', 'Ride with Me', 'Easy As It Seems', 'I Think of You', 'I Wish
You Well', Damned (If You Do)', 'For The Ages' and of course, 'Brand New Day'! The album "Brand New Day", is the ninth studio album from The Mavericks. It was released on March 31, 2017, Mono Mundo
Recordings.

Their very first album, 'The Mavericks', was released in 1990, for which Raul Malo, band leader, wrote the entire album. The Mavericks discography consists of nine studio albums, three compilation albums
and a live album. The band's highest-certified album is 1994's 'What a Crying Shame', certified platinum by the RIAA and double platinum by the CRIA. 1995's 'Music for All Occasions' was certified gold in the US and platinum in Canada, while 'Trampoline' and 'It's Now! It's Live', both from 1998, earned gold certification in Canada. The Mavericks were founded in 1989 in Miami. With Malo's enormous voice and the group's eclectic musicianship, they developed a truly unique sound that mixed rock, country and the ethnic Latin rhythms of South Florida into a sensational musical experience that you will never find in any other group!

Raul Malo, band leader, lead vocalist, song writer and record producer, states in an earlier commentary that, 'one of his early inspirations, a fondly remembered 1960 pop aria by Elvis Presley, not only continues to drive his vision of the Mavericks' music, but also helped define the process of creating the unit's first studio release on their own.' In an interview with NEWSWEEK, Raul says this, "My mom was a big opera fan so I just grew up listening to a lot of things. The record that changed my life was Elvis's "It's Now or Never"; when I heard that I was like, What the hell is this? And then when my mom played the aria for me, "O Sole Mio" [from which the Elvis melody was taken], I was like, Oh my god! What a connection. What a beautiful combination of things. So I've been trying to do that my whole life, just trying to recapture that feeling I got when I heard that record."

In early spring of this year, in another interview this time with Chuck Dauphin of Country News Billboard, Raul says, "I grew up listening to so much music. It's funny that you mention Marty Robbins because he was another artist that brought a lot of influences together," the singer says. "His records were different, one from another, and he really pushed the boundaries a bit. The new album, "Brand New Day", offers listeners a chance to enter into a time machine when musicians were allowed to produce music anywhere on the musical map. "Rolling Along" was 60's, Elvis Presley and Marty Robbins inspired. Raul grew up listening to all kinds of music and believes that Marty Robbins was another artist that brought a lot of influences together. Producing music under their own record label is something that they, The MAVERICKS, have always wanted to do and over the past couple of years, the dream became the reality! Prior to their own label, The MAVERICKS were with Big Machine Label Group and the
Valory Music Co., and have partnered up with Thirty Tigers to create their very own label, Mono Mundo Recordings. As for Raul and the other band members, going on their own was just the natural progression. It was the right time for this move. The Mavericks, are forever grateful and reflect on their relationship with Big Machine as profound and share a great friendship with them still today. Big Machine remains one of The Mavericks' greatest supporters!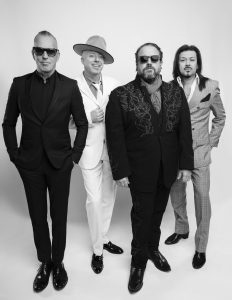 All Access reports that the quartet has completed their two-album deal with BMLG and amicably parted ways to partner up with Thirty Tigers to create their very own label, Mono Mundo Recordings. As of now, the Mavericks — Raul Malo, Paul Deakin, Jerry Dale McFadden and Eddie Perez — have three albums planned through the end of 2017.The Mavericks are set to release their first project on Mono Mundo Recordings, All Night Live, Volume 1, in October; it will be distributed by Thirty Tigers. Then, a new studio album is expected sometime in 2017. Though they haven't released much information about
their new music, the Mavericks recently posted a photo on Twitter with the caption "Eddie and Raul playing the tiny guitars! More recording all this week!"
The Mavericks received two Grammy nods in 2016, for Best American Roots Song, for "All Night Long," and Best Americana Album, for their most recent record, Mono. They performed "All Night Long" at the
pre-telecast Grammy Premiere Ceremony.
(theboot.com/the-mavericks-mono-mundo-recordings-new-music-2016/?
trackback=tsmclip)

Prior to "Brand New Day" Album, here are some songs you more than enjoyed listening to, such as, 'Dance The Night Away', 'Tonight, The Bottle Let Me Down', 'What A Crying Shame', 'Oh What A Thrill', 'Here Comes My Baby' 'There Goes My Heart', 'I Should Have Been True', 'All You Ever Do Is Bring Me Down', 'The Losing Side of Me', 'Here Comes The Rain', and many more!

In a personal telephone interview with Mr. Malo today, (September 27, 2017), Raul informed me that "the "Brand New Day" Tour is going very well and that the group is very excited to be heading to Northern
Ontario once again! They have toured all over Canada and the United states and there probably hasn't been too many cities that they haven't performed in."

Further to our conversation, I was interested to know how old Raul was when he played his first instrument and what was that instrument? Raul gave a slight chuckle and the said "I was probably in grade three or four at the time…I can't quite remember but, our school was offering free music lessons and chose the guitar. From that time on I loved it! I never thought then that I would be a famous singer … I just loved to play music and I loved to play the guitar and … well … here I am!"

"Under your own label now, what can your fans expect for future albums and songs?"
Raul: "We are working on some interesting pieces but one that will probably be out in early 2018, will be an album in Spanish. We love it and it is fun working on it!""Do you have a recording studio at your residence or do you have a recording site that you go to?"
Raul: "I have a small studio at home for my personal use but the real work takes place at Blackbird Studio in Nashville" (Tennessee)

"How do you keep your voice so vibrant and clear? In other words, what do you do personally that protects your vocals?"

Raul: "After every show I go into a 'lock-down'. It is my way of deflating and resting my vocals." "Rest is very important to anyone who sings professionally! Mind, body and soul!" "And, I don't smoke!" "That is major!"

"What do you like to do in your spare time?"

Raul: "Well! When we get any spare time, I like to just take advantage of it and really rest and relax!" "Especially with our tour year being so extensive, rests periods are few and far between so when we get one, I take full advantage of it!" "some of the other band members like to explore a little when we are out on tour and have a day in between performances, but most of the time, they take it easy as well!"

"What would you like to say to all the fans out there?"

Raul: "Thanks for coming along on this ride!" "Thanks for the support and it is just beautiful going on this ride with you!"

"In your opinion, how has the music industry changed over the last thirty years since you have been performing and recording albums?"
"And what advice would you give any young person today, who is starting out in a music career?"

Raul: "I suggest that they ask themselves if they want to be an artist or do they want to be famous? As there is a huge difference!" "If they want to be an artist, then they have to be prepared to do their own
thing and not be swayed by corporate influences!" "They have to practice their skill and build a fan base!" "They have to write and record a great song and most of all…they have to practice! Practice!
Practice!" "As the old saying goes… 'That's how you get to Carnegie Hall…Practice! Practice! Practice!" "Be vigilant in your pursuit!"

Mr. Malo was very gracious and kind in giving his time for this interview. And we want to thank him very much! He was very happy to share with his fans and our readers, his personal thoughts and opinions
for the questions that were asked of him. Thank you, Raul!

As for the music industry, independent labels are becoming more and more recognized and successful these days and Mono Mundo Recordings is certainly right on schedule!

If you have never heard The MAVERICKS, although I'm sure you have, YOU MUST attend this one-time live performance at the Thunder Bay Community Auditorium! It will be a performance you will never forget! Check them out on youtube! Like them and share the page on Facebook!! But whatever you do….don't miss their performance! Come and experience their new independence with them! The MAVERICKS!!!

Tickets are on sale now! 'Brand New Day' Tour!

October 28th, 2017 will be a great night!...but only if you are there!!

Call the TBCA (Thunder Bay Community Auditorium) Box Office today at 807-684-4444 or order tickets online and reserve your seat now!
Or stop in to the Thunder Bay Community Auditorium, 1 Paul Schaffer
Drive, Thunder Bay, Ontario.

The MAVERICKS are waiting for you!