Dilico Anishinabek Family Care Announce Christmas Bag Campaign

by Scott A. Sumner
The Dilico Anishinabek Family Care team sang carols and let the people of THunder Bay know about their Christmas Bag Campaign for 2014 at the Intercity Shopping Centre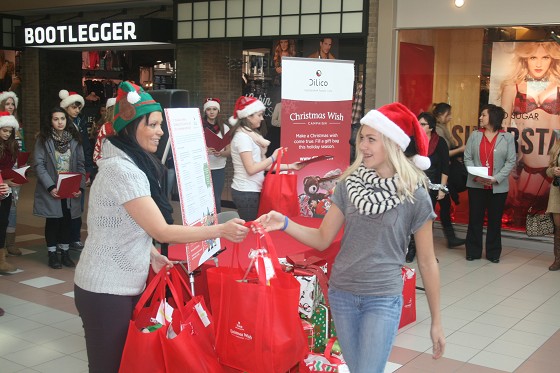 " This campaign is very important to Dilico as there are many children and families that are in dire need and can't afford even basic needs. It is such a joy to us to be able to reach out to the community and bring joy to the children's lives." said Darcia Borg, Executive Director at Dilico. " Our youth can struggle and often don't have the family or resources that other people have so it is important we don't forget our youth. They are our future and deserve to have that joy Christmas morning."
How does it work?
" People will receive a bag with the child's age and their likes such as basic needs like socks, mitts or hats to a toy or leaning tools. It is a just a fun way to show the meaning of Christmas which is giving. Thunder Bay has been great stepping up and last year we received over 600 bags."
The bags are due on December 17th and there will be elves at the Intercity where you can bring back the bags.
" International Children's Day is important to all children. Aboriginal children are a huge asset to Canada and we are proud to be launching this campaign on International Children's Day."
Dilico is a large agency that serves over 2000 families.