Confederation College Unlocks the Future of Technology, Education and
Collaboration with TEC Hub Grand Opening
Confederation College was proud to celebrate the Grand Opening of its new Technology, Education and Collaboration (TEC) Hub Friday, unlocking endless possibilities for students and the region.

The 45,000 square foot facility, an extension of the College's McIntyre Building, will have an immediate impact on the region and will contribute to the development of a skilled, employment-ready technology
and trades workforce for northwestern Ontario. It will also host vibrant research, incubation and technology transfer services to support the region's advanced manufacturing, technology and resource
sectors. The facility includes three main clusters: industry skills and sustainability instruction, advanced manufacturing technology, and innovation and incubation.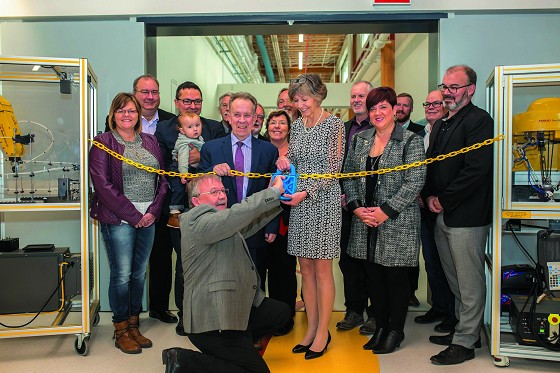 Since the beginning of the academic term in September, the TEC Hub has been supporting the College's engineering technology programs and welcomed the Aerospace Manufacturing program, formerly located within the school's Aviation Centre of Excellence. The new facility will also provide pathways for skilled trades programming, specifically for Indigenous learners. All of this will lead to the ability to support
more students through learning and will open the door for new programming to be developed as industry needs continue to evolve.

The TEC Hub will also create important opportunities for collaboration, inviting community partners to participate in research and development, and offering space for regional groups and individuals to pursue their own projects. Fostering innovation and entrepreneurship are a cornerstone of the new facility.

The design-build contract for the TEC Hub was awarded to a joint venture between Penn-Co Construction Canada (2003) Limited (build) and Stantec Architecture Limited (design). Colliers Project Leaders was hired by the College to lead project management.

The $19 million project was funded by the Government of Canada through the Strategic Investment Fund, the Province of Ontario, the Northern Ontario Heritage Fund Corporation, the Thunder Bay Community Economic Development Commission (CEDC) and Confederation College.

Quotes

"We are pleased to celebrate in the TEC Hub's completion with our many project partners and supporters. The facility significantly expands our capacity to support our students and programming, in turn supporting the workforce needs of the region. With this facility, we are well positioned to improve our current programs, explore new partnerships and develop new opportunities to contribute to the advancement of the manufacturing, technology and resource sectors in northwestern
Ontario."
– Kathleen Lynch, President, Confederation College

"This historic investment by the Government of Canada is a down payment on the government's vision to position Canada as a global centre for innovation. This means making Canada a world leader in turning ideas into solutions, science into technologies, skills into jobs and start-up companies into global successes."
– The Honourable Navdeep Bains, Minister of Innovation, Science and
Economic Development

"The TEC Hub will be an incredible example of what we are able to achieve when we work together. The new facility ensures our region will be a leader in innovation, offering students access to new equipment,
new partnerships and new ideas. Congratulations to Confederation College on this monumental day."
– The Honourable Patty Hajdu, Minister of Employment, Workforce
Development and Labour, and MP Thunder Bay-Superior North

"Huge congratulations are in order for Confederation College and all the partners that came together to make the TEC Hub happen. This centre will be an excellent addition to the school, as well as the innovation, entrepreneurship and trades sectors of northwestern Ontario. Northwestern Ontario is a hub for innovation, and it is innovative projects like this that make this a reality. I look forward to seeing
the wonderful things the TEC Hub will bring to our region!"
– Don Rusnak, MP Thunder Bay-Rainy River

"This new facility is not only a welcome addition to Confederation College, but it is a great asset for the Thunder Bay region and greater Northwestern Ontario. Through the Northern Ontario Heritage Fund,
Ontario's government for the people is proud to support this project, to better equip Northwestern Ontario with the tools to offer world-class education and create jobs in the region. I am glad to celebrate continued growth in Northwestern Ontario and congratulate Confederation College on the grand opening of the TEC Hub."
– The Honourable Greg Rickford, Minister of Energy, Northern
Development and Mines, and Chair of the Northern Ontario Heritage Fund
Corporation (NOHFC)
"I am delighted to celebrate the grand opening of The Technology, Education and Collaboration (TEC) Hub. This project is instrumental in providing meaningful support to students in the advancing technology
and trade sector. I am very proud to have supported Confederation College in securing $7 million in the 2016 Provincial Budget and an additional $2 million thanks to the Northern Ontario Heritage Fund."
– Michael Gravelle, MPP Thunder Bay-Superior North

"Congratulations to Confederation College on the creation of The Technology, Education and Collaboration Hub here in Thunder Bay! It will create opportunities and contribute to the development of a
skilled, employment ready technology and trades workforce, for our community and region. I believe we are on the cusp of great opportunities and growth here in Northwestern Ontario, and this facility will help ensure we are equipped with the people to make that
happen."
– Judith Monteith-Farrell, MPP Thunder Bay-Atikokan

"On behalf of the City of Thunder Bay and the Thunder Bay CEDC, I would like to offer congratulations to everyone who has worked tirelessly in support of making the TEC Hub a reality. This facility significantly
expands our capacity to support students and programming, and in turn, support the workforce needs of our region. This new space will also invite collaboration with the community and foster innovation and
entrepreneurship. We are so excited to see the design of a facility that is built to develop and support the future we all want to see!"
– Iain Angus, Acting Mayor, City of Thunder Bay and Representative for
the Thunder Bay CEDC