Confederation College Celebrates the Grand Opening of the Ontario Power Generation BioEnergy Learning and Research Centre
Confederation College officially opened the Ontario Power Generation BioEnergy Learning and Research Centre (OPG-BLRC) today as part of BioEconomy Week. Partners, supporters and community members were on hand for the opening and had the opportunity to participate in a guided tour of the centre.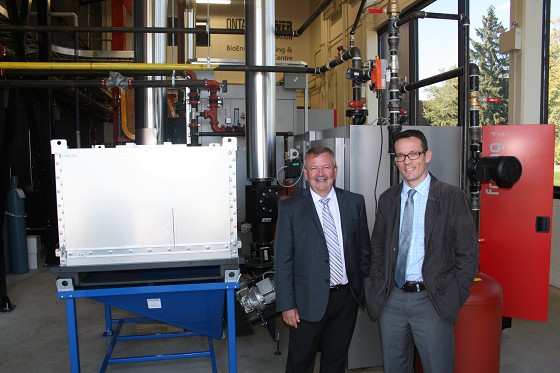 Jim Madder, President of Confederation College " It is an exciting day at the college opening our OPG Bioenergy Learning Research Centre. The facility will heat our Shuniah building and the advantage of that is it will reduce our cost of heating by about $200,000 per year. The most exciting part for me is the research and student involvement. We can take different types of biomass to test here and see what the energy output would be and say what temperature you would use for the best result." " We have three different boilers here and their controllers. There will be batch loads from all over NW Ontario for research purposes. We will provide 80% of the energy needs for Shuniah from these boilers. You could push it up to 100 % but it isn't as efficient at 100%.We will be developing other student accommodation here and hope to us this type of energy to heat them as well." " The building is an addition to the Shuniah building and the total project had a cost of $6.25 million. The bulk of the cost is the equipment. We had tremendous support on this project. There is no other college in Canada using this type of system and very few in North America including the proof of concept and research facility."
Chris Fralick Regional Plant Manager for OPG Northwest Operations Thunder Bay and Atikokan on Biomass plants and 11 hydroelectric stations " This is a very interesting project at the college. We like the complimentary nature of it as we are converting two of our plants to Biomass and the college is looking at getting into bioenergy. There are many good synergies there with the small scale and big scale and what can we learn from each other. The fuel is similar but the college use is for heating and we are making electricity- but we both need to make steam to do something with it. We are converted existing coal plants into biomass and this is a new build." " OPG is a supporter with some financial involvement and we have staff on their advisory committees."
" The Atikokan project was a major conversion. There are not many examples in the world doing that and certainly in North America- it is the largest biomass power plant and the first of it's kind. It is a $170 million investment in the Atikokan plant. We also had to get a fuel source so we have two Ontario based suppliers Resolute and Rentech and they are both building pellet plants because of our conversion. There is local economic benefit as we used to get our coal from other provinces. Rentech has their pellet plant in Atikokan and Resolute on FW First Nation."
" We had to do a capacity check to demonstrate our capability on July 23rd. You had to submit the paper work to OPA and they approved us as commercially viable. One of the beauty of converting these coal plants is the capability is the same as previously, 205 megawatts in Atikokan."
" In Thunder Bay we will use advanced or steam treated Biomass so you take the same wood fibers and pressurize to make the fibre water repellent. This pellet is a very strong pellet so you can treat it like coal. In Atikokan the pellets can't get wet and you have to manage the dust. That is what created the higher cost to convert in Atikokan. The new pellets are only available in a few places in the world. We will be up and running in Q1 of 2015 in Thunder Bay. In Thunder Bay we can reuse existing equipment but in Atikokan it was all new equipment." Continued on Page 12 Continued from Page 9
" The timing created the different processes. Today there are no commercial operations like we will be dong in Thunder Bay but their are using the Atikokan approach. We needed to have confidence we could get the power. The Atikokan conversion started in 2012. It is possible we may get a company to start an advanced pellet plant in Thunder Bay. The real question is where the demand for energy is going here. Today we don't have a big demand but there is potential say with the Ring of Fire. If the demand materializes to a large extent we could find ourselves in need of more power so we want to have options. Thunder Bay is a practical approach low cost option which is a prudent way to preserve the option."
The OPG-BLRC offers opportunities for demonstration, training and applied research related to biomass energy, including fuel quality, emission and combustion efficiency. Biomass energy systems use clean forest and agricultural sources to produce heat and electricity with less impact on the environment than fossil fuels.
Through the centre, Confederation College is committed to developing a market for biomass in northwestern Ontario and other farther reaching markets. Featuring state-of-the-art Fröling biomass boilers, fuel handling and heating systems, the OPG-BLRC is estimated to also provide 80 per cent of the total heat load for the Shuniah/REACH Building at Confederation College this fall/winter. Adopted and adapted from existing European technology, the OPG-BLRC is the first facility of its kind in Ontario. The team supporting the facility is currently working with regulators in Ontario to modernize guidelines governing the use of biomass. In addition, research and testing will focus on streamlining biomass energy for community consumption, including those in remote areas. Communities that participate will also develop transferable skills that could initiate additional projects and local investment including employment.
The OPG-BLRC has been made possible through funding from the Ministry of Training, Colleges and Universities, the Northern Ontario Heritage Fund Corporation, Ontario Power Generation, CRIBE (Centre for Research and Innovation in the Bio-Economy) and Evergreen BioHeat Ltd. Support was also received from Biothermic Renewable Energy Systems, CEM Specialities Inc. and WSP Canada Inc. Honeywell led the design and construction of the centre.
Quotes: "With the launch of this centre, Thunder Bay is furthering its reputation as a destination for scientific research and technological innovation in Northwestern Ontario. This state-of-the-art centre will certainly be at the forefront of biomass research in our region and I'd like to congratulate Confederation College and all its partners for bringing it to life." - Michael Gravelle, Minister of Northern Development and Mines, MPP Thunder Bay-Superior North
"I am excited that this innovative learning and research centre will be opening in Thunder Bay at Confederation College. It is a further step forward in the development of a biomass industry in Northwestern Ontario. Our government is proud to support the expansion and development of our bio economy which already includes the conversion of the two coal generating facilities in my riding of Thunder Bay-Atikokan." - Bill Mauro, Minister of Natural Resources and Forestry, MPP Thunder Bay-Atikokan
"The new Bio-Energy Learning and Research Centre will provide hands-on training for students in this emerging bio-energy field and will be integral to the success of many upcoming small to mid-size biomass projects here in Northern Ontario." - Lorne Morrow, C.E.O., CRIBE (Centre for Research and Innovation in the Bio-Economy)
"Today, Confederation College takes a giant step into the future. The shift towards renewable energy and cleaner technology was one of the motivators for Ontario Power Generation's (OPG) investment in the new BioEnergy Learning and Research Centre at College. It aligns with the company's strategic biomass initiatives in northwestern Ontario, strengthens OPG's support for educational opportunities at the College and further reinforces the company's commitment to the northwest region." - Chris Fralick, Regional Plant Manager, Northwest Operations, Ontario Power Generation
"Cleaner power, reduced carbon emissions, and an opportunity to spur renewable energy research and education — this project will pay dividends on campus and far beyond. Confederation College is not only fulfilling its sustainability commitments, it's setting the stage for future innovation." - Luis Rodrigues, Vice President, Honeywell Energy Services Group "Evergreen Bioheat Ltd. congratulates Confederation College in the successful completi
on of the Ontario Power Generation BioEnergy Learning and Research Centre. The College has demonstrated both leadership and innovation in advancing a sustainable alternative energy solution that will not only be a showcase for Ontario but also for the rest of Canada. Evergreen is very proud to be the exclusive supplier of the Fröling biomass hot water systems that are installed in the Research Centre which will provide long term, cost-effective heat to the College while substantially reducing the College's greenhouse gas footprint." - Rick Connors, President, Evergreen BioHeat Ltd.
"We are excited at the potential this facility offers. Through the Ontario Power Generation BioEnergy Learning and Research Centre, Confederation College is poised to become a leader in renewable biomass energy. The potential benefits seen by the communities of our region could be significant and the research and educational opportunities will further differentiate our College as a pioneer of innovative and sustainable learning experiences." - Jim Madder, President, Confederation College
Confederation College has been serving the citizens of Northwestern Ontario since 1967 meeting the educational needs of students in a catchment area of some 550,000 square kilometers. Along with its main campus in Thunder Bay, Confederation College has eight regional sites located in Dryden, Fort Frances, Geraldton, Kenora, Marathon, Sioux Lookout, Red Lake and Wawa. Confederation College delivers exceptional education and training to an average of 8,800 combined full and part-time students per year and currently has a total of 805 full and part-time employees. Confederation's regional economic impact and contribution is valued at $411.2 million annually.
Confederation College is committed to environmental, economic and social sustainability. The Campus Environmental Action Plan was created as a five year strategic plan (2011-2016) to move sustainability practices on campus forward.