Confederation College Celebrates 50 Years!
by Scott A. Sumner
Confederation College has been an important part of Thunder Bay for 50 years now and 2017 will be a year of celebration!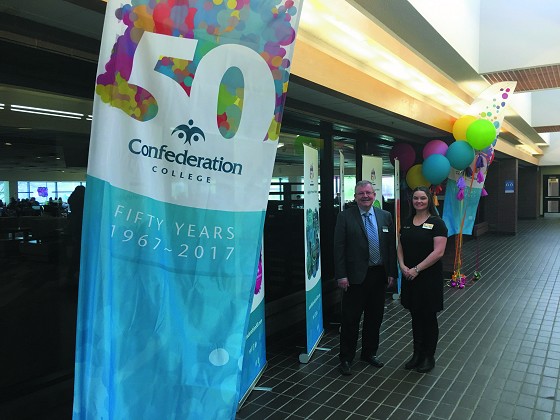 The college opened in September 1967 with a grand total of 238 students and 9 programs with a staff of 9. It intially opened on May Street and at Churchill High School before their initial building at
the current site, the McIntyre building.
" We still have one old portable that has been with us for 50 years. It is at the foot print where we will be building the new Tech Hub building." said Jim Madder, President of Confederation College.
"It was a humble start with the vision of Bill Davis and Leslie Frost the dream of building colleges. Here we are today with 34,000 alumni, which is amazing in my opinion. We have a major presence in Thunder Bay and 8 other communities in NW Ontario. We started with squawk boxes which were telephones you put on a desk and listened to and now are all the way to full video conferencing and simultaneous feeds through fiber optics throughout NW Ontario."said Jim Madder.
" It all started here in 1967 with 238 students. Today we have more than 7,800 students in all of our programs, including 1000 part time students. Right now in the winter we have 800 full time staff with a
total of 1400 including part time."
How have the facilities at Confederation College performed over the years?
"At this point we are looking at renewing our buildings say with the Neebing building. This Shuniah building is still operating beautifully for almost 48 years now. The REACH building was a wonderful addition that is fully integrated with this building. The REACH atrium is a phenomenal part of the building. We have a ROI out for the Neebing and BUBBLE building for someone else to take over."
" Our infrastructure is pretty good. The REACH building helped us a lot as it has technology that allows us to teach in the smaller communities. The new TECH Hub building will even help us with the
McIntyre building because the heating system will heat both buildings and be more efficient."
There has been a lot of growth at Confederation College?
" We started with 9 programs and today have 58 of our own as well as partnering with others. If you go into any college in this province you will find each one has its own personality and it reflects the region
and its employers. 28 of our programs are available at our smaller campuses through out the north. We have just started our business programs with the six other colleges in the North. We don't have the
mass here for the 3rd year program alone but will cooperate with Canadore in North Bay, Cambrian in Sudbury, Sault College in Sault Ste Marie, Northern in Timmins and Boreal in Sudbury as well."
"Right now about 15% of our students have a international heritage from say India, China and other countries. These students help the college. Right now we are in decline in terms of the number of people living here in NW Ontario. If we don't try to replace those people with others from other locations we will lose some programs. The international students help fill the seats in our programs. If we
didn't have them I would probably lose 10ish of those programs so it is that important. They are in fact sustaining our programs. They pay a premium to cover our recruitment costs. Our normal tuition is $2200 and they will pay from $10,000 to $13,000 tuition or many times more." said Madder.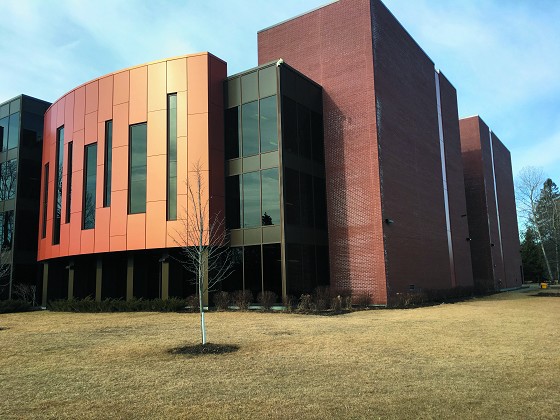 Confederation College has an annual operation budget of $75 million and in addition capital spending this year with the Wellness Centre of $12.5 to $13 million and Tech Hub at about $19 million. Their studies say Confederation College has an over $411 million impact in NW Ontario.

" 50 years is a long time and it is very exciting to have the events we have coming up this year," said Jodi Connor, President of SUCCI. " The Wellness Centre is a great example of a project for the students. It has been good to listen to the students as to what they want to see in the new facility. The students are providing $8.5 million of the cost of the $13 million dollar project along with NOHFC and the College. It will be a beautiful facility for the community as well who can become members."

" The Wellness Centre fits well into the whole student village concept of food, fitness and accommodation." said Jim Madder, President,Confederation College.

"There are windows of opportunity for government funding and after chatting with our students we knew we needed new student accommodation, a new Wellness Centre and with the right leadership we moved forward. The new Tech Hub is a combination of the Federal and Provincial government through NOHFC to do the capital. You have to always be ready with a new project."

"Our Dorian Trades building moves around and has it's issues with the foundation here in the wet ground we are located at. We have great people and if I can work on replacing that building that would be my next big project."said Jim Madder.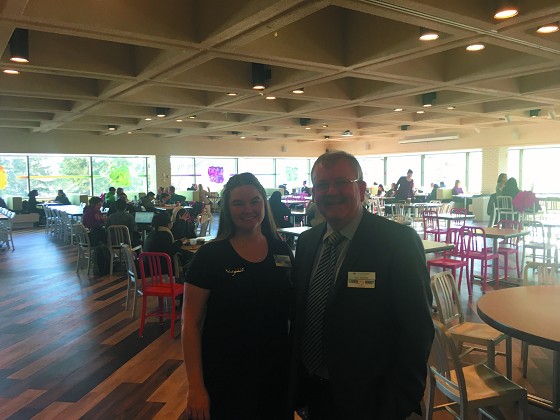 Jim Madder has been at Confederation College for 6 years now and is contracted for a further 4 years. He was born and raised in Winnipeg and likes a day with the sun shining and it is cold. On our interview
day in March he was going to visit his mom in Winnipeg who is 100 years old!

" Thunder Bay has been spectacular with great people to work with, a great organization here at Confederation College. I love the people and feel lucky to live on Lake Superior in Shuniah. Gardening is pure therapy and my wife and I love the place."