Certified Character Background Services Holds Grand Opening!

A unique new business has officially opened it's doors in Thunder Bay. Canadian Character Background Services or CCBS is located at the Corner of Victoria Ave and Simpson Street at 314 E Victoria. " We started the business 1 year ago doing our first fingerprints and were doing record checks several months earlier. I have been here in this building for 15 years operating another business," said Rick Melnychuk, CSO Certified Security Counselor of CCBS. "We do criminal or character background checks for people who need them for work, pardons, waivers, adoption or immigration. There are many reasons why people require these services. In the mining sector for example gold mines and diamond mines require them for their employees."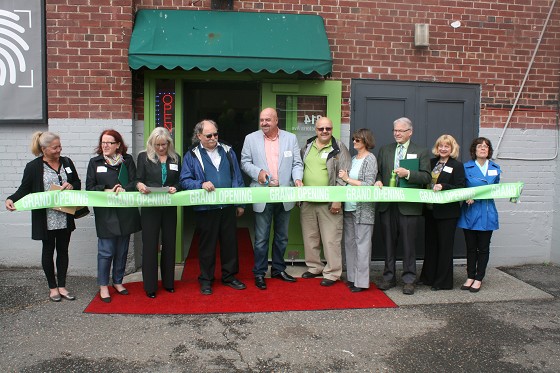 According to Melnychuk the RCMP expect that the security checks required will probably go up 10 fold in the next ten years. " We are not trying to take over the service from the police but we will do our part. They are the only ones that can do the vulnerable sector check. It is too bad I am not 40 years younger to see this business grow over many years."
" More and more background checks are being required. All our applications go to the RCMP, they do the check and send it back to us. We are open and available for people to come in and can take care of the work for you. We had a long process of about 6 months through the RCMP to get certified." said Rick Melnychuk .
CCBS Services This process of fingerprinting is ink-less, accurate and speedy, if no issues. Fingerprint based criminal history screening is now required by a number of organizations. It is expected with the general availability of this service and the RCMP's growing ability to respond quickly to fingerprint based screening requests that this will become broadly accepted as the standard method of identity assurance throughout Canada.

Digital fingerprints are now available. Converting Ink-and-Roll to Digital
The world is moving toward exclusively digital fingerprint identification. In order to successfully immigrate to Canada, it is now a requirement to have digital fingerprints. CCBS can take your finger prints produced with the traditional ink-and-roll method, and convert them to electronic imaging, and submit them directly to the RCMP's Canadian Criminal Real Time Identification Services (CCRTIS) for processing. This service is also available to individuals whose fingerprints were taken outside of Canada. Submitting fingerprints electronically substantially reduces the processing time for criminal records, including vulnerable sector checks.

Conversion to Digital fingerprints are available for $150.00 + HST
Identification
In order to move forward with a fingerprint / character check service, CCBS require two pieces of valid government issued ID including one piece of photo ID.
Acceptable Identification includes:
Passport Drivers License Health Card Landed Documents Work Permits Student Permits Provincial Identification Card Birth Certificate Citizenship Card
Non-vulnerable checks only! All Vulnerable Background Checks are to be completed with a Police Agency only.

Why is a Background Check important?
A Canadian background check will provide you with a detailed report of past convictions for all provinces and territories in Canada.
A background check will provide insight into the applicant's involvement with substance abuse, potential for aggressive and threatening behaviour and involvement with theft, mischief, property damage and/or fraud.
You can protect your customers and your businesses reputation, by requesting a Background Check on potential employees!
Once the background check application is processed, results are returned within 48 hours (for non-vulnerable checks only!)
In Office Fees
Level 1 CPIC $70 + HST
Online Fees
Level 1 CPIC $75 + HST
A valid unexpired passport would be one of the best forms of valid ID's with a second piece. All background check applications and identification can be scanned and emailed to ccbs@live.ca for processing.If you have had any prior criminal charges please call our office to make an appointment as more information will be required and another document signed. Background check application processing can take up to 48 hours for completion. CCBS will provide you with a CPIC Records Search showing results for Negative, Confirmation of Criminal Record and/or Incomplete.
CCBS wants to be the most convenient method for the people of Northwestern Ontario, Canada and the rest of the world to acquire the background checks and finger print records.
We also immediately serve the surrounding area including Atikokan, Dryden, Fort Frances, Kenora, Red Lake, Geraldton, Ignace and Longlac.
*Certain services of ours can be provided internationally as well.
We are the only private accredited criminal record check agency here in Thunder Bay, Ontario Canada.
Our service is securely & directly linked to the RCMP's National Police Services Network.
Response times take only 72 hours – quite speedy for Background Checks. Fingerprints however, can take longer.