Thunder Bay CEDC Commits $500,000 to Confederation College's TEC Hub
Thunder Bay's Community Economic Development Commission (CEDC) announced a $500,000 commitment in support of Confederation College's Technology, Education and Collaboration (TEC) Hub today.

"The CEDC was happy to approve $500,000 in spending for the Confederation College TEC Hub because it will contribute to the development of a skilled, employment ready technology and trades
workforce for northwestern Ontario," said Doug Murray, CEO of the Thunder Bay CEDC.

Keith Hobbs, Mayor of the City of Thunder Bay, applauded the decision. "Confederation College's TEC Hub will help to connect students with industry in our city and will foster new and stronger ollaborations locally and regionally. Through the support of the Thunder Bay CEDC, we are proud to be a part of this innovative project focusing on skills training, manufacturing and entrepreneurship."

Confederation College President Jim Madder, expressed his appreciation. "The Thunder Bay CEDC is a longstanding and valued partner of Confederation College and we are incredibly grateful for
their significant contribution towards this project. Our TEC Hub will enable us to reach more students and further prepare them with the training needed to meet the growing demand for skilled workers in our region. These dollars demonstrate the CEDC's commitment to advancing education and innovation in our community and northwestern Ontario."

The Technology, Education and Collaboration Hub will include three main clusters: industry skills and sustainability instruction, advanced manufacturing technology, innovation and incubation. In addition to
providing skills training and post-secondary programming, the facility will host vibrant research, incubation and technology transfer services to support the region's advanced manufacturing, technology and resource sectors.

The $19 million project has received funding from the Government of Canada, the Province of Ontario, the Northern Ontario Heritage Fund Corporation, the Thunder Bay CEDC and Confederation College. Currently in development, the TEC Hub is slated for completion in the spring of 2018. A ground breaking ceremony will take place later this month. For more information, visit www.confederationcollege.ca/TEC-Hub.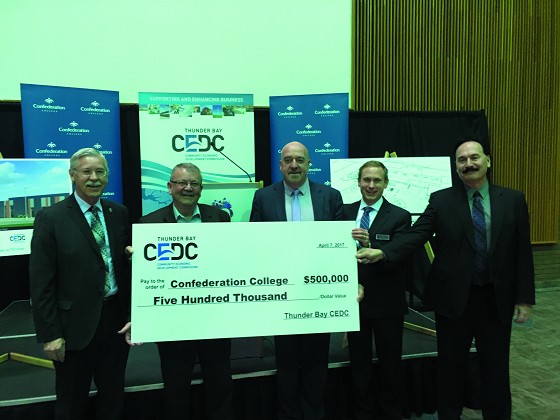 From left: Confederation College's Vice President, College Services Ken Adams and President Jim Madder, City of Thunder Bay Mayor Keith Hobbs, and the Thunder Bay CEDC's Board Member Peter Marchl and Senior Development Officer Richard Pohler

Confederation College has been serving the citizens of northwestern Ontario since 1967 meeting the educational needs of students in a catchment area of some 550,000 square kilometres. Along with its main campus in Thunder Bay, Confederation College has eight regional sites located in Dryden, Fort Frances, Geraldton, Kenora, Marathon, Sioux Lookout, Red Lake and Wawa.

Confederation College delivers exceptional education and training to an average of 7,800 combined full and part-time students per year and currently has a total of 805 full and part-time employees.
Confederation's regional economic impact and contribution is valued at $411.2 million annually.

Confederation College is proudly celebrating its 50th Anniversary in 2017. For more information, visit www.confederationcollege.ca.


The Thunder Bay Community Economic Development Commission (CEDC) is responsible for business development, retention and expansion, entrepreneurial support, opportunity promotion, and the
collection and assessment of key business data. The CEDC receives formal proposals for projects that will contribute to economic development. It responds quickly to new opportunities and initiatives
to attract direct financial involvement from government and private sectors. For more information, visit www.ThunderBayCEDC.ca.

Jim Madder, President of Confederation College "They are clearing the site and the piles on the underside of the building will start next week. In 13 months the outside building will be complete although the whole inside may not be ready until the Fall of 2018."
" The building is 45,000 square feet and involves a series of shops for skills for manufacturing and an area for us to work with partners. The total cost of the project is $19 million and the building is a
little bit less that that. We are now fully funded. We had different scenarios based on the level of funding but we now can have the full vision and we can do everything."
"A year ago the provincial government announced $7 million and that started us off. We went to NOHFC and they gave us $ 2 million to add to that. The Federal Government matched that to $18 million and the college is putting in $1 million from our reserves.The CEDC funding adds it up to just over $19 million."
" It will increase skills and innovation in our manufacturing areas. The contractor is Pennco out of Winnipeg. We were hoping for someone local but they have been wonderful to work with and they are using local subs a lot on the project. We are expecting to use the building in the Fall of 2018 and during the summer we will be able to get in."
"It is the manufacturing of high end low run highly precise equipment such as medical, aeronautical and aerospace engineering. It will have a series of C& C equipment that can mold and carve out metal, wood and plastics. Some of this is happening on a smaller scale right now which was the proof of concept of what we can do and it is real."
The Wellness Centre is going well and they think they are about a month ahead of schedule so we are hopeing for our 50th Anniversary weekend we may be abler to walk through the building, the third week in September."

"Confederation College has long been seen by the CEDC as an integral part of economic development here in Thunder Bay. The opportunity to work with the college on developing a new set of skills for the future was very exciting for us and we saw an opportunity to take some investment dollars from our fund and use that to lever funds from both levels of senior government and create an exciting development here in Thunder Bay for students to learn the latest skill sets for the future work force. Our fund has been long established and was set aside for specific opportunities that might arise for economic development initiatives.This is the single largest investment from the fund. In 2006/7 the fund was created when the current CEDC was formed." said Richard Pohler, CEDC.