Brand New Thunder Bay Hampton Inn Property
Doing Well!
by Scott A. Sumner
The Arthur Street area near the airport has a new look with the addition of a state of the art Hampton Inn & Suites now open! After their official opening date of September 27th, 2016, the beautiful most current design of the 2500 unit Hampton Inn chain, has done well. It includes 104 rooms with 28 ofthose that are suites.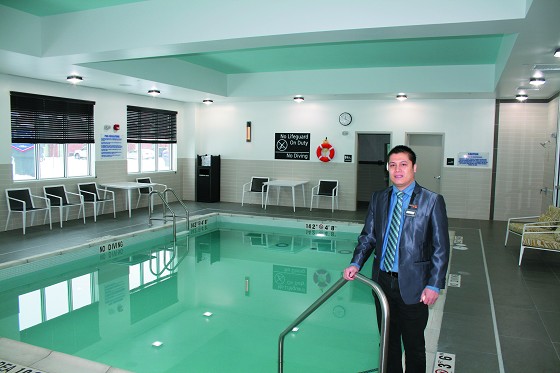 Jeffrey Dizon, General Manager Hampton Inn & Suites and has previously worked in Lloydminister with Hampton Inn.

" Since we opened we are getting great feedback with this new layout, the latest from Hampton Inn. I moved here last July when the building was still under construction. There were many permits to be approved, regulations and Hampton standards that had to be followed. We have to satisfy the local government and the Hampton standards. The hotel was delayed a month or so to reconstruct some of the rooms to meet the Hampton standards," said Jeffrey Dizon. " It was a good
experience being here through the opening and also part of my training. Hampton is very strict in their requirements with their seven different brands."
When you walk into the Hampton Inn & Suites property you will be impressed with it's very eye pleasing lobby especially for a northern climate like here in Thunder Bay. The breakfast area is adjacent and serves hot and cold food as well as fruit and is open from 6am to 10 am every morning. It is complimentary and part of your room package. They even have complimentary cookies and water for their check in guests.
There is a pool and gym that is amazing. Also the Hampton Inn & Suites has two meeting rooms, one that can accommodate 15 people and the other 12 people.

" Our rooms are both standard and suites. The suite is almost double the size of the normal room. They have one king or two queen beds. In the suite the bathroom is divided and there is a walk in closet, a wet bar, fridge, microwave and pullout couch," said Dizon. "The standard rooms have king or two queen beds for whichever is preferred by the guest. We have a fridge, 48 inch TV's and a workable desk. WiFi is free 24 hours."
" We are focused on the corporate and leisure traveler. Walk ins are high in the evening mainly because of the weather conditions. It can be last minute here. Our airport shuttle runs from 5am to 6pm. If the guests need to go later we pay the taxi fee for them."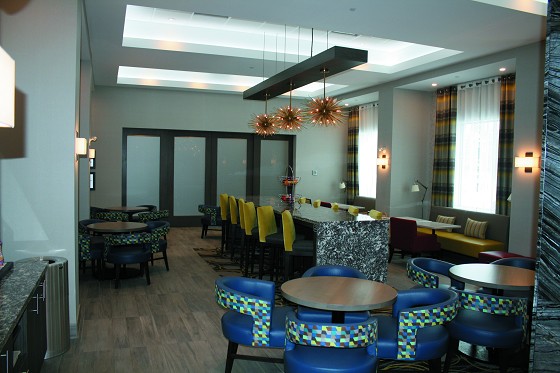 To date the Hampton Inn & Suites have 24 staff including the manager. Only 2 are part time, the rest full time. The room cost during winter time is $139 but government and seniors rates are lower with the senior at $125.
The new Hampton Inn & Suites was constructed by Thunder Bay's BNL Burmet Northern Ltd. General Contractors " We began slowly but soon got a nice crowd and reached 67% occupancy
on our first day open which was a good start as well as a good challenge for our new staff. Since that second week in January we are starting to sell out. This week of February 6th we are sold out for 4 days. Our online surveys are 93% positive feedback of which we are proud. We are starting to build our base of corporate clients. We must maintain our standards high," said Dizon. " It has gone well and into the spring and summer we will achieve high occupancy. Being near the airport is good for us as it is a hub for NW Ontario. We are also doing well with government employees. You can book directly or on line as well as with third party websites. We do recommend booking directly
with us which is most flexible for us to change reservations and allows for less hold time on the phone."

Jeffrey Dizon loves Thunder Bay and is planning to buy a house here and stay long term. He has two children aged 3 and 9 years old.