Balmoral Park Acura Renovation Goes Well
by Scott A. Sumner
Every new construction and renovation project requires a lot of planning and preparation before it begins. It also means lots of interaction through the process.

Cory Stechyshyn is the President & Architect of the i4 architecture firm, which was started July 14, 2014 and currently has a staff of 5 including an associate architect, Andy Puiatti and technologists. Cory, age 52, has worked as an architect for 9 years now. The route he took was longer to finish as he did distance education for part of the training working for a firm during that time. His new firm was chosen to work on the new Balmoral Park Acura.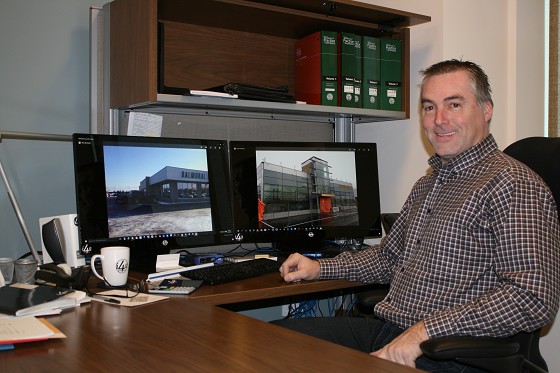 " The new Acura building has a good prominent location and it is a corporate branding you will recognize across Canada. In September 2014 we were called on the project, the first big project for our new firm i4 architecture. The Witiluks approached me through word of mouth, we
communicated for a few months and construction started in May 2015. They are going to be moving in a week or so with just a few finishing touches on the outside left to complete. The design and the drawings took 8 months and the construction took 8 months." said Cory
Stechyshyn.

" We had a lot of back and forth with the car manufacturer to be sure you are in compliance with their design documents. Then there is putting the construction documents together, putting them out for tender and then getting everything wound up for construction. Often it takes as long to draw a building as to build it. Our goal is always to make the most perfect set of drawings but nobody is perfect. We are human and all make mistakes. There is a process in place to catch
changes we need to make. We stay active during the construction process to make sure we can help with anything that is missed or not clear to build it the way intended. In renovation it is more common to find things that weren't expected, a few surprises."

How did you come up with this design? "The process begins with the old dealership building. Omni Plan, from Southern Ontario, does a lot of corporate planning for the major auto manufacturers. They take your existing building and site and come up with how you can make your changes and meet the corporate branding and imaging. They hire local architects to take that design, develop it and make it work on the property and meet the building codes.


At Balmoral Park Acura the entire old showroom was stripped off and a brand new showroom added that included some office space in the mezzanine, for meetings and administration. There is a new client service section down the side where you can drive in for servicing with two wash bays. The existing admin area and parts and service were totally renovated. The shop, the only existing piece left, had new flooring, lifts and overhead doors put in. It is a brand new facility.
The whole building had an integrated look to it. You are adding on, extending, cutting in to and building on. Balmoral Park Acura was open while the construction happened. The new building is about 14,100 square foot in size, more then double the old facility size.
" I think the Balmoral Park Acura building is a huge improvement and in line with the identity of most dealerships today. This building has its own identity. It is a clean design, well lit, with colours and finishes fairly neutral. In the inside they have natural interior lighting, clean open spaces, which is good for the staff and the consumers or customers. They are tied with Acura the higher brand, a more advanced automobile and the facility is matched to their cars.
They will bring a better customer experience, especially in our climate, with an indoor service centre. You drive in out of the cold weather into a clean setting. You can wait in the lounge with TV, coffee bar, wifi and cookies." said Cory. " The project went well. Les Fairall was the project manager and everything went smoothly. "
"At i4 architecture we have a lot of repeat customers. We are still doing some work at the TBRHSC in the diagnostic imaging and central processing area. At Lakehead University we were just awarded a nice project, the Centre for Advanced Studies in Science and Engineering. We will be renovating an existing 2 storey building for graduate students to do research with 4 main laboratories and administration. We are also doing some residential projects; work at the airport, an addition for the Oliver Paipoonge municipal offices and some feasibility studies
for First Nations and the student accommodation building in Thunder Bay. It is a good mix with feasibility studies, some that have funding already and mix of private and public sector projects. In Thunder Bay we have to diversify our work."

Les Fairall &Sons Construction
" We started our construction company in 1994. Previously I spent 22 years in the field with AJ Wing Construction. Jack Witiluk approached me a few years ago and asked if we were interested in working on this Balmoral Park Acura expansion. The project went well. We kept on top of everything between Ryan, Jack, Jeff and Cory and kept the information going. I looked after the supervision of the job site and sub trades. We brought everything in on time and budget." said Les Fairall.

" I think Balmoral Park Acura will be a real nice place to come to because you can drive right in when it is cold. The staff here takes really good care of you and seems to be very customer oriented. From what I have seen being here during the construction period, the staff takes very, very good care of every customer need. The dealership was open during construction and customers were very positive about walking around barricades and no one complained."

" Thunder Bay is our own unique area isolated from the bigger centers and kind of our own economy in itself."