Amstep Mining Essential Program Graduate
First Students
by Scott A. Sumner

There is a unique training program underway in Thunder Bay created by the Oshki-Pimache-O -Win Education & Training Institute. Marlon Gasparotto is the Mining Essential Program Coordinator Amstep Mining coordinator.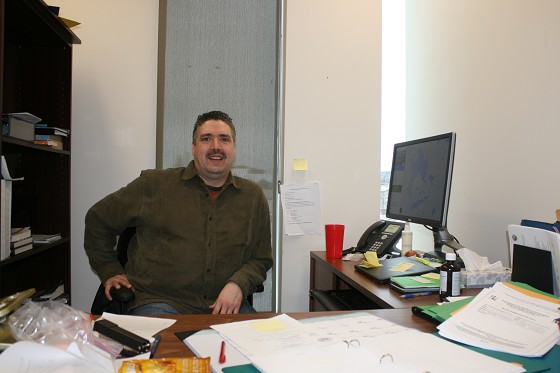 " It is a program we are coordinating through OSKI and with Goldcorp to train 32 youth with the opportunity to participate in the Aboriginal Mining and Skills Training Entry Program. The training happens at Goldcorp. There are three components
1- The mining essential program - The Mining Industry Human Resource
Council It is a program to introduce people to and give them the opportunity to gain some knowledge of working in the mining industry and getting those essential skills through a 11 module component course of over 200 hours in classroom.
2. We then work with Cambrian College in their pre trades program with NADF and provide equipment for the students to learn hands on with projects and instruction.

3. The work experience is a 2 week rotation where the students go up and job shadow at the mine.

The whole program is about 10 weeks in total.

" Part of the opportunity is to build a resume and then apply for jobs at Goldcorp or other mining areas. Some mining companies are watching their bottom lines but it is an aging workforce so new people will be needed. We had 16 in the first intake and 13 graduated. In the second
intake of 16 we will have 10 graduate. We have had individuals get jobs already."

The students come from North Caribou Lake, Wunigan Lake, Kingfisher Lake and Cat Lake.