ALMOST $485,000 IN NOHFC FUNDING
Mauro announces Ontario Government investment in five local businesses Ontario is supporting five local businesses through approved funding from the Northern Ontario Heritage Fund Corporation (NOHFC) • Murillo Millworks • Thunder Bay Hydraulics Limited • Skyline Falconry • Andrea's Art • As You Sew . . . Longarm Quilting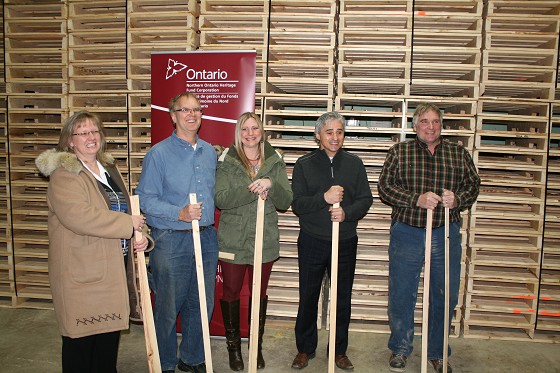 A grant in the amount of $175,000 was received from NOHFC by Murillo Millworks to upgrade and expand the existing mill, and to install a heat treatment chamber to heat treat wood packaging products which are manufactured by the company, including pallets and crates. This project will create 10 full-time jobs.
NOHFC has approved funding in the amount of $270,216 to allow Thunder Bay Hydraulics Limited to construct an additional new 1,600 sq. ft. building, and to purchase equipment to facilitate the expansion of a machine/fabrication shop in Thunder Bay. This will allow for the implementation of lean manufacturing process which will increase the company's ability to take on new and larger projects, and to meet the demand for increased custom fabrication. This project will create 8 new jobs.
Skyline Falconry has received $11,820 to establish a new business to provide bird control and management services with the use of trained falconry birds. Other services offered by Skyline Falconry will include educational demonstrations for colleges and universities and wedding ring delivery service with the use of a trained snowy owl.
NOHFC has approved funding in the amount of $15,504 to allow Andrea's Art to purchase office equipment and art equipment, storage containers, furniture, aluminum easels, software, lighting, framing equipment, as well as advertising and website development. Andrea's Art is a multifaceted venture that offers customized portraits, wall murals, art-themed party events, and framing.
As You Sew . . . Longarm Quilting received $12,250 to establish a home-based business offering longarm quilting services. This decorative sewing stitch is applied to finished quilt tops through the use of an industrial-sized machine. Secondary services available to customers include the sales of quilt backing fabric, batting (filler for the quilt) and occasional quilting instruction or full quilt making.
QUOTES "Our investments are creating jobs for budding entrepreneurs and further diversifying the Thunder Bay area economy. I am very pleased that the NOHFC could support these five ventures as they build their businesses and contribute to the prosperity of our region." – Bill Mauro, MPP Thunder Bay-Atikokan
"The support we have received from the NOHFC has allowed us to upgrade our mill and participate in the resurgence of the forestry industry. With the increase in demand we've seen for specialized wood products this year, our expansion, equipment upgrades, and additional employees, have greatly improved our ability to service this market, and expand our business." – Arthur & Andreas Petersen, Owners, Murillo Millworks
"Through the funding from NOHFC I was able to open this business that offers a service which meets the needs of a niche market. Thunder Bay has a healthy number of skilled quilters who are enjoying their participation in this art, and this business offers quilters the chance to keep doing what they love and create heirlooms to pass along as gifts of legacy and treasure. This service affords anyone a chance to continue the love of this hobby without having to give it up completely because of limitations such as health or dexterity." – Mary-Ann Liggins, Proprietor, As You Sew . . . Longarm Quilting
"The NOHFC is such a valuable program for young entrepreneurs, and I am so very thankful to have been a part of it." – Kym Amonson, Owner/Operator, Skyline Falconry
"Our government understands that private sector expansion is vital to the growth of our northern economy. I am delighted that, through the Northern Ontario Heritage Fund Corporation, we are providing financial assistance to five local businesses, helping bring new jobs and economic prosperity to the Thunder Bay area." – Michael Gravelle, Minister of Northern Development and Mines and Chair of the Northern Ontario Heritage Fund Corporation (NOHFC)
Bill Mauro
" We are really proud of the NOHFC program and have taken the funding up almost double. We believe in it. When you hear about the small businesses that get some benefit through this program- are able to start a small business, to support or expand a business it helps. It is important and I like to hear the testimonials."
Andrea Peterson Co Owner of Murillo Millworks
" It allows us to expand out product that we are going to be producing. We are looking into the lumber side of it, timber and speciality wood products and underutilized specie in the forest." " We have been in business for 25 years and originally started in the pallet and box industry, but we have lost so many of those type of customers in the local area. Pallets are 60% air and hard to ship economically so we got into producing boxes and crates for export around the world. We ship to Afghanistan, Mongolia and Europe but that business is dying as well. There are opportunities in unique markets so we are trying new things."
" We have 10 staff right now and could use more people as we look for efficiencies in the recovery of wood. We like to waste nothing so as we become more efficient we will need more staff to utilize all the wood." " It is always a chicken and the egg issue. Do you go out and get the business with out having the infrastructure in place or do you create the infrastructure and then get the business. Capital is harder to get in NW Ontario it seems. In the forestry industry the infrastructure is expensive so having programs like the NOHFC in place gets the ball rolling by getting the infrastructure in place and you run from that point."