A model of a Laker bearing the City's name has found a new home at Prince Arthur's Landing
Representatives of the City and Canada Steamship Lines (CSL) today unveiled a 2.4-metre long model of the CSL vessel M/V Thunder Bay. The model is on display at Mariner's Hall.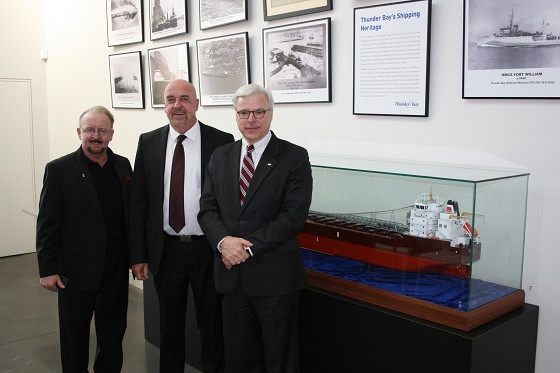 "The shipping industry has long been an important part of Thunder Bay's economy," said Mayor Keith Hobbs. "Canada Steamship Lines has recognized that importance by naming a ship after our great City. Today we celebrate the relationship by putting the model out for public display in one of Thunder Bay's most popular locations."
The M/V Thunder Bay, a 225-metre long Trillium Class Laker that can haul 34,490 tonnes of cargo while remaining fuel efficient and environmentally-friendly, arrived in Thunder Bay on September 27, 2013. The model was stored by the Thunder Bay Port Authority while the City prepared the new display.
"Thunder Bay has a rich naval and shipbuilding tradition and so we created a display of photographs from the City Archives and the Museum to accompany the model," said City Clerk John Hannam. "During the First World War, minesweepers were built for the French Navy at Canadian Car and Foundry. The Port Arthur Shipbuilding Company built many ships between 1911 and 1993, including the HMCS Fort William and the HMCS Port Arthur, which saw action during the Second World War. The HMCS Griffon naval base recruited and trained over 2,400 officers and crew for Canada's Navy in the Second World War. The City is pleased to be recognized for its naval history by sharing the name of the M/V Thunder Bay, and we're proud to showcase this beautiful model for the public to appreciate."
The model and its accompanying display can be viewed at Mariner's Hall daily between 11 am and 9 pm.
Dan McCarthy, Vice President Marketing, Canada Steamship Lines " This vessel is one of our new Trillium vessels that will be game changers for the coming decades as they will reduce their environmental foot print on the Great Lakes. In addition in 2014 we have two additional gearless vessels which are similar to these vessels but without self loading capabilities. A ship can be 740 feet long and 48 feet wide which is the maximum allowed for the Great Lakes Seaway." " Some ports really stand out as being vital for the Great Lakes and Thunder Bay is a very important port. The replica we have on display here in Thunder Bay is really a work of art and very accurate."
Keith Hobbs, Mayor of Thunder Bay " This an important day for Thunder Bay. Canada Steamship Lines has been a very important part of Thunder Bay as has the seaway and the port that has employed so many people over the years. It is a nice tribute to those that have worked in this industry."