6TH Location for Local Pharmacy!

By Sherry Aalto
Brenda Adams, owner of Janzen's Pharmacies, located in Thunder Bay, has now opened her 6th, newest location! Congratulations!!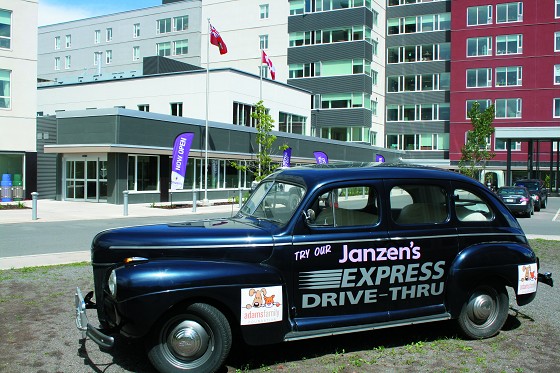 Everyone and I do mean everyone, staff and management, residence of Hogarth and Leila Greco, everyone, is excited about the opening of Janzen's newest pharmacy! Brenda Adams herself, could not say enough about everyone involved with the project! She is also very proud of ALL, of her staff, (which is approximately 100 employees to date between all 6 locations). Brenda started out with eight employees in her first location.
From contractors to marketing and design, to professional and technologically modern services, Janzen's is recognized as one of the greatest pharmacies, if not the greatest, serving Thunder Bay and
region.
The sole proprietor, Brenda Adams kept the name of Janzen's when she became a pharmacist herself and bought her first business at the corner of Bay and Algoma Avenue just a few short years ago. Brenda claims that the Janzen name was well recognized throughout the community for generations so, why change a good thing? And now, she has opened her 6th location. Great vision combined for expert services and advice along with expert planning, brought the dream to fruition. Of course, Brenda claims that none of this could ever happen without the loyalty of her customers! It is no secret that great service, along with a genuine caring for her customers, has created loyalty and trust with her valued customers.
The newest Janzen's is located at and is connected to, what is known as The Link Building, St. Joe's Hogarth Riverview Manor and Sister Leila Greco, at 330 Lillie Street, Thunder Bay, Ontario, and can be contacted at 807-344-0405. It will offer all the same great services as the other stores, such as INR Management Services, Flu Shots, Nurse Practitioner Services, Nurse Practitioner Walk-In Clinic, Home Health Care Products. Hours of operation are Weekdays:8:00am - 8:00pm, Saturday: 9:00am - 5:00pm, Sunday: 11:00am - 4:00pm, Statutory Holidays: 11:00am- 4:00pm.
The overwhelming reception for the new site proved to be the perfect place for the pharmacy. The residence of the Manor and the seniors supportive housing building, love having such services so close to them. As well, do the visitors, who have loved ones living or staying in these buildings.
The project was brought to Brenda's attention in late 2012 and over the next few years it started to come to life. With a few minor construction delays, it eventually opened June 1st of 2017. A Grand
Opening will be sometime in August.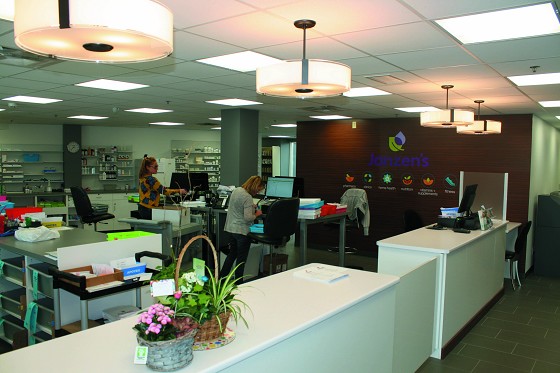 The pharmacy is a beautiful 4000 sq. ft. structure, outside and in. It has an open, free feeling about it when you walk in. With lots of window, lots of lighting and large entrances, the feeling is very
welcoming and bright! When asked if there any plans for future Janzen's Pharmacies, the response is one of being positive. MikeTallari, Director of Business Development commented with this, "We
will continue to keep our ears open and respond to the community of Thunder Bay's needs. As of now we are focusing on Pharmacy, Home Health Care and Nurse Practitioner related offerings but will always
look to offer new products and services if the demand is there."This comes as a special message from Janzen's to everyone:"Celebrating being in business for over 100 years, Janzen's pharmacy
would like to thank the community of Thunder Bay for the ongoing support. At Janzen's we are you're one stop shop for all your health care related needs. We pride ourselves on exceptional customer service and having convenient hours being open 7 days/week. Feel free to visit janzens.ca for more info."
LIVE BETTER EVERYDAY!
Come and visit the friendly, helpful people at Janzen's newest location! 330 Lillie Street, Thunder Bay, Ont. Or call them at 807-344-0405. They would love to have you.