2014 Chevrolet Silverado: All New From The Ground Up!
by Scott A. Sumner
The truck business is big part of the automotive manufacturers overall sales and that is true especially in Northwestern Ontario. The big three of Chrysler, Ford and General Motors as well as Nissan and Toyota rely on trucks for lots of their profit. GM with Chevrolet and GMC has just released a brand new pick up truck that will make the segment even more competitive.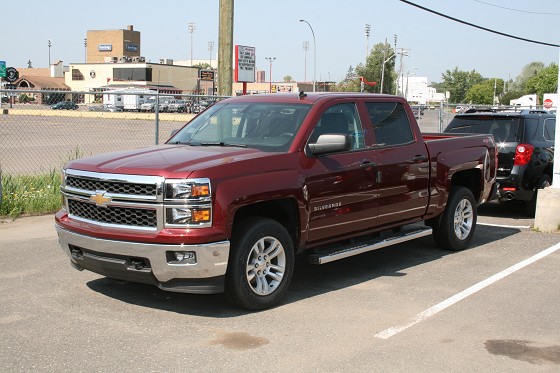 " The last major change of the Chevy pickup was in 2007. For 2014 it has been totally redesigned from the frame up. We wanted a 6 ft 6inch box on a crew cab and they provided that. (You can also get a 5 ft 8inch.) The motors are also brand new with the 4.3 V6, 5.3 engines, and the 6.2 hauler engine. All have been totally redesigned. The engines are much more fuel efficient," said Pat Spina, Sales Manager of Badanai Motors. " The interior of the truck now has more of the I Pad look, with a lot of touch screen capabilities, three different radio options, back-up cameras, NAV systems, 100 volt plug ins for your computers, lots of power outlets and three places for memory sticks or to plug in an I Phone or I Pad."
When I sat in the 2014 Silverado, ergonomically it offers more legroom, more options on the steering tilt and position and a totally new cockpit. It is very comfortable. The exterior look changes are subtle but if you park a 2013 and 2014 Silverado side but side you will see them.
The truck business is well over 50% of the business at Badanai Motors, according to Pat Spina. The truck is becoming a people mover and is bigger and safer.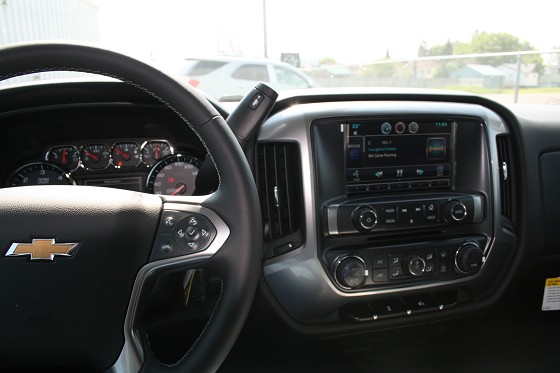 " This new Silverado truck has been a long time coming. Ford put a new one out last year. Dodge also put out their new truck. I think GM has a winner here with many new features we weren't accustomed too in the old truck," said Spina. " The exterior look is quite similar for a reason. GM surveyed their customer base and found they really like the look of the exterior of the truck. The changes are subtle, but it is a refreshed new truck. The air drag is better and there is more sound deadening equipment. We are sitting in a truck with cloth seats that has heated seating which we couldn't get before."
Pricing for the 2014 Silverado will be similar to last year pricing according to Spina. " The incentive programs will arrive as it is a big part of the market and you have to be in the game with the right price. The customer has to get the best bang for their buck and we need to offer value. I think GM has a winner here," said Spina. " I love the truck. It is quiet. You have to really drive it to feel the comfort and the changes that have been made. The ease of using the features like the back up camera are great. We sold our first 2014 Silverado as soon as it landed. You can order a truck exactly how you like and we can get it landed here for you in Thunder Bay in 6 weeks."