Ring of Fire Training Alliance Initiative Begins Program Delivery of Tiers 2 and 3
Recently an event at Confederation College celebrated the start of Tiers 2 and 3 in the Ring of Fire Training Alliance (RoFATA) initiative. Approximately 60 learners from nine Matawa First Nations communities gathered for the first day of the 12-week Tier 3 programming offered within five pre-trades programs, including:
· Pre-Trades Carpentry · Pre-Trades Electrical · Pre-Trades Plumber · Pre-Trades Heavy Duty Equipment Mechanic · Pre-Trades Construction Craft Worker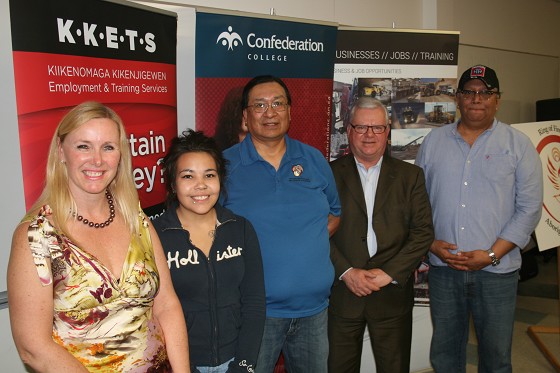 Tier 2 programming will commence on May 28, starting with the Surface Diamond Driller Helper program at the Firesteel Camp in Ignace. 10 students are enrolled. An environmental monitoring and Pre-trades welding program are also being scheduled. Launched in October of 2013, RoFATA represents a partnership between Matawa First Nations – Kiikenomaga Kikenjigewen Employment and Training Services (KKETS), Noront Resources Ltd. and Confederation College of Applied Arts and Technology. Its key objective is to provide training-to-employment opportunities to support the Matawa First Nations people. Funding for this initiative has been provided through the Skills and Partnership Fund. Tier 1 of the RoFATA initiative saw the successful delivery of Mining Essentials/Mining Readiness programs to approximately 160 students in the nine Matawa First Nations communities and locally in Thunder Bay.
Tier 2 and 3 programming will continue through the summer and fall of 2014.
Quotes: Jim Madder, President, Confederation College "Our future depends on our ability to ensure all learners have the opportunity to reach their full potential to contribute to their communities and the economy. The next two phases of training will establish the foundation for the development of a future workforce in the Ring of Fire or beyond. We recognize that partnerships are imperative to the success of this initiative. KKETS and Noront Resources have provided extensive support and leadership to reach a common goal in ensuring graduates are employment ready. " Morris Wapoose, Program Manager, KKETS "We are pleased with the outcomes and progress we are making in training our membership from the Matawa communities. The pre-trades programming will provide the necessary skills to enter an apprenticeship within the industry and be better prepared in entering the workforce."
Quotes: Jim Madder, President, Confederation College "Our future depends on our ability to ensure all learners have the opportunity to reach their full potential to contribute to their communities and the economy. The next two phases of training will establish the foundation for the development of a future workforce in the Ring of Fire or beyond. We recognize that partnerships are imperative to the success of this initiative. KKETS and Noront Resources have provided extensive support and leadership to reach a common goal in ensuring graduates are employment ready. " Morris Wapoose, Program Manager, KKETS "We are pleased with the outcomes and progress we are making in training our membership from the Matawa communities. The pre-trades programming will provide the necessary skills to enter an apprenticeship within the industry and be better prepared in entering the workforce."
Alan Coutts, CEO, Noront Resources Ltd. "Noront is focused on developing a skilled local workforce to support our Eagle's Nest mining project which we expect to be the first mine in the Ring of Fire. We are encouraged by the level of participation and look forward to hiring graduates from the program in the near future"
Leanne Hall, Vice- President Human Resources Noront Resources Ltd. based in Toronto with its head office as well as an office in Thunder Bay and in the Ring of Fire with their mining camp is 700 km north of Thunder Bay. Their first project is the Eagles Nest Mine which is a nickel and copper project but they also have have chromate, platinum and palladium deposits in the area. " Across Canada we have a shortage of people working in the mining industry. Over the next 10 years there will be a 145,000 people short fall. Looking at our long term workforce development we decided the best way was to invest in the local communities and from a partnership with Matawa First Nations, KKETS and Confederation College. We worked closely with the Federal Government to invest in skills development."
" Today is a very important day because 72 people from the Matawa communities are taking the first step forward in their long term career path. Minister Rickford made the announcement of investing $ 5.9 million over the next 17 month timeframe into our alliance. The first phase was a mining essentials 8 week program and 170 people participated." " The Ring of Fire is a world class project. The biggest part is we have to develop the infrastructure going into the mine, the roads, the power line and mine itself. We are hoping by early 2018 to be in production- about 3 1/2 years from now. Everyday we are doing work to advance the project such as the environmental assessment, accessing financing and getting all the permitting in place and then we can start building this project. It will be approximately a $660 million investment including all the infrastructure into the Ring of Fire for the first project. We have been waiting for Ontario to tell us what their investment in the infrastructure would be because we can't build the property without the proper infrastructure. As the election moves forward we hope the commitments remain in place."
" We also believe it has to provide infrastructure into the aboriginal communities as well. Our east west corridor provides access to the project as well as communities. We operate on their traditional territory and want to be respectful."
Don Bernosky Vice President Regional Workplace Development for Confederation College. " Today is significant as working together with the Ring of Fire Training Alliance Initiative we have 60 students starting training. They are from the 9 Matawa communities. This Pre Trades program starts out with foundation skills, literacy, work safety and basic hands on experience. We then do the equivalent of a Level 1 in school apprenticeship. After this program they can move on to be a apprentice which is 4 years in duration. That time goes fast as they are in the workforce learning, earn as your learn we call it with over 90% of it is on the job. There is a nationwide traded skills shortage. We will also be building in an entrepreneurship component into the program as we move forward."
" It is an incredible opportunity for the Matawa First Nations and we are pleased to be a part of it and support them as they go forward. Once the corridor is announced to the Ring of Fire area it will be equivilent to the Alberta Oil Sands in term of economic impact."
Caitlin Cheecho from Thunder Bay is enrolling in the course and chose carpentry as a trade. " The course will be 12 weeks and then I will hopefully get a job immediately after that. There are not many women here but it is a great opportunity for a female in the workplace, it is empowering."