"Architecture is an Economic Driver"
by Scott A. Sumner

Thunder Bay is dedicated to revitalizing its spaces with good architecture, especially along its historic port and downtown. With the second phase of the Waterfront development underway, it's easy to see how the community is reacting to these thoughtfully designed spaces. With the help of local architecture firms and consultants, Thunder Bay is successfully building more than just community spaces; it's fostering its residents, honouring its history and stimulating its local economy.

The Ontario Association of Architects and the Thunder Bay Chamber of Commerce hosted an event called "Architecture is an Economic Driver" on Wednesday, September 30 .

Toon Dreessen is Ontario Association of Architects President He works as a Architect in Ottawa, studied at Carlton University and started working in 2006. In Ontario there are currently 3700 Architects.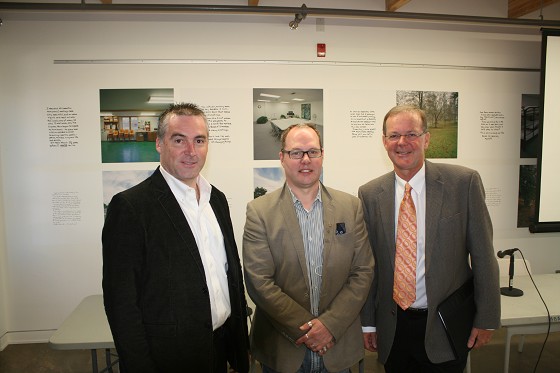 This is an interesting event today for Thunder Bay?
" We are going to communities across Canada to talk about how architecture is an economic driver. We see communities like Thunder Bay that are really at a cusp making significant investment. Thunder Bay has a long term plan to make significant investment in it's waterfront,
the preservation of heritage building and new buildings creating space for communities to grow around an area."
What is your impression of Thunder Bay?
" Thunder has a vibrant arts and cultural scene, great restaurants, beautiful new buildings, older buildings, condos and other space ready for future development that is phased in. This provides a long term sustained growth for the community. The city can lead that with goals and targets with elements like the skating rink.

How can architects help a city grow?
"The creation of high quality built form is important. Architects are skilled at being design problem solvers. An architect on board early at site selection, procurement and so on is important. Resource extraction, ports are important but it is also important to go beyond a
one line economy.
Do you think Thunder Bay has good potential?
" Thunder Bay is a big enough city with the potential to grow with a good tax base.There is a real key potential here for really amazing architecture. It can be built by local trades and architects. The local people can serve the local community.Local firms should be involved in even very large projects to ensure that connection to local culture so you don't see the same generic big
box or similar buildings. It should be Thunder Bay. At the waterfront I see beautiful buildings that are unique in a sense to Thunder Bay. It is an informed sense of value and culture.
For example the condos on the waterfront are appropriate sized for the area so feel scaled and sized for the neighbourhood in which they sit. An architects helps to see this is right."


There is quite a long training period to become an architect?
Architecture is a 6 year program. It is a 4 year undergrad and then a professional 2 year masters. Then you intern for 3 to 5 years and write a series of exams. It injects a sense of professional responsibility. We take what we do very seriously. We can contribute to culture and
society. Being an architect means understanding light, colour, material, chemistry and culture. We want buildings to stand for a lifetime - for a generation."

Cory Stechyshyn is President of i4architecture and NWOSA Chair.
" Thunder Bay has about 12 architects today. The role that architecture plays in the economy and economic development is important and has contributed to the prosperity of cities, firms and companies."