ARRIVAL OF FIRST OCEAN-GOING VESSEL
The Port of Thunder Bay has opened to international shipping with the arrival of the first ocean-going vessel to port during the 2022 navigation season. MV Blacky crossed the Thunder Bay breakwall at 0825 Monday, April 18, 2022.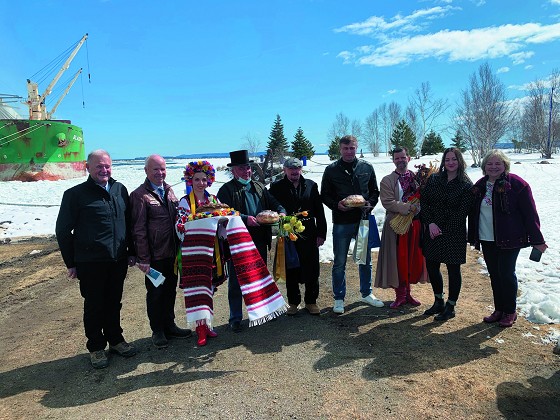 Blacky is currently loading Western Canadian wheat and oats at Richardson International's main elevator and will sail for Puerto Rico on Wednesday.
The Cyprus-registered Blacky is on its ninth voyage to Thunder Bay since being constructed in 2008. The vessel has shipped 150,000 metric tonnes of Western Canadian grain from Thunder Bay to destinations in Europe and Latin America.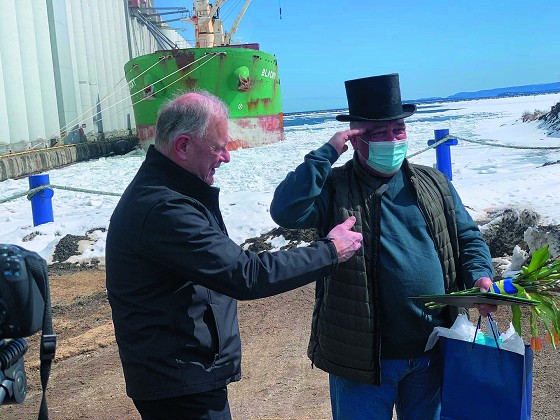 Blacky is the second Canfornav vessel to receive Top Hat honours in the past three shipping seasons, following Tufty in 2020. The Montreal-based shipping company operates in the Atlantic handy size market linking the Great Lakes and St. Lawrence to ports around the world.
Blacky Captain Oleg Gerasymchuk and Chief Engineer Igor Matsala were recognized in the Top Hat Ceremony this afternoon at the Richardson elevator. Port Authority Board Director Pat Bushby presented the Top Hat and welcome remarks were given by Hon. Minister Patty Hajdu and Mayor Bill Mauro.
Over 100 ocean-going 'salty' vessels visit the Port of Thunder Bay annually, with the final vessels departing late December.