ARCTIC CAT MANUFACTURES A 2 STROKE SNOWMOBILE ENGINE
by Scott A. Sumner
The world of 2014 is much different than the early 90's when I started getting back into the snowmobile sport in a more active way. Gas emissions were talked about then but the stringent requirements we have today and those on the way are much more difficult to meet. I think this is what has caused the snowmobile companies to look at ways to improve their sleds as it relates to emissions. Yamaha began with their first usage of a 4-stroke engine in the RX1. Ski Doo continued on with their high tech ETEC 2 stroke engine that has been a huge success. Now it was Arctic Cats turn with their new CTEC engine, their own version of direct injection.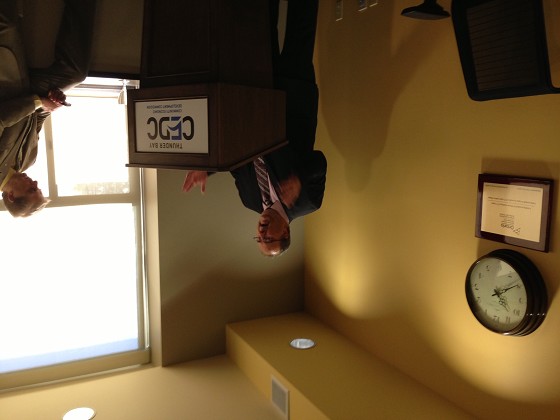 It was fun to watch the 2014 Arctic Cat El Tigre 6000 come out of the box at Smith's RV Centre in Thunder Bay. This late build sled arrived in Thunder Bay just before Christmas and was part of a short run build with many dealers only getting one sled this season.
Troy Galon is a Cat Master mechanic and been to Thief River Falls many times for training. He started in the business at age 15 and now is 51 with 35 years of experience mostlyon snowmobiles and outboards. Troy got the new ZR El Tigre 6000 ES sled in his shop after it was removed from the crate and delivered by forklift. It was interesting to watch the steps a dealer goes through to get a new sled ready for the trail.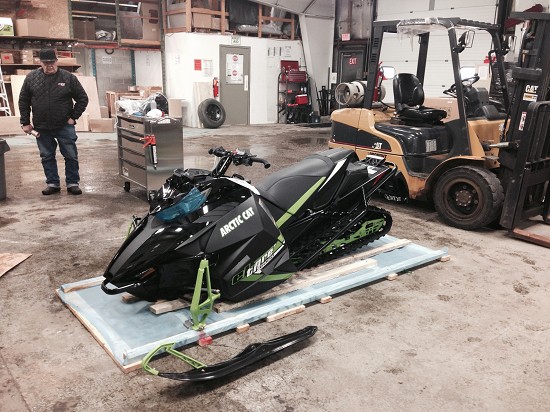 First it was attaching the skis, measuring the toe out from 0 to 1/4 inch. " 0 is for the racer guys who just want to point and go and for the trail guys they like the sled to track a little better. We make sure the track is aligned next and has 20 pounds pull. I set them a little bit tighter than that because the track will loosen in a few hundred miles. You should have it looked at again at the dealer but some don't come in so a little tighter is better." said Troy Galon.
Next Troy installed the shock absorbers, put some engine oil in it, made sure the chain case was full, the antifreeze was full, put some fuel in and then installed the battery. He then tested the handlebars, powered it up,warmed up the engine, put the point of sale pin code in and the El Tigre 6000 ES was pretty much ready to ride.
" I started the engine, made sure it warmed up properly and had no leaks. The engine sounded pretty quiet and pretty smooth. I would say it is the smoothest 2-stroke engine we have seen from Arctic Cat. It has really good balance to it because they're able to manufacture it in St. Cloud themselves and have a little bit more control over that part of it. We will keep our fingers crossed and hopefully it is going to be a good unit." said Galon.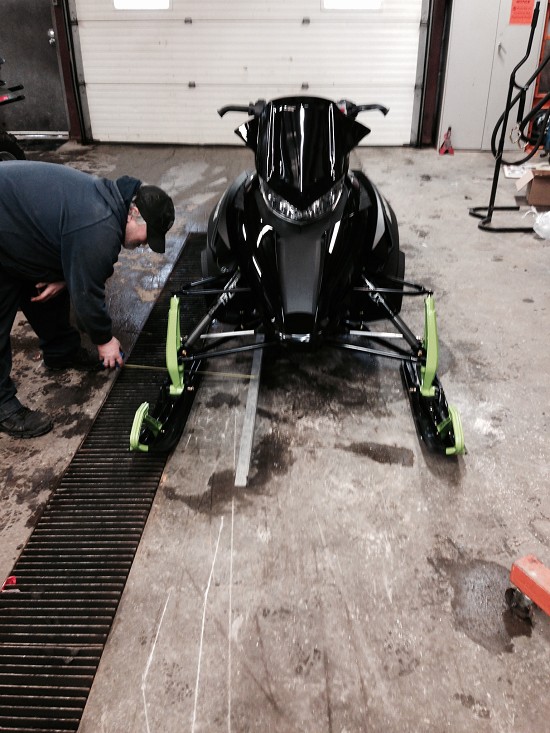 The unique new dash of the Arctic Cat El Tigre 6000 ES gives air temperature, coolant temperature and a little bit more information for the rider. " I think this is the future of snowmobiling staying with 2 stroke because they are making them cleaner, better and with durability of the engine. The oil for the CTEC comes in a bag. It is really thin looking oil and I would not substitute any other brand as that is what the engine was designed to use, " said Galon. " The computer on the engine controls the oil flow, which means more precise oiling. This keeps the engine cleaner and also even adjusts the oils during the break in period of the sled. "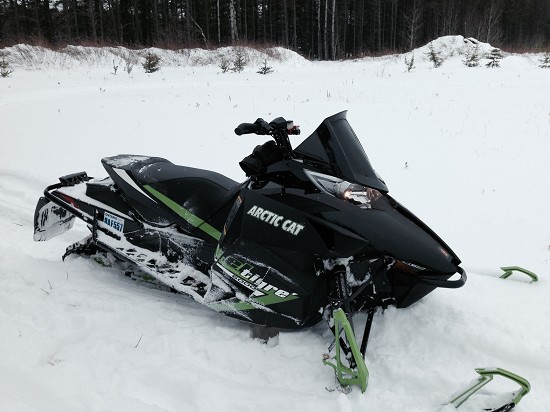 Troy did a little pre mix at 120 just as a precaution but it really doesn't need it as the computer provided more oil during breaking in. You should check the owner's manual for break in information. " I would ride it at normal trail speeds 1/4 to 1/2 throttle during break in period. The better you break it in the longer it will last. I think this is a pretty hot little machine andonce the engine falls into other models it will be even better."