An Absolute! Must See, Performance

By Sherry Hanes (March 2020)
An absolute must, see performance!
Celtic Illusion Reimagined, is the 'aaaauh' of Grand Illusion and the energy of extraordinary, contemporary, Irish Dance! Come and witness one of the most amazing and captivating performances, of magic. mystical illusion! A performance of masterful precision and strength, you won't want to miss!
The Thunder Bay Community Auditorium has the greatest pleasure and opportunity to present to you, world acclaimed, Celtic Illusion Reimagined.
Celtic Illusion performance has captured 'standing ovations', resounding applause and praise, for every performance, the world over. The breath-taking choreography, colourful costumes and special, mystical effects production of mind-blowing proportions, is something you will not see anywhere else.
Led by Australian born, Anthony Street, Anthony is the first Australian ever, to perform leading roles in Michael Flatley's, worldly-acclaimed, 'Lord of the Dance', including the role, originally performed by Michael Flatley, himself. At the early age of just 19, Anthony set out for a 5-month tour that spanned eight years, into a career, that had him travelling the world, including a residency in Dublin with 'Dance of Desire', as well as tours of France and Germany, before being cast as principal dancer for Michael Flatley's 'Lord of the Dance'. Anthony's always dreamed of creating his own production and after months of unbelievable and stressful preparation, Celtic Illusion Reimagined was born (November 2011).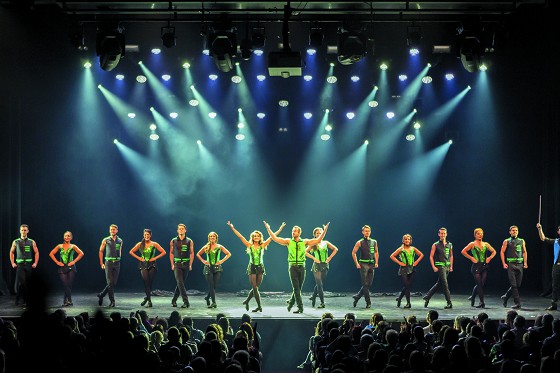 The critically acclaimed, custom tailored, sound track, for Celtic Illusion Reimagined, brings to the stage incredible soundtrack compositions by a team, bent on relentless perfection, that include Angela Little, who is globally known for her extraordinary talents of singer, orchestral arranger, songwriter and pianist and who co-composed Baz Luhrman's film 'Australia' and has also edited music for a wide array of other film, T.V. and theatre projects for clients that include, Southern Star, FOX 8, Nickelodeon, The Bell Shakespeare Company, Great Southern Land and AFTRS.
Sharing the musical creations spotlight alongside Angela is, Steve Skinner. Steve has arranged and produced for such artists as Celine Dion, Stevie Wonder and the Broadway musical 'Rent'. Together, with their tireless team of musical and sound professionals, they have created unbelievable scores that that will stir you right down to your musical core! USA-based singer, Michael Londra, originally from Wexford, Ireland, is described as one of the best Irish singers of our time, by Capital Celtic. Michael has more than earned international recognition in his remarkable career for Irish music, as a singer, a director and a producer. He was the lead voice of 'Riverdance on Broadway', can be heard with Pavarotti, Andrea Bocelli and Il Divo on the Universal Records album Arias Ancora. Michael's first album "Celt" was produced by acclaimed producer Steve Skinner, who co-produced the Grammy nominated soundtrack of the Broadway musical 'RENT'. Celtic Illusion Reimagined, has be performing the world over for 'sold out audiences'!

We, here in Thunder Bay, are incredibly fortunate to have the opportunity to be part of this astonishing production, who travelled thousands of miles to grace our stage. On March 15, 2020, don't miss this exciting event of Celtic dance, magic, mystical mystery and illusion!
This widely, celebrated cast from Canada, the U.S. and Australia, proudly boasts members from both, world-class performers from 'Riverdance', and 'Lord of the Dance', which brings to our stage, what seems to be, some of the fastest and most incredible, unison taps, in the world.
Since their premiere in 2011, Celtic Illusion, has dazzled everyone into a state of, let's say, 'mesmerizing craving' with their spell-binding performances!
Call the Thunder Bay Community Auditorium Box Office at 807-684-4444 and get your tickets today!
http://celticillusion.com.au