2015 STAAL OPEN PRESENTED BY TBAYTEL BIGGER & BETTER!
by Scott A. Sumner

Last season was the inaugural PGA Tour Canada Staal Open in Thunder Bay at the beautiful Whitewater Golf Club. It was a huge success and promised to be even better in the future. The organizers were right and the 2015 version made great strides in attracting more people to the event with a wide variety of activities for all ages, both golfer and non golfers alike!
" We were able to jump on board last year and thought this event was a great opportunity to kick off our foundation and let people know what our foundation is about. Our focus is to help children fighting cancer. For me on a personal level my wife's sister passed away from cancer and it was a hard time for our family. We felt the need to help charities and to put our focus there."said Eric Staal. " We want to sustain this for many years to come. It is about being part of a great event and community. It was a lot of fun last year and should be even more so this year. It is nice to come back to Thunder Bay in the summer to relax and see people you knew growing up. The summer goes by quickly." The Staal Foundation has grown and is looking to raise money for some good charities.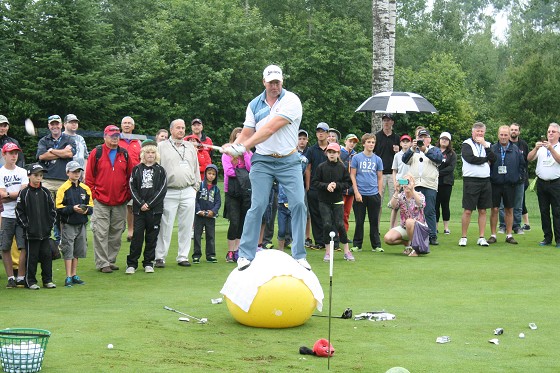 " There are some players here this week that will play the PGA Tour RBC Canadian Open next week and it is nice to see them here," said Eric Staal. " I am better as a golfer this year than last but still mediocre. It is something I enjoy doing in the summer. It is relaxing and competitive at the same time. The hockey season is long and can be stressful so the summer is a great chance to exhale and regroup and golf is great game for that."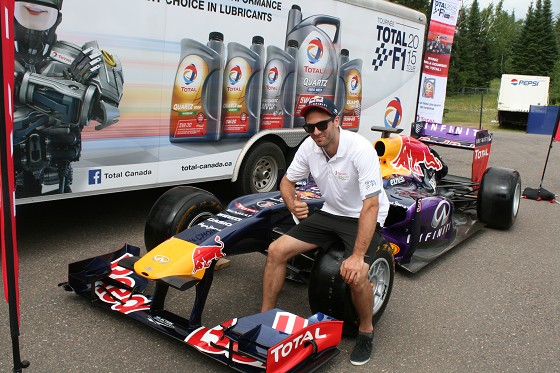 Remi and Alex are Ambassadors for Total Company an oil producer. " We go across Canada with the Red Bull F1 car to promote the Total brand and expand the market. This is the 2014 Formula 1 car which won the Montreal F1 race last year with driver Daniel Riccardo. This is the second fastest car in the world behind the 2015 model. We are here to show Total exists and is the fifth biggest producer in the world."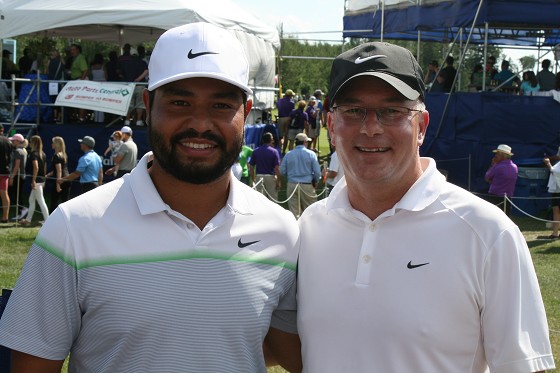 2015 Staal Open winner JJ Spaun with his caddie Mark Colisimo
The car weighs 1100 pounds with out the engine and with engine, gas and driver goes to 1500 pounds. It is 1.6 V6 eco boast liter. The connectic energy from the brakes is used to make electricity to make the turbo from the exhaust work. It is a very complex race car. The drivers can be up to 6 feet tall but average 5 feet 2 inch to 5 feet 6inch and weigh 120 to 140 pounds.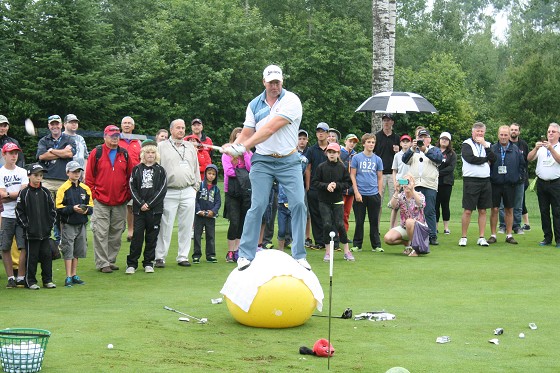 Cameron Peck, from Olympia Washington shot 66 on Saturday with 7 birdies and 1 bogie. " The course played great today. I really enjoy this course and think it is a great track and a lot of fun especially with all these people out. The other events this year haven't had this many people out. After the round today I will relax for the rest of the day and get ready for tomorrow. Tomorrow I will come out 1 hour before, hit my balls, roll some putts and get on the first tee."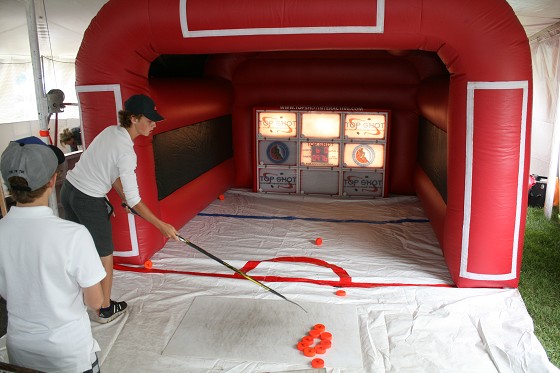 Drew Weaver is from Atlanta Georgia and a graduate of Virginia Tech a Division 1 golf school in the USA and played in the Staal Open. Currently Drew is No 1 on the season long money list. He starting golf at age 5.
" I went to the PGA Tour Canada Q school in Florida, qualified and won my first start in Vancouver." smiled Drew Weaver. " I have been to WEB.com Q school several times and just haven't got through yet but there are other places to play.The competition is stiff on the PGA Tour Canada, deep with consistent good players each week" Drew has also played in 6 PGA Tour events and on the E Golf Tour on the east coast of the US. The Vancouver win was a 5 person playoff at Pointe Grey.
" Thunder Bay is a great place. Whitewater is a big golf course, very American style with great sight lines and a very pretty site the golf course was built on. It should be a nice week, the golf course is in great condition. It is a nice design that is very modern and good from the start to finish." said Weaver.