TRIAD CONTRACTING
MORE THAN JUST A ROOFING COMPANY
By Sherry Hanes In 1975, Triad Contracting, started out as a roofing business in a residential home. The business, originally started by Steve Boquist andtwo other friends, eventually became owned by Steve Boquist. After a few moves over the years, to accommodate expansion, the business findsitself at their new address of 800 Norah Crescent. The facility accommodates the need for extra showroom and warehousing space, along with larger office and administration space.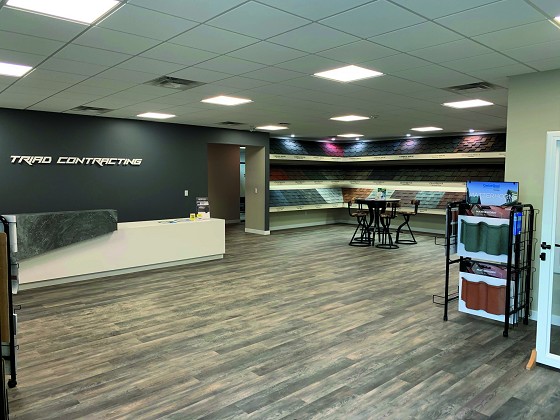 Triad's sincere approach to providing the best customer service and quality products, not to mention, installation and extended warranties, has kept Triad as one of the leading roofing contracting companies in the north for residential and commercial projects. But did you know that Triad is a professional contracting company who does more than just roofing?Today, Triad offers New Construction in, custom home builds and renovations. They also install siding, Soffit / Fascia / Eaves troughing, Exterior Doors and Windows, and they also do Snow Plowing,Snow Removal, Sanding, and Snow Removal from your roof tops. Triad's Custom-Built Homes, has been in full operation since 2013 and are recognized for their 'signature' style and uniqueness. These homes present excellence in design, workmanship and quality of products. The custom-built homes, are esthetically and architecturally awe inspiring,inside and out. Marie Boquist, interior designer for all of the new home builds, bring to buyers, novice and functional ideas, that express signature opulence. Triad encourages customers to bring in their own plans and talk with Steve, about the greatest investment they'll ever make. Another option is, the customer can choose the lot and the designated Triad house plan for that particular lot, but they can make their own tweaks to the custom plan, to suit their personal desires. To view some of the signature style homes of Triad, just take a drive into Maple Ward Estates, just off of Maple Ward Road and Parkdale Subdivisions Triad's Shingle Warehouse. The Shingle Warehouse offers roofing shingles and roofing components at retail to any customers and/or contractors, alike. They carry top quality brands and invite everyone to come in and compare quality and price before making a final decision. Another facet of Triad Contracting is, HawkBay Holdings, which is Triad's Commercial and Residential Real Estate Rental enterprise. Along with commercial leasing, home rentals are also available and one can inquire by calling the Triad Contracting office. The homes, which include upscale, side-by-sides, and detached homes, are built and owned by Triad. > Currently, Triad already has their carpentry teams out in full force and the roofing team of five crews, is out on the job as well. General Manager, John TenHave, who oversees carpentry and roofing, and Jason Prinselaar, who is the Lead Estimator and knows roofing like the back of his hand, provide expert direction and professional leadership, for company and customers alike. Pricing of roofing materials. Costs on shingles and roofing materials can go up at a moment's notice, and in order to provide quality
products at fair prices, Triad purchases volumes of different, quality products, to be able to stay competitive with big box stores and pass those savings onto the customers. Triad is here 365 days a year, to help you with any of your needs for product and or services.Triad also has Metal Roofing Systems. The metal roofing systems come from Certain Teed, the trusted company that Triad has regularly dealt
with for literally years. Metal roofing gives any home the authentic look, design and natural detail of real wood shake, quarried slate, or traditional clay tile roofing, with performance that's stronger than steel. Certain Teed trains all roofers working with their products to
be a Shingle Master Applicator. CertainTeed, sends their team of professionals to Thunder Bay to train roofers. Triad also offers the 4 Star Sure Start Warranty, which extends a regular warranty, when using Certain Teed products. Certain Teed will replace materials and labour, completely, if something fails under this extended warranty plan.
Triad welcomes all inquiries, including, any DIY roofers and encourages anyone, to bring quotes by any other company, and they will do 'you one >better'.Triad employs a team of 50 plus in peak season. The 'front line' employees, pitch in and share wearing 'different hats' throughout the day but, they never fail to provide professional service, from the very first call to the final signature. >For roof shingling or re-shingling, choose the qualified, reputable, company that stands behind their products, applications, andwarranties, choose, TRIAD CONTRACTING.For that long desired custom home, choose, TRIAD CONTRACTING!When you need reliable snow removal, for your property and/or your roof, choose, TRIAD CONTRACTING!
>Triad Contracting 800 Norah Crescent, Thunder Bay, ON P7C 4T8 Phone: 807.622.1919,Toll Free: 1-888-649-6666Email: triadcontracting@shaw.ca
Summer Hours
8:00am – 5:00pm (Monday to Friday)Winter Hours
9:00am – 4:30pm (Monday to Friday)> Stop in and say congratulations to Triad Contracting, for 40 plus, years of 'above and beyond' excellent customer service, quality products, expert applications and fair pricing! >