THUNDER BAY TO MONTEGO BAY, JAMAICA: HALF MOON, ROSE HALL

by Scott A. Sumner
www.golfingnews.ca
It had been several years since I had been back to the Caribbean and I recently had the opportunity to visit the very special Half Moon Resort near Montego Bay, Jamaica. Air service to Montego Bay is very good and quite inexpensive. You will take a quick flight to Toronto and
then a 4 hour direct flight to Montego Bay on Westjet, in my case. You can leave first thing in the morning and be at Half Moon by mid afternoon in time to get on the spectacular beaches or hang out in your luxurious room overlooking the ocean. It was quite a change leaving Thunder Bay's first snow storm to the mid 80's temperature of Montego Bay!
My main purpose in traveling to Jamaica was to play three fine golf courses in the area, Half Moon, White Witch and Cinnamon Hill. My first two games were at the Half Moon course right at the Half Moon property.
"I grew up in Scotland and came to Jamaica 8 years ago. I enjoy a lot of things about Jamaica. The sun shines 99 days out of a 100 which is a big attraction for me. In Scotland we have a 3 or 4 month golf season where here the golf season is 12 months of the year. After being here for 8 years thoughI would say the best thing about being here are the Jamaican people. They are very friendly, warm and fun loving. There are many nice golf courses and resorts here but the number one reason to come here is the people." said Ewan Pebbles, Director of Golf at Half Moon Golf Club.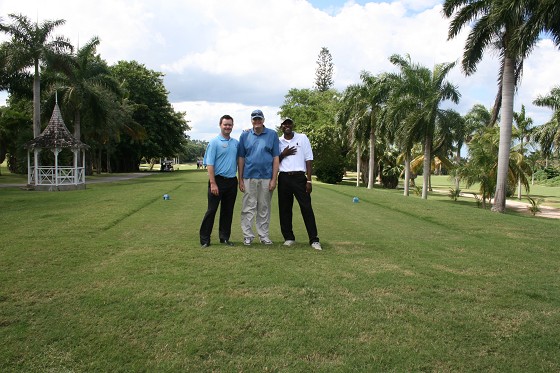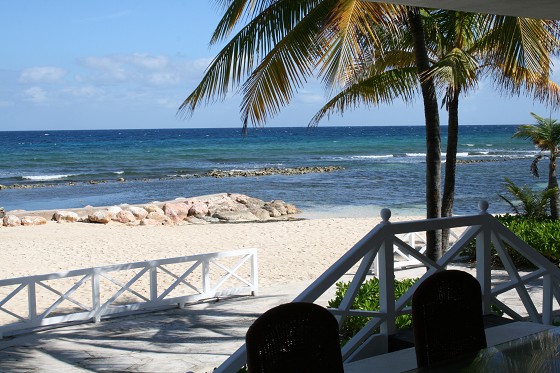 The area that Half Moon is in is called Rose Hall and the resort is Half Moon. It was started in 1954 with 16 cottages on the half moon crescent shaped beach. That is how the name Half Moon came about.
"The golf course opened in 1964 with Robert Trent Jones Sr. as the designer. It is a lovely golf course, with a very traditional country club feel with beautiful tree lined fairways and majestic palm trees. It has a very established feel. It is a golf course I never get tired of playing with a wonderful mixture of holes that will ask you to hit the ball high or low and left or right. It's relatively forgiving from the forward tees but from the championship tees it is very demanding
with a lot of bunkers. You have to position your ball and manoeuvre around the traps. It asks you to hit every shot in the game including fades and draws and is a very well designed golf course of 7200 yards from the tips. Here nine days out of ten the wind is blowing 20 to 25 MPH," said Pebbles. "We will have the Jamaican Open here in two weeks for the third year as part of a three year commitment. It is a $ 70,000 purse with $14,000 to the winner. This year we have PGA Tour players Charlie Wie who finished 33rd on the Fed Ex Cup list and Alex Cjecka so that will help create quite a buzz here. "
In the summer months the temperature at Half Moon is in the low 90's and in the winter in the mid 80's. It is very pleasant for golf all year round. The busiest time is the winter months from mid December to Mid April. At Half Moon they do 12,000 rounds per year and in the summer you don't need a tee time. The golf course is across the road from the resort.
"We have a reciprocal agreement with our neighbouring courses, Cinnamon Hill and White Witch so you can stay at Half Moon and play 54 holes. They are both very scenic. White Witch is 400 feet above sea level with beautiful vistas and views of the ocean. Cinnamon Hill is almost a blend of Half Moon and White Witch. The front nine is at sea level with two holes at the waters edge and the back nine has beautiful views overlooking the ocean," said Pebbles. "This week we are doing our PGA Magazine Ambassador Pro Am, now in it's second year. It is a 54 hole
event at the three golf courses and we have our defending champions coming from Chicago."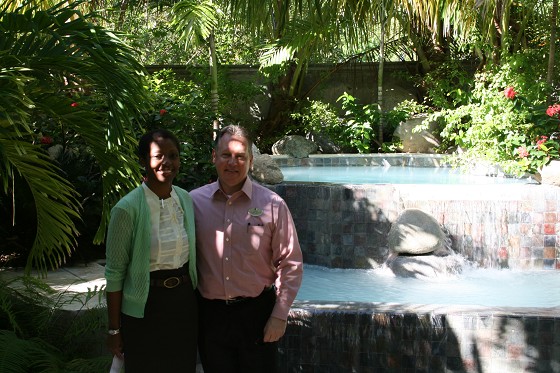 Half Moon resort is on 400 acres with 398 rooms and suites. These include the 33 Royal Villas and 197 rooms, suites and cottages over the main resort. "The Imperial Suite is our highest room category, all ocean fronts with spacious living room, bedrooms and bathrooms,"
said Marci Mclaughlin, Public Relations Manager at Half Moon. " Fern Tree, the Spa at Half Moon is 68,000 square feet, with two over water treatment bungalows right on the sea as well as a yoga pavilion medication area, water features and cafe as well as treatments rooms.
You can do everything or nothing at the resort. We have so many activities including golf, the spa, dolphin lagoon, equestrian centre, tennis and fitness centre. The people who visit us come from North America, the US and Canada as well as the UK and parts of Europe and
the Caribbean. We have lovely weather with nice, bright, sunny days and nice breezes off the sea making it really very temperate. The sea breezes keep you cool."
Jamaica, an island, is 144 miles from end to end and 72 miles at the widest point. "We are wide in the middle and skinny on the ends. It a mountainous island with the blue mountains at the eastern end. At Half Moon we have 800 people on staff at our highest occupancy time. We like to feel we offer warm and giving hospitable service and think of our guests as an extension of our family. We want to make sure they are looked after. If there are any concerns or needs we try to address them immediately to make sure everyone has an enjoyable time. We are fortunate to have people come back year after year." said Mclaughin.
At Half Moon they have villas with up to 7 rooms, each room with its own bathroom and pool and the villa also comes with its own cook, butler and housekeeper. Golfers can stay with their groups in their own villa and enjoy having access to all the amenities at Half Moon. Half
Moon has received many awards including World Travel Award for Best Golf Resort, Best Golf Resort in Jamaica, Travel & Leisure World's Best, Conde Naste Readers Choice Award in 2010 and Island Destinations Best Family Resort.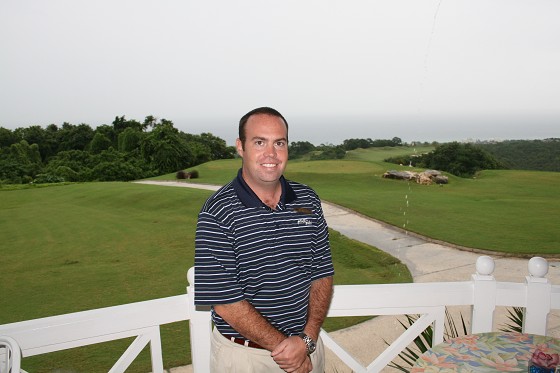 The second course I played in the Rose Hall area was White Witch. This unusually named course was in a spectacular setting where you can see the ocean from most holes. Mike Cole is the Director of Golf Operations at the White WitchGolf Course at Rose Hall just outside
Montego Bay. Cole is originally from Kalamazoo, Michigan where he attended Ferris State University in the Big Rapids area earning a degree in marketing with an option in professional golf management. It is a 4 1/2 year program that ties in with the PGA of America program.
"You do 5 semesters of internship on the job training. I worked for a young director here at White Witch and turned a 2 year commitment into 9 years now," said Cane who is also a PGA Professional. "This used to be all sugar cane plantations and at the end of the road is the Rose Hall Gray House. The history of the area is John Palmer married Annie Palmer who had lived part of her life in Haiti where she practiced voodoo after her mother and father passed away. Annie was a beautiful young English girl who was loved by her peers but had a cruel side to
her. It is said she took the lives of three of her husbands who suddenly vanished. It is also said that she used to take the slaves as lovers, have her way and then dispose of them as well. She became known as the White Witch of Rose Hall and her spirit still haunts the area
from the early 1800's."
The course was built in 1999 to 2000 and opened the same day as the Ritz Carlton Hotel, August 25th, 2000. Robert Von Hagge was the architect on the project, which is now owned by the Rollins family out of Atlanta Georgia. "The majority of our play comes from the hotel
guests at the Ritz Carlton but we also have play from others. We sit approximately 1000 feet above sea level with the backdrop of the mountains which make the course very undulating with side hill lies. You play one hole and can't wait to get to the next to see what is out there. It is spread out of over 600 acres and the area around is not developed which is very unusual in this day and age. We have 100 acres irrigated for golf," said Cole. "The big misconception is it is hot in the summer time but the temperature varies about 10 degrees all year round 85 F with 20 % chance of showers. April, May and September or October can be rainy but only with an afternoon shower that clears up for sunset."
A unique experience in Jamaica golf is the caddie. "At the Ritz Carleton we wanted to differentiate ourselves from the competition and recruited ladies and gentlemen from hospitality schools and taught them about golf skills and they started this way. Now they train others.
Caddie Master based out of Jacksonville, Florida runs the caddie program and have operations at other places like Augusta National and Whistling Straits," said Cole. "I like the spectacular views here. They are unique and it looks like the course is built right into the existing terrain. It is a combination of great views, a great course to play and great service by our caddies. The beautiful mountains we play alongside are amazing. Jamaica is very mountainous and is a hidden gem. I enjoy the Jamaican people who are great and are what make it special here." said Mike Cole.
At Cinnamon Hill hotel guests get a green fee rate of $120 which includes cart, caddie and range balls. It will go up on December 20th to $165 for hotel guest. They have reciprocal agreements with Half Moon and the Hilton guests in the area as well. If you are not a guest the
green fee rate is $175. They do offer web specials and a twilight rate at 1:30 pm. It is also recommended a gratuity of $20 per caddy as a tip.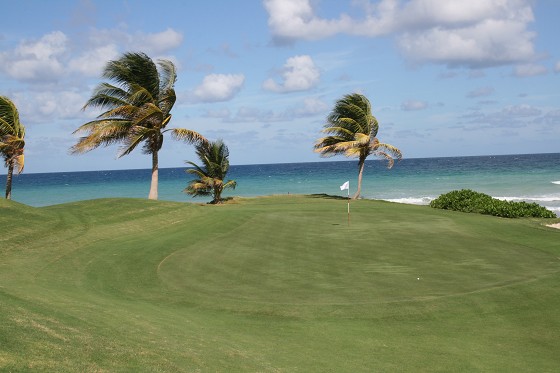 My final course to play in Jamaica was Cinnamon Hill which is also in the Rose Hall area. The course is managed by Robert Ames who is originally from Trinidad. Robert started playing golf at the age of 4 and was taught by his older brother, Stephen Ames, who now plays on
the PGA Tour. "We had a great time learning to play golf in Trinidad. I caddied for Stephen for 3 1/2 years starting in mid 2003 and ended at the last event at 2006. I was there for his first win at Cog Hill in Chicago and the Players Championship win," said Robert Ames, age 38. "I tried becoming a touring professional but it didn't work out. I have been in and out of the golf business all of my life. I represented Trinidad on numerous occasions as an amateur and in 4 World Cups with my brother. Now I am on the other side of the counter running Cinnamon
Hill Golf Course. At the end of 2006 I gave touring golf one more try but by autumn I was looking for a job. My wife is Jamaican and felt it would be nice to move back to the Caribbean. The course was going through some transition periods, the owners took it back and I started
January 2008."
Cinnamon Hill was built in 1969 by Hank Smedley, an American who lived on site and created 18 holes. It was redesigned in 2001 when the holes were made straighter. "The land was used exceptionally well. It is really a tale of two nines, one that is almost park land and the
other nine links style where the greens go right up to the Caribbean Sea and you can feel the sea spray while you are putting. It is also all the way up to 350 feet above sea level where you get great views of the sea in the backdrop," said Ames. "I like the course because it
presents a great challenge, yet with our 4 sets of tees anybody from a 2 to 25 handicap person can play it. The layout and the holes down by the ocean are fantastic. Number 17 is my favourite as I redesigned it myself and it is our signature hole on that nine. Also our caddies can
give anyone a great experience. Lastly there is the history on the golf course with the Johnny Cash house on site, the waterfall on 15 where they filmed James Bond's movie "Live and Let Die", the aqueduct ruins and the Rose Hall Grey House make great history." stated Ames.
"If you have chosen Jamaica as a golf destination then this is the area you want to be in, the Rose Hall area of Montego Bay. In Jamaica our course Cinnamon Hill ranks 1 or 2 each year. We get 10,000 hotel and cruise ship rounds per year and have 62 members who push through
another 3000 rounds for us. In April we held the LPGA event here which really helped our awareness," said Ames. "The weather is absolute perfection from January through May. You won't get anything better with 82 degrees F, low humidity and 20 mph winds. If you are shoveling snow in Canada, you need to get away and hop on Westjet or Air Canada and
come on down. Life is very good and comfortable and like Trinidad for me. I have had no time to golf here as we have transformed the golf course and put my heart and soul into that. Now I am ready to start getting back playing golf again."
Green fees at Cinnamon Hill are winter rates at $149 to $169 green fee including cart fee, range and caddy including all taxes. They have a twilight rate after 1:30 of $99 in the winter. It is not usually that busy at the course according to Robert Ames.
My time in Jamaica was coming to an end. It was an excellent experience. Half Moon is a superb resort with tremendous facilities and offers so much to do for everyone. The suite I stayed in was 5 stars all the way. The three golf courses were an excellent 54 holes of golf
that you can play and offers everything you want as a golfer including great settings. Jamaica will be a destination that you will always remember.