THUNDER BAY AUTO SPORT CLUB Hold Ice Racing at Mission Bay, Lake
Superior
by Scott A. Sumner

There has been lots of car ice racing history in Thunder Bay beginning in 1959!
It was fun to witness racing March 12, 2017 on a cool, sunny day. Their location seemed perfect to me for this event, at the end of City Road at Mission Bay.
The cars, especially studded tire versions, seemed to get some pretty good speed and would power slid around the corners similar to what a dirt track race car would do. The weather has been up and down this year in Thunder Bay but the very cool conditions this day were great for racing!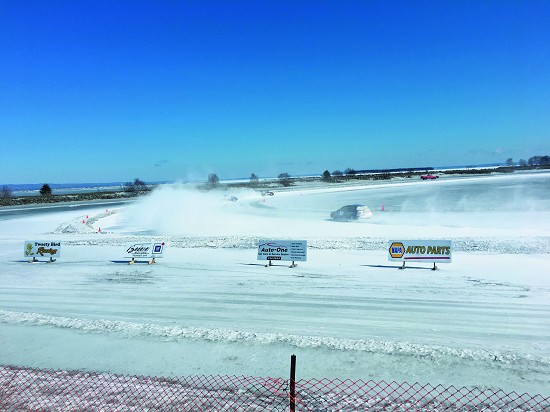 The First Race
Central Canada Car Club staged the first-ever automobile event on ice on Sunday, February 8, 1959. Nine competitors took part in a timed event called the 'Dice-on-Ice.' Driver made two runs around a 1.7-mile ice track on the Port Arthur harbour to record the fastest lap. Oliver 'Deke' Dawdy, driving a D.K.W., recorded the fastest time, completing the two laps in 5 minutes and 2 seconds. Tibor Dancz, in a Volkswagen, was second in a time of 5 minutes and 7 seconds. Peg Wenting was the only female competitor.
A second event was held on February 22 with competitors given three tries to record the fastest time possible. To speed up the trials, two cars are allowed on the track a half a lap apart. George Cummings, driving a Volkswagen, was the top driver with a best time of 5 minutes and 15 seconds. Dawdy was second with a time of 5 minutes and 18 seconds. Tom Jones was third in a time of 5 minutes and 22 seconds in a Volvo owned by Al Albrecht.