The NWMO Celebrates Re-Opening of the Ignace Learn More Centre
Listening to people and hearing input from the public about Canada's plan for used nuclear fuel is an important part of our work. We are excited to re-open our Ignace Learn More Centre and to continue with face-to-face dialogue.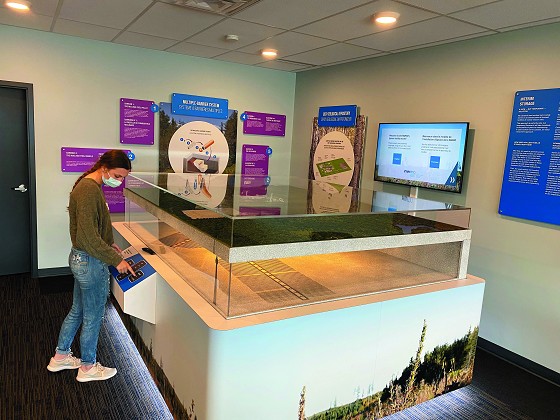 We're also excited to announce that the Ignace Learn More Centre is newly renovated. This is worth celebrating in a big way! The Centre was closed to the public for several months because of public health guidelines related to COVID-19, but since restrictions have been lifted, we're happy to see NWMO employees and surrounding communities connect in person once again. Please know that safety is our number priority and rest assured we are following all provincial health and safety guidelines including social distancing and mandatory mask wearing indoors to keep everyone safe.
We have Learn More Centres in both prospective siting areas – Ignace and South Bruce – which provide the perfect place to engage with the communities, share and listen to different perspectives and have meaningful discussions.
The Ignace Learn More Centre was redesigned thanks of feedback from community members. They told us they wanted a better way to visualize and gain a deeper understanding of the project. The centre's new design has a visual focus. It includes new displays including a large 3D model of a deep geological repository.
The re-opening featured Elder Paul Watts offering a special prayer to celebrate the newly renovated space. The NWMO was honoured that Donna Chief from Wabigoon Lake Ojibway Nation smudged the Learn More Centre in preparation for it opening to the public. This was followed by special remarks from the NWMO's Lise Morton, Vice-President of Site Selection, Bill Gascon, Site Director in Ignace. Ignace Mayor Penny Lucas was also at the centre to give a warm welcome to attendees.
"I am glad that we are able to move forward again and talk to people in person," said Mayor Lucas. "The 3D model of the deep geological repository in the Learn More Centre is something everyone needs to see because it's quite amazing. Having the Centre open is exciting for the project and for Ignace as a whole."
Community members had a chance to connect and the opportunity to talk to NWMO and municipal staff about their thoughts on willingness to host the project in Ignace.
And what would a celebration be without food? A free community BBQ was part of the festivities and with the help of the Ignace Lion's Club, hot dogs and smoked sausages were served.
"It's great to be able to welcome the community back to the Ignace Learn More Centre after being closed due to COVID restrictions," said Lise Morton, Vice-President of Site Selection. "Sharing information about Canada's plan for used nuclear fuel is very important to us and the Learn More Centre is the perfect place to do that. The new displays are a great way to share information about this important topic."
Other NWMO employees also attended the event because they were up North for the NWMO Mobile Learn More Centre (MLMC) Northern Tour. The MLMC was also in Ignace the centre re-opening as part of its tour of northwestern Ontario. Since July 5, the Mobile Learn More Centre travelled nearly 1,500 kilometres and went to over 10 communities.
The Ignace Learn More Centre was first opened in 2016 and since then it has been an important site for ongoing engagement with the northwest region on Canada's plan to safely store used nuclear fuel.
About the NWMO
The NWMO is a not-for-profit organization implementing Canada's plan to safely contain and isolate used nuclear fuel inside a deep geological repository in a manner that protects people and the environment for generations to come.
Canada's plan will only proceed in an area with informed and willing hosts, where the municipality, First Nation and Métis communities, and others in the area are working together to implement it. The NWMO plans to select a site in 2023, and two areas remain in our site selection process: the Ignace area and South Bruce, both in Ontario.