Impala Canada is a Large Employer
by Scott A. Sumner
The Lac des IIes Palladium mine has now been operational for around 30 years. Impala Canada, a member of the Implats Group based in South Africa, purchased the mine previously owned by North American Palladium. The mine is for the most part an underground mine with some open pit.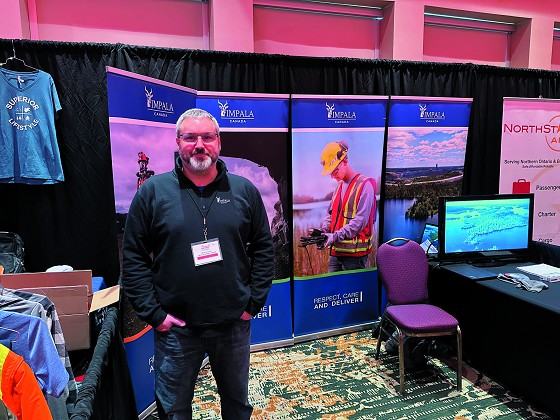 " We are at around 860 full time employees and that doesn't include contractor staff of around 100. The average work force here is 550 on a daily basis. There are 2 - 12 hour shifts 7 days a week, 365 days a year. We have a modular camp on site that can accommodate close to 500. Some of our employees live in Thunder Bay, like I do, but most are from across Canada. Most work a 14 day on and 14 day off fly in and fly out schedule." said Dale Gregory, Procurement Coordinator, Lac des Iles with Impala Canada.
The palladium metal price is currently pretty good at $1500 to$1600 US. It has been as low as $ 300 to as high as$3000 according to Gregory. The Impala Canada mine produces about 225,000 oz annually. The mine life span is currently 8 to 9 years dependent on ore price and new exploration activities.
" Our mine spends a lot of money in Thunder Bay with suppliers. We have a mandate to keep as much of our supply spending local although we can't get everything we need here so may get some products, say in Sudbury. It is good for the local economy." said Dale Gregory.